Play

Play Next

Add to queue
Genre: Folk Rock / Indie / Pop

Location SAN FRANCISCO, California, US

Profile Views: 124432

Last Login: 3/28/2013

Member Since 8/29/2005

Website http://www.msplinks.com/MDFodHRwOi8vbWljaGFlbHJvZS5jb20=

Record Label Fools of the World

Type of Label Indie

Bio

.. ..MICHAEL ROE.. (..The 77's.., ..The Lost Dogs..) masters any guitar put in his hands. Vocally and stylistically he spans the years, yet successfully creates his own style. One can hear a mixture of Blind Willy Johnson, Chuck Berry, Elvis Presley, Johnny Cash, Neil Young, Brian Wilson, and Art Garfunkel, to name a few. Aside from his own personal style, no matter with whom or where he is playing, Roe can cover any genre of music without skipping a beat. That adaptability has made him the perfect session player. .. .. In addition to his solo work, he is one of the founding members of the legendary band, ..The 77's... The personnel of that band have changed a few times over the last couple of decades, but Michael Roe has stayed the course and kept that boat afloat, much to the relief of his fans. To show yet another side of his personality, he is the lead guitarist and one of three harmonizing vocalists with the rootsy, alt-Americana band, ..The Lost Dogs... .. .. Michael Roe is also a much-in-demand producer and session player and has spent considerable time discovering, producing and playing on many diverse projects. His additional works have been recorded by both general market players and gospel music's most popular artists. Over the course of his 25+ years Roe has garnered an international fan base and has written, produced and/or played on many highly acclaimed recordings. .. .. Michael Roe has carved out a body of work that is broad, deep and well regarded within and without the industry. He is a musician's musician, but aside from his technical prowess, what makes him sought after is that his songs are born in his heart and he isn't afraid to bare himself as a down-to-earth, transparent human being, who struggles through life's difficulties. His songs are personal statements that he creates to share with his audience, in the hopes of bringing joy and promise to a heavy soul. .. .. A great night w/ Phil Keaggy in Portland, Oregon in April, 2000. .. .. .. .. .. .. .. .. .. .. ..

Members

..MICHAEL ROE.. producer, guitarist, singer/songwriter .. .. Management: ..Linda A. Miller.., .. LAM Productions.. .. .. Now booking ..Michael Roe.... Contact : ..jeffrey k.. if you would like info on booking Mike in your home, church or club... .. .. .. ..MICHAEL ROE - 1-2-3 TOUR 2010.... .. Please join us as Mike makes a solo return to the road for an acoustic/electric tour featuring material from the digitally re-released 77s recordings, "Ping Pong Over The Abyss", "All Fall Down", and "Seventy Sevens", as well as doing special requests and fan favorites.... There are still some dates available so if you're interested in booking a show please contact ..booking@lo_fidelity.com.. .. .. ..www.reverbnation.com/micro77s.. .. .. ..For more info please visit.. ..LAMConcerts.com.... ..michaelroe.com.. .. .. _________________________________________________ .... .. Lo-Fidelity Records is proud to present the latest solo recording from Michael Roe, We All Gonna Face The Rising Sun... .. Michael Roe will admit it -- making his new album scared him half to death... .. Start with the fact that We All Gonna Face the Rising Sun, is essentially a one-man show. Roe produced it himself, setting up shop in his California home, playing almost all of the instruments. It's the first time he's worked this way, and though it was a daunting proposition, the result is one of the most intimate of his nearly 30-year career... .. But it's the material itself that scared him even more. Rising Sun continues down the old-time spirituals/gospel path that Roe started with Holy Ghost Building (last year's Seventy Sevens album). But, this time he dug deeper, unearthing countless records, haunting music from a bygone era, containing forgotten traditional songs and hymns. Then he set out to cover not only the songs, but evoke the sound and feeling of those records... .. "I listened to hundreds of songs to come up with these," he says of the 11 tracks on Rising Sun. "It's one thing to like a song, but quite another to feel it, and to feel like I can pull off performing it with some kind of authenticity." .. .. There's no question he pulled it off. Rising Sun starts in familiar territory, with acoustic guitars and sweet vocals, but it soon veers off into entirely new areas for this veteran performer. The title track in particular is a jaw-dropper --- it sounds like a field recording from a time long gone --- four men around a microphone singing to their Lord. In reality, the voices are all Roe's, and the 'dusty' quality is down to creative mixing. But the feeling is genuine, and for Roe, that's what counts. .. .. Roe found himself haunted by these old songs, wondering again and again why they had been lost to the ages. Knowing very little about the origins of these recordings, he made up stories for himself, loose ideas of how he imagined the original artists came to learn and set these songs down. In the case of the title track, originally recorded by the Delta Big Four, the mystery added to the emotion of Roe's version. .. .. "The original record sounds so far away," he said. "It has such a haunting quality to it. I wondered just how long these guys had to drive to get to some sleazy hotel just so some guy from a big city record company could capture their performance for his profit only. The whole time I was doing this, I had a loose idea about what I thought was going on, and that idea in my head became critical to the feeling I put down when singing and recording these songs." .. .. "I like the fact that I don't really know the true story," Roe said. "Like they're all ghosts to me..." .. .. Elsewhere on Rising Sun, Roe shows off a few new sides to his musical personality. On "Come to the Savior," originally recorded by the Bailes Brothers, he pulls out a stunning Art Garfunkel impression, and the result sounds like an outtake from Wednesday Morning 3 A.M. He plays mandolin on "You Can't Go Halfway," and banjo (for the first time ever) on the gorgeous "Dry Bones." And he takes on closing song "We Need More Rattlesnakes" like an old Kentucky storyteller, passing on an ancient oral tradition. .. .. But perhaps the most striking thing you will hear on Rising Sun is Roe's dead-on impersonation of Charlie Patton's gruff shout, on Patton's "I'm Goin' Home." It conjures up images of rickety wooden porches, rocking chairs, and old bluesmen with the dust of America in their bones. And it is the song here that most intimidated Roe. .. .. "It was all about courage," he said. "Do you dare to sit in Charlie Patton's seat, and try to sing like him, and get away with it? But I eventually said, Charlie Patton's not here to do it, and I know what it made me feel like when I heard him sing it. And I wanted to do it so bad." .. .. These songs may sound like nothing Michael Roe has ever recorded, but their themes are familiar ones for him. These are songs of redemption, of repentance, of God's saving grace… and its chilling alternatives. In the end, it's the songs themselves that scared Roe the most, not just because the world needs their message, but because he does as well. .. .. "These songs make me tremble in my boots," he said. "I cannot sing these and not feel it every time I sing them. I picked songs I need to hear." .. .. In a sense, though this is a different kind of Michael Roe album, its waters flow from the same river he's always drawn from. He sings of life, of pain, of salvation, and though the songs this time are taken from years gone by, they are relevant and powerful even today. The sun is rising, and we all gonna face it, and these are the songs we will sing when it is our turn. (Andre Salles) .. .. The tracklist for the album is as follows: .. .. Jonah In The Wilderness.. Dry Bones.. Woke Up This Morning With My Mind.. Come To The Saviour.. You Can't Go Halfway.. We All Gonna Face The Rising Sun.. Satan Your Kingdom Must Come Down.. Paul And Silas In Jail.. I Know My Time Ain't Long.. I'm Goin' Home.. We Need More Rattlesnakes .. .. Price - $15 (plus shipping) on ..michaelroe.com.. .. .. The album is available on iTunes (as well as every other major digital retailer). .. .. As always, thanks for supporting Michael Roe and independent music. .. .. jeffrey k... support independent music.. www.lo-fidelity.com.. .. _________________________________________________ .. The 77's released ....Holy Ghost Building.... this summer to rave reviews. You can listen to a few of the songs from the album and decide for yourself: ..myspace.com/the77s.. .. .. Then go to ..77s.com.. and buy yourself a copy or two, or three, one for yourself and a few to share! .. .. ...... .. .. .. Keep checking back for news on Mike Roe's upcoming solo album...a definite work in progress! .. .. ...... .. .. Larry Norman joined me onstage at Cafe Paradiso, Eugene, OR, on December 21, 2000 and performed my encore set for me, which was nice. It was a fun night that I will never forget. Thanks Larry, for all the memories. You are one of a kind. .. .. .. .. .. .. .. .. ..

Influences

Sounds Like
Bio:
..
MICHAEL ROE
(
The 77's
,
The Lost Dogs
) masters any guitar put in his hands. Vocally and stylistically he spans the years, yet successfully creates his own style. One can hear a mixture of Blind Willy Johnson, Chuck Berry, Elvis Presley, Johnny Cash, Neil Young, Brian Wilson, and Art Garfunkel, to name a few. Aside from his own personal style, no matter with whom or where he is playing, Roe can cover any genre of music without skipping a beat. That adaptability has made him the perfect session player.
In addition to his solo work, he is one of the founding members of the legendary band,
The 77's
. The personnel of that band have changed a few times over the last couple of decades, but Michael Roe has stayed the course and kept that boat afloat, much to the relief of his fans. To show yet another side of his personality, he is the lead guitarist and one of three harmonizing vocalists with the rootsy, alt-Americana band,
The Lost Dogs
.
Michael Roe is also a much-in-demand producer and session player and has spent considerable time discovering, producing and playing on many diverse projects. His additional works have been recorded by both general market players and gospel music's most popular artists. Over the course of his 25+ years Roe has garnered an international fan base and has written, produced and/or played on many highly acclaimed recordings.
Michael Roe has carved out a body of work that is broad, deep and well regarded within and without the industry. He is a musician's musician, but aside from his technical prowess, what makes him sought after is that his songs are born in his heart and he isn't afraid to bare himself as a down-to-earth, transparent human being, who struggles through life's difficulties. His songs are personal statements that he creates to share with his audience, in the hopes of bringing joy and promise to a heavy soul.
A great night w/ Phil Keaggy in Portland, Oregon in April, 2000.
Member Since:
August 29, 2005
Members:
MICHAEL ROE
producer, guitarist, singer/songwriter
Management:
Linda A. Miller
,
LAM Productions
Now booking
Michael Roe
Contact :
jeffrey k
if you would like info on booking Mike in your home, church or club.
MICHAEL ROE - 1-2-3 TOUR 2010

Please join us as Mike makes a solo return to the road for an acoustic/electric tour featuring material from the digitally re-released 77s recordings, "Ping Pong Over The Abyss", "All Fall Down", and "Seventy Sevens", as well as doing special requests and fan favorites.... There are still some dates available so if you're interested in booking a show please contact booking@lo_fidelity.com

www.reverbnation.com/micro77s


For more info please visit
LAMConcerts.com
michaelroe.com

_________________________________________________


Lo-Fidelity Records is proud to present the latest solo recording from Michael Roe, We All Gonna Face The Rising Sun.

Michael Roe will admit it -- making his new album scared him half to death.

Start with the fact that We All Gonna Face the Rising Sun, is essentially a one-man show. Roe produced it himself, setting up shop in his California home, playing almost all of the instruments. It's the first time he's worked this way, and though it was a daunting proposition, the result is one of the most intimate of his nearly 30-year career.

But it's the material itself that scared him even more. Rising Sun continues down the old-time spirituals/gospel path that Roe started with Holy Ghost Building (last year's Seventy Sevens album). But, this time he dug deeper, unearthing countless records, haunting music from a bygone era, containing forgotten traditional songs and hymns. Then he set out to cover not only the songs, but evoke the sound and feeling of those records.

"I listened to hundreds of songs to come up with these," he says of the 11 tracks on Rising Sun. "It's one thing to like a song, but quite another to feel it, and to feel like I can pull off performing it with some kind of authenticity."

There's no question he pulled it off. Rising Sun starts in familiar territory, with acoustic guitars and sweet vocals, but it soon veers off into entirely new areas for this veteran performer. The title track in particular is a jaw-dropper --- it sounds like a field recording from a time long gone --- four men around a microphone singing to their Lord. In reality, the voices are all Roe's, and the 'dusty' quality is down to creative mixing. But the feeling is genuine, and for Roe, that's what counts.

Roe found himself haunted by these old songs, wondering again and again why they had been lost to the ages. Knowing very little about the origins of these recordings, he made up stories for himself, loose ideas of how he imagined the original artists came to learn and set these songs down. In the case of the title track, originally recorded by the Delta Big Four, the mystery added to the emotion of Roe's version.

"The original record sounds so far away," he said. "It has such a haunting quality to it. I wondered just how long these guys had to drive to get to some sleazy hotel just so some guy from a big city record company could capture their performance for his profit only. The whole time I was doing this, I had a loose idea about what I thought was going on, and that idea in my head became critical to the feeling I put down when singing and recording these songs."

"I like the fact that I don't really know the true story," Roe said. "Like they're all ghosts to me..."

Elsewhere on Rising Sun, Roe shows off a few new sides to his musical personality. On "Come to the Savior," originally recorded by the Bailes Brothers, he pulls out a stunning Art Garfunkel impression, and the result sounds like an outtake from Wednesday Morning 3 A.M. He plays mandolin on "You Can't Go Halfway," and banjo (for the first time ever) on the gorgeous "Dry Bones." And he takes on closing song "We Need More Rattlesnakes" like an old Kentucky storyteller, passing on an ancient oral tradition.

But perhaps the most striking thing you will hear on Rising Sun is Roe's dead-on impersonation of Charlie Patton's gruff shout, on Patton's "I'm Goin' Home." It conjures up images of rickety wooden porches, rocking chairs, and old bluesmen with the dust of America in their bones. And it is the song here that most intimidated Roe.

"It was all about courage," he said. "Do you dare to sit in Charlie Patton's seat, and try to sing like him, and get away with it? But I eventually said, Charlie Patton's not here to do it, and I know what it made me feel like when I heard him sing it. And I wanted to do it so bad."

These songs may sound like nothing Michael Roe has ever recorded, but their themes are familiar ones for him. These are songs of redemption, of repentance, of God's saving grace… and its chilling alternatives. In the end, it's the songs themselves that scared Roe the most, not just because the world needs their message, but because he does as well.

"These songs make me tremble in my boots," he said. "I cannot sing these and not feel it every time I sing them. I picked songs I need to hear."

In a sense, though this is a different kind of Michael Roe album, its waters flow from the same river he's always drawn from. He sings of life, of pain, of salvation, and though the songs this time are taken from years gone by, they are relevant and powerful even today. The sun is rising, and we all gonna face it, and these are the songs we will sing when it is our turn. (Andre Salles)

The tracklist for the album is as follows:

Jonah In The Wilderness
Dry Bones
Woke Up This Morning With My Mind
Come To The Saviour
You Can't Go Halfway
We All Gonna Face The Rising Sun
Satan Your Kingdom Must Come Down
Paul And Silas In Jail
I Know My Time Ain't Long
I'm Goin' Home
We Need More Rattlesnakes

Price - $15 (plus shipping) on michaelroe.com

The album is available on iTunes (as well as every other major digital retailer).

As always, thanks for supporting Michael Roe and independent music.

jeffrey k.
support independent music
www.lo-fidelity.com

_________________________________________________
The 77's released Holy Ghost Building this summer to rave reviews. You can listen to a few of the songs from the album and decide for yourself: myspace.com/the77s

Then go to 77s.com and buy yourself a copy or two, or three, one for yourself and a few to share!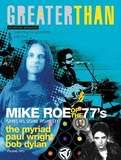 Keep checking back for news on Mike Roe's upcoming solo album...a definite work in progress!




Larry Norman joined me onstage at Cafe Paradiso, Eugene, OR, on December 21, 2000 and performed my encore set for me, which was nice. It was a fun night that I will never forget. Thanks Larry, for all the memories. You are one of a kind.


Record Label:
Fools of the World