Play

Play Next

Add to queue
Play

Play Next

Add to queue

251,507 plays

Play

Play Next

Add to queue

2,642,759 plays

Play

Play Next

Add to queue

297,945 plays

Play

Play Next

Add to queue

43,029 plays

Play

Play Next

Add to queue

272,985 plays
Genre: Hip Hop / Pop / Rock

Location ATLANTA, Georgia, US

Profile Views: 284277

Last Login: 3/12/2010

Member Since 9/3/2008

Website mizayentertainment.com

Record Label Mizay Entertainment/So Icey Ent/1017 Bricksquad

Type of Label Major

Bio

.. .... ....ADD TO FRIENDS ..&nbsp &nbsp &nbsp ..SEND MESSAGE.. &nbsp &nbsp &nbsp ..ADD TO GROUP &nbsp &nbsp &nbsp ....ADD TO FAVORITES.. &nbsp &nbsp &nbsp ..MIZAY BLOG ..&nbsp &nbsp &nbsp ..WEBSITE.... .. .. .. .. .. .. .. .. .. .... PROFILE.... .... PROFILE.... .... PROFILE.... .. .... .. .. .. .. .. .. .. .. .. ...... .. .... .. .. .. .. .. .. .. .. .. ...... .. .... .. .. .. .. .. .. .. .. .. ...... .... .. .. .. .. .. .. .. .. .. .. .... ........ ...... .. Mizay Entertainment utilizes a microcosmic approach to cultivate talent. Therefore, it is our aim to select and produce artists that reflect the diversity encompassed by all forms of entertainment. It is understood by management that innate ability described as natural talent must be developed in stages and promoted strategically. Of equal importance, it is also realized that within the entertainment industry that expert knowledge is relative to public opinion as the final judge..... At Mizay Entertainment we work with all types of music and specialize in Hip Hop. Gucci Mane was the first artist to be represented by Mizay Entertainment. Gucci Mane is currently signed with Warner/Asylum, but has also signed himself to his own label "So Icey Entertainment" and 1017 Bricksquad. Other Mizay artists include Nicki Minaj, So Icey Boys, OJ Da Juiceman, Muffy, Hexo and Waka Flocka Flame. .... For Booking inquires please contact Mizay Entertainment at 678.272.0365 ext. 1005. .... Mizay Entertainment is always looking for new talent. If you think you have what it takes. You can contact our office at 678.272.0365, via Email Mizaymarketing@gmail.com.

Members

Influences

Sounds Like
No recent updates in this category.
Why not...
Bio:
..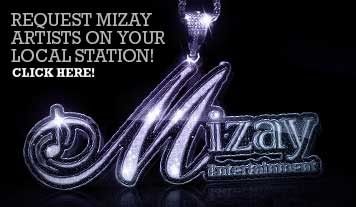 Mizay Entertainment utilizes a microcosmic approach to cultivate talent. Therefore, it is our aim to select and produce artists that reflect the diversity encompassed by all forms of entertainment. It is understood by management that innate ability described as natural talent must be developed in stages and promoted strategically. Of equal importance, it is also realized that within the entertainment industry that expert knowledge is relative to public opinion as the final judge.
At Mizay Entertainment we work with all types of music and specialize in Hip Hop. Gucci Mane was the first artist to be represented by Mizay Entertainment. Gucci Mane is currently signed with Warner/Asylum, but has also signed himself to his own label "So Icey Entertainment" and 1017 Bricksquad. Other Mizay artists include Nicki Minaj, So Icey Boys, OJ Da Juiceman, Muffy, Hexo and Waka Flocka Flame.
For Booking inquires please contact Mizay Entertainment at 678.272.0365 ext. 1005.
Mizay Entertainment is always looking for new talent. If you think you have what it takes. You can contact our office at 678.272.0365, via Email Mizaymarketing@gmail.com.
Member Since:
September 03, 2008
Record Label:
Mizay Entertainment/So Icey Ent/1017 Bricksquad
Mizay Entertainment has 6219 friends.