Play

Play Next

Add to queue
Play

Play Next

Add to queue

5,251 plays

Play

Play Next

Add to queue

2,226 plays

Play

Play Next

Add to queue

1,853 plays

Play

Play Next

Add to queue

1,595 plays

Play

Play Next

Add to queue

1,632 plays
Genre: Hardcore / Punk / Ska

Location medellin, Antioquia, CO

Profile Views: 373053

Last Login: 9/1/2012

Member Since 7/1/2006

Website www.mojiweb.com

Record Label 100% autogestion 100% DIY

Bio

MOJIGANGA is a ska-core band from Medell�n, Colombia. Founded in 1995. The music is a blend of different rhythms, specially punk, hardcore and some ska; the lyrics are aimed at satire and free criticism. In 1997our first work was released: "De Las No Alpacas". The raw sound of this one was improved later in 1997 with "Est�pidas Guerras" and our positioning in the underground movement in Colombia was granted. In 1999 our third album was released: "Se�alados". It was very well received and more than the five thousand copies were sold. "Se�alados" was nominated to the national "Shock" awards for the best cover of the year and it was number one in the tops of local radio stations in Colombia. The album was then distributed to Mexico and Argentina as well. Three years later, we recorded our most recent and punk-rock album: "No Estamos Solos", having Ryan Greene as a producer who has already worked with famous bands as NOFX and RANCID. We have toured the main cities in Colombia, Ecuador ( the "Impetu Festival, 2004") and United States. We played festivals as "Rock al Parque" 2003, Colombia, when we had a positive review by the Rolling Stone magazine and were nominated in the Shock awards as the best Ska band of 2004. We have played with international bands as The Offspring, Molotov, Animal, 2 Minutes, La Mosca y Cafe Tacuva and have been released in international anthologies of the gander as "Punk Ska�ol 3" by Aztlan Records, and "Mutante Vol 1" by Mutante Records. Our goal is to belong to the world underground movement with our Colombian background reflected in our lyrics with themes that range social protest and everyday life. We also want to promote internationally our latest CD "No Estamos Solos", recorded at MOTOR STUDIOS, San Francisco, Cal. with Ryan Greene as producer. somos una banda de medellin, autogestionada desde hace 15 a�os, tocamos hardcore, punk, ska dentro de la escena underground de colombia. pregunten lo que quieran que aca se les atiende con gusto y pidan canciones que se las subimos lo antes posible jejeje todo bien saludos a la gente que nos quiere y nos visita, suerte!!!

Members

Natali, Miguel, Mauricio, Rogelio, juan, Daniel, Anibal.

Influences

www.purevolume.com/mojiganga

Sounds Like
00:25 | 701 plays | Oct 30 2009
Bio:
Para compras nacionales
www.mojiweb.com
Compras en cualquier parte del globo terráqueo siga los links de abajo. International buyers ?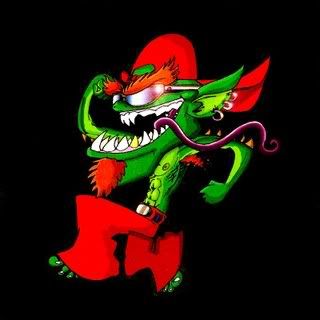 .. ..
.. .. .. .. .. .. .. .. .. .. .. .... .. ..
.. .. Este link no aplica para compras en Colombia, solo en
www.mojiweb.com
.. .. ..
.. .. Este link no aplica para compras en Colombia, solo en
www.mojiweb.com
mojiganga aniversario, 10 años de corazon
Añadir a mi perfil
|
Más Videos
MOJIGANGA is a ska-core band from Medellín, Colombia. Founded in 1995. The music is a blend of different rhythms, specially punk, hardcore and some ska; the lyrics are aimed at satire and free criticism. In 1997our first work was released: "De Las No Alpacas". The raw sound of this one was improved later in 1997 with "Estúpidas Guerras" and our positioning in the underground movement in Colombia was granted. In 1999 our third album was released: "Señalados". It was very well received and more than the five thousand copies were sold. "Señalados" was nominated to the national "Shock" awards for the best cover of the year and it was number one in the tops of local radio stations in Colombia. The album was then distributed to Mexico and Argentina as well. Three years later, we recorded our most recent and punk-rock album: "No Estamos Solos", having Ryan Greene as a producer who has already worked with famous bands as NOFX and RANCID. We have toured the main cities in Colombia, Ecuador ( the "Impetu Festival, 2004") and United States. We played festivals as "Rock al Parque" 2003, Colombia, when we had a positive review by the Rolling Stone magazine and were nominated in the Shock awards as the best Ska band of 2004. We have played with international bands as The Offspring, Molotov, Animal, 2 Minutes, La Mosca y Cafe Tacuva and have been released in international anthologies of the gander as "Punk Skañol 3" by Aztlan Records, and "Mutante Vol 1" by Mutante Records. Our goal is to belong to the world underground movement with our Colombian background reflected in our lyrics with themes that range social protest and everyday life. We also want to promote internationally our latest CD "No Estamos Solos", recorded at MOTOR STUDIOS, San Francisco, Cal. with Ryan Greene as producer. somos una banda de medellin, autogestionada desde hace 12 años, tocamos hardcore, punk, ska dentro de la escena underground de colombia. <<> >> >> pregunten lo que quieran que aca se les atiende con gusto y pidan canciones que se las subimos lo antes posible jejeje todo bien saludos a la gente que nos quiere y nos visita, suerte!!! >> >> MOJ! >> >>
Member Since:
julio 01, 2006
Influences:
www.purevolume.com/mojiganga
Record Label:
100% autogestion 100% DIY
Mojiganga has 8887 friends.