Play

Play Next

Add to queue
Play

Play Next

Add to queue

610 plays

Play

Play Next

Add to queue

81,215 plays

Play

Play Next

Add to queue

2,440 plays

Play

Play Next

Add to queue

24,224 plays

Play

Play Next

Add to queue

24,052 plays
Genre: Alternative / Experimental / Rock

Location Los Angeles, California, US

Profile Views: 259283

Last Login: 2/2/2011

Member Since 2/17/2004

Website www.nimbusmusic.net

Type of Label Unsigned

Bio

.. .. .. .. .. .. .. ........ ...... .. .. .. .. .. .. .. .. ...... .. .. .. .. .. .. .... ...... ...... .. .. .. ............UNENDING DREAM (2006).... $12.............. ............NIMBUS EP (2003)....$12................ .. .... .. .. .... .......... .... .......... .. .. .... ...... .. .. .. .. .. .. .. .. .. .. ...... .... ...... .. .. .. .. .. .. .. .. .. .. .. .... .. .. .... .......... .. .. .......... ......*Nimbus Links* ........ ....Nimbus Youtube Channel...... ....Buy Unending Dream from Cdbaby.com...... ....Download Unending Dream from iTunes...... ....Nimbus Photos...... ....Nimbus Friend/Fan Page...... ....nimbusmusic.net - ....Official Nimbus Website........ ....Nimbus on PureVolume.com...... .. ............ ......*Nimbus News*.... .... .. ......Apr 9th, 2010........ ****MAJOR NIMBUS UPDATE****.... What do you want first, the good news or the bad news?.... Well, lets get the bad news out of the way first. Nimbus is currently and officially not an active entity anymore. We have been pulled in various directions by the forces of life and have all moved on to new endeavors. Luckily, the music we created will live on and we feel very proud of all the art we created together through the years. Perhaps even more importantly we have felt the love and support of so many amazing people for many years, and wish to extend the utmost of gratitude to you all for being a part of our story!!!.... Rob is poised to take over the world with his new band Honeysmash. Check them out at myspace.com/honeysmash. Tim is now residing in Kansas with his new wife Andrea with their first child on the way in just a few short months! CONGRATS GUYS!!! David is back in school studying music production and has a tough decision ahead after getting accepted to every college and university he applied to. Adam is currently teaching the next generation of young rockers, working on his first ever 'solo' album scheduled for completion later this year, and collaborating on new music with talented artists such as Adam Werner and Shawn Lyon......... Tim, David and Adam spent the past few months working on the first REMIX from the unending dream album for the tune 'It Doesn't Matter' which is finished and up now on our myspace page! Its not what you might expect, it's a full-on electronic reworking of the tune which was mixed and mastered buy audio god (and our good friend) Greg Ripes! .... There's also a YOUTUBE VIDEO of the tune up on our profile (and at youtube.com/nimbusmusic) featuring a "throughout the years" slide show. .... We wish to thank each and every one of you from the bottom of our hearts for listening to our music! Every ending yields a new beginning and we are all excited about the future!.... Peace and Good vibes from NIMBUS… .... ......May 11th, 2009........ apparently the paypal buttons have stopped working on the new merch page. we are looking into it. thanks for letting us know. we will have it fixed asap!.... ......Apr 26th, 2009........ wassup everyobody?!?! we know its been a while since you've heard from us but we have a crap-load of new stuff to share with ya! we've got:....-a ..NEW MUSIC VIDEO.. for our song "out of here" (the banjo song) directed by peter dang.....-a ..NEW YOUTUBE CHANNEL.. where you can watch the music video plus see live footage of us playing some originals and covers taken on our 2007 national tour. (youtube.com/nimbusmusic)....-..4 NEW SONGS.. up on our profile. we've added 3 more songs from our album 'unending dream' and one from our self-titled ep.....-..4 NEW PHOTO ALBUMS.. including stills from the video shoot plus some awesome new live shots by kaley nelson....-..A NEW PUZZLE.. we wont tell your boss youre doing a nimbus puzzle instead of working if you dont ;)....and last but certainly not least:....-the ..NIMBUS MERCH PAGE.. is now up and operational!!! you can now easily purchase cd's, shirts for guys and gals, stickers, buttons & lighters directly from us using paypayl. (myspace/com/nimbusmerch)....-PLUS, we've got ..2 SHOWS!.. coming up for our Los Angeles peeps:......Friday May 1 - Acoustic show @ Follow Your Heart Café.. in Canoga Park ..Saturday May 23 @ Cobalt Café.. also in Canoga Park....we thank you very much for supporting our endeavors! hope you are all well.....enjoy all the NEWNESS!!! and please feel free to drop us a line anytime to tell us how you are doing... .... ......Mar 17th, 2009........ Hey everyone! We have been hard at work composing new material, but we are coming out from our hiding place to rock a couple local shows for y'all! ......Friday May 1st - Acoustic Show!!! @ Follow your Heart.. (in Canoga Park) its been a few years since we rocked the Heart but it is the perfect environment for the intimacy of the acoustic nimbus experience! ......Saturday May 23rd @ The Cobalt Cafe.. (also in Canoga Park) we plan to do this one up and create not just a killer rock show, but an unforgettable event! there will be great music, amazing art, fun decorations, chimpanzees, plenty of NEW NIMBUS SONGS and maybe even a few really old ones to be heard at this one! ....Its been too long and we cant wait to rock with all of our friends once again! Mark your calanders and we shall see ya there! ....oh, and happy green beer day!!! .... ......Jan 2nd, 09!........ HAPPY NEW YEAR!!! hope everyone has a safe, happy, and healthy 2009!.... ......Dec 3rd, 08........ HAPPY HOLIDAYS everyone!!! ....just a quick heads up that we have put all of our music on sale at cdbaby.com for your holiday shopping pleasure! both the cd and mp3 download for ..UNENDING DREAM.. and our ..SELF TITLED EP.. are now only $8 for the month of december! .... ......Nov 11th, 08........ we are returning to hibernation mode for a short while while we continue to focus on writing and creating new music. if any amazing show opportunities come our way that we just cant pass up, we will let ya know. otherwise have an awesome rest of the year and we will see ya in 2009! peace and good vibes from nimbus.... ......Oct 11th, 08........ the second knitting factory experience was even better than the last! thank you all so much for an amazingly fun time last night! we love you all very much!....our next event is coming up soon! we booked a slot on the So Cal Rock Revolution festival at Hollywood Park Casino on Saturday Oct 25th! we play at 1:30 pm. its all ages. headlining bands include Finch, Hed PE, Kottonmouth Kings, Unwritten Law and many more! its gonna be an all day NIMBUS party so come see some great music and hang with us all day! discount tix available now, just email us..... ......Sep 15th, 08........ we have been asked back to rock the knitting factory main stage once again! the madness shall commence on friday october 10th @ 9:15 pm. its all ages and discount tix are available at knittingfactory.com until show day. see ya there!.... ......Sep 4th, 08........ just wanna let everybody know how much we appreciated your support at the knitting factory show! our show schedule is gonna remain light for the rest of the year as we are focusing on writing and creating new music but we will most definately have a few more awesome events to look forward to coming soon. as usual, we shall keep ya posted. thanks guys! peace and good vibes~.... ......July 27th, 08........ we've got a show!!! our first show back will commence at the knitting factory (main stage) on saturday, august 23rd with our new friends chameleon conductor, ed, and failure to launch. show starts at 8:15 and we go on second so get there nice n early! more details and news soon... be well..... ......June 28th, 08........ all members of nimbus now reside back home in los angeles. the wheels have begun to spin again and as soon as we have some news of shows n such we shall let you know....... ......May 4th, 08........ we apologize for lack of updates lately. for the past few months, we have been on the first legitamate break since we started the band, experiencing some much needed down time for ourselves and our loved ones..... the decision has been made for nimbus to reconvene back home in los angeles when the break is done in a month or so. the next adventure for nimbus includes unlocking some pent up creative energy and writing a plethora of new material, experimenting with new sounds and ideas, rocking some shows in our hometown and surrounding cities, new designs for our myspace profile and website, new photoshoots (which means new puzzles haha), and hopefully a national tour before the year is up to get us back to all the awesome places and people we met in 2007..... more info coming soon... in the meantime, unending thanks to each and every one of you for supporting our endeavors. we love you all!.... peace and good vibes~ adam.... ......Jan 18th, 08........ brief update: we are gonna take a break for a few months to spend some time planning and preparing for all of our 2008 activities. we will be back in action sometime in late spring or so. hope to see you all again very soon! meanwhile we will still be online regularly, so dont forget to stop by and say hi once in a while! ~peace and good vibes from nimbus~.... ......Dec 24th, 07........ just wanna take a second to give thanks to each and every person who was a part of our lives this past year. .... it has been a crazy new adventure for us to be away from home for so long, but last night at club 9 was proof that we now have a new family here in cleveland and we love all of you guys very much! you know who you are, and we are gonna miss you all while we are on a lil break for the winter. but dont worry, we will be back sooooooon. you guys rule and we feel blessed to know all of you! thanks for welcoming us to your city. .... to our peeps in LA, we just wanna say that we were overwhelmed by the love we felt from you while were back home last month. the malibu inn show was one of our most fun shows ever! it was definately a night we will never forget, and we give unending thanks to you all for being so awesome and supporting us for so many years now! it was great to see everybody after a year away! and this time, we will try to not be away quite so long. see you all soon..... to all the bands and friends, families, and fans of the bands we played with this past year, we give thanks to you for making 2007 an awesome-ly fun and exciting year for us! you guys hooked us up with some kick ass shows, fed us, let us sleep on your couches, practice in your rehearsal spaces, borrow equipment, rocked out with us, and made sure we had a great time everywhere we went! and we did! thank you all so much!.... and to the new friends and fans we made along the way, your support is the fuel that drives us. thank you to every single one of you who was at a show, bought our cd, passed out flyers, wore our shirts, told your friends about us, or just stopped by to our myspace every so often to have a listen. you guys are the lifeblood of nimbus and we cant thank you enough!.... ok ok, sorry for all the sappy stuff haha. just know that we love you all! .... we are now gonna take a little break to step back and plan and prepare for our world domination in 2008! see ya then....... ~peace and good vibes from Nimbus~.... ......Nov 19th, 07........ THANK YOU TO ALL WHO CAME TO OUR LA SHOWS!!!.... they were among our most fun shows ever! our hometown freinds rule!!! thank you for showing us so much love and support after a year away! we appreciate you guys so much and can't wait to be back!.... LAST SHOW OF 2007!.... our first show of 2007 was at the imfamous CLUB 9, so its only fitting we play our last show of the year there as well!.... the party shall commence at 9:30 pm on Saturday, December 1st @ 7621 Mentor Ave. in Mentor, Ohio.... we will be joined by our good friends Audiblethread, and are taking a break from performing shows for a few months, so theres 2 more great reasons to make sure to be there!.... Cleveland has become our second home base this past year, and we are so happy to have met all of you amazing people we now call friends there. we wanna party with you all at CLUB 9 one more time before the year ends! .... see you guys soon....... ......Oct. 14, 07........ BIG NEWS!!!.... *EAST COAST TOUR* & *HOMETOWN SHOW* coming up!.... if you live near any of the following cities then you better get yourself to a show, as this will be the first time nimbus rocks the atlantic, and we want to finally meet all of our awesome east coast friends!.... Oct 18 - PULSE - Ocean City, Maryland (w/Lennex).. Oct 19 - 707 - Ocean City, Maryland (w/Lennex).. Oct 20 - Mr. BEERY'S - Long Island, New York (w/Seer -Presented by Black Mist Productions).. Oct 23 - OTTO'S SHRUNKEN HEAD - New York, New York (w/Nocode - Presented by Black Mist Productions) .. Oct 25 - KENNY'S CASTAWAYS - New York, New York (Presented by Black Mist Productions) .. Oct 26 - LEARYS - Kingston, Pennsylvania (w/The Drama Club).. Oct 27 - HALLOWEEN PARTY - Selinsgrove, Pennsylvania (w/The Drama Club) .. Oct 31 - CLUB 9 - Mentor, Ohio (Halloween show!) .. Nov 2 - DIVERSIONS - Chesterland, Ohio.... THEN (as if that wasnt cool enough), we head back home to LA to rock one of our favorite venues, THE MALIBU INN on SATURDAY, NOV. 10th! we are honored to be performing with some truly amazing bands, Vokee, Woven, & Ninja Academy! Holy Soundwaves, Batman!!! a night not to miss!.... included in the festivities are live painting by Tony Koehl and an art gallery showing featuring works by some of LA's finest artists and photographers including Kaley Nelson, Tony Koehl, Jawn Angione, and many more!.... PLUS we will be debuting some brand new material never before heard on the west coast! we cant wait to see everybody back home and have another amazing show after a year away!.... if anybody wants to help us promote for the shows coming up, please send us your address and we will send you some promotional stuff. thanks guys!.... see you all soon... thanks for listening. we appreciate your support very much! ........ ......Sept. 10, 07........ much is in being cultivated at the NIMBUS Plantation...national tours, new merch, colorful hair, catchy new vibrational sound frequencies, etc. Until NIMBUS is fully stockpiled, nationalized, and ready for fair trade, I'll leave you with some little known band and band member facts. Get to know the real NIMBUS....... -NIMBUS is compact and lightweight but rugged.. -NIMBUS is certified flameproof .. -NIMBUS is considered an improvement over the old favorite.. -NIMBUS is designed to provide an engaging and highly realistic experience.. -NIMBUS is the computational workhorses of the Helix Systems.. -NIMBUS is Sun's next-generation look and feel.. -NIMBUS is free for academic teaching and research purposes.. -NIMBUS is also available in gaucho brown.. -NIMBUS is a Zeon Ace pilot.. -NIMBUS is available as stud to approved bitches.. -NIMBUS has been developed at the University of Jyväskylä, Department of Mathematical Information Technology.. -NIMBUS is not only super-babe-a-licious, but is also fabulously kind and generous.. -NIMBUS is ready to offer unmatched performance for the next generation.. -NIMBUS is easy to use, configure and maintain.. -NIMBUS is often seen attached to the heads of evil spirits.. -NIMBUS is on the wall with the question "How are we going to compete with this?.. -NIMBUS is clearly visible.. -NIMBUS is on a distinguished road.. -NIMBUS is equipped with a fot gearshift.. -NIMBUS is a multiobjective optimization method capable of solving nondifferentiable and nonconvex problems.. -NIMBUS is a compact clumper.. -NIMBUS is yelling and screaming a lot less than i would be.. -NIMBUS is extremely jeoulous of your new track.. -NIMBUS is off the scale.. -NIMBUS is implemented in a matter of hours.. -NIMBUS was built entirely with shapes and vectors.. -NIMBUS is specifically designed to make a real difference to your company's operations.. -Comfort with NIMBUS is not an issue.. .. -David is joining the spying game.. -Adam is a significant architectural paradigm shift.. -Tim is the quality in each of us which can get a slinky all the way down the stairs without stopping.. -Rob is like a kitten being weaned from its momma's teat.. -David is looking forward to a new hand held monocular in the fall.. -Adam is an effervescent new spin on romance in present-day Ireland.. -Rob is a spicy fellow.. -Adam is dead sexy.. -Adam is protected by court order from receiving electroshock.. -David is currently breaking ground in the African-American community.. -David is the vegetable.. -Adam is limited to eight chemicals.. -Rob is always available by appointment to meet with you.. -Tim is referred to in other ways among PC geeks.. -Rob is just 'that much better' than Tim McGraw.. -Adam is not quite as strong as Tiger, but it's close.. -Rob is a run through the Amazon.. -Rob is good at Puzzles.. -David is scaling new heights.. -Rob is conveniently posted up on the other side of the candy cane movement.. -Tim is an emalgamation of Ideas and Concepts that have helped to shape the Universe.. -David's winter interest is Rugby.. -Tim is road-proven.. -Tim is not the goat.. -David is more than halfway done.. -Rob is a lesbian.. -Adam is the perfect tool for the job.. -Tim is just the start.. -Adam is walking out of here.. -Tim is a domain-independent automatic domain analysis tool.. -David is updated weekly.. -David is clearly suggesting that he has transcended the physical.. -Adam is not a metaphor.. -David is the result of intense anatomy studies.. -Rob is anything but a jerk-off.. -David is a master at innuendo and half-to-no-truths.. -Adam is an accident waiting to happen.. -Tim is nominated for high quality.. -David is in it.. -Adam is surprised, but glad he's here.. -David is a creature of moral absolutes.. -Rob is out on the porch, and it is about to rain.. -David is so highly regarded in the hip-hop community.. -Adam is truly a brown man trapped in a white man's body.. -Tim is on the other end of the telephone.. -David is a superb literary achievement.. ........ ......June 29, 07........ ..TOURING 101-a study guide-.... syllabus:after a few weeks touring the midwest with LENNEX, self-proclaimed newfound touring experts, NIMBUS, relinquish tips of the trade and key midwest facts....... *make sure the whole band is in the vehicle before leaving; if one must be left behind, the bassist is probably the most easily replaceable... *when in Fort Wayne, IN, look for the old man with the long grey beard. He will enjoy your music immensely, most noticeably via his fingers... *touring with the amazing band, Lennex, is probably a good idea(if you have extra floorspace during off hours).. *asking a rockstar to play volleyball just after they did their hair makeup and nails will only set you up for dissapointment... *a good musician is only measured by their turkey sandwich making ability(plenty of books have already been written on good turkey sandwich making)... *condemned brothels in Michigan are usually haunted, but make for very fun music venues... *be careful, evangelests can be in rock bands too!.. *bringing tools can make the difference of being trapped in a parkinglot in Harrisburg, PA at 3am, or breaking the chains to freedom... *if you can't make good turkey sandwiches at least be good at oragami, or quit... *the hallmark inn probably has the cleanest insect-free rocks... *don't let the banjoist forget his banjo(then he'll try and play the triangle or something).. *if you haven't checked Lennex out, do so now. Though they might lack in the sandwich making department, they're very good at oragami... .. that's pretty much all you need to be a successful touring musician. Stay tuned for my seminar on, Musical Chairs. .... -6ac.. a.k.a. professor Dave ........ ......May 18, 07........ Thanx to Pat and Jim at Inner Sanctum for taking a liking to us, and playing our music on 92.3 Krock. If you live in Cleveland, OH, USA, Earth, you can listen to us live answering questions, and reading act 1 of Shakespear's MacBeth on said station July 15th @ ~10:00. Until then catch NIMBUS laking it up this summer touring the Great Lakes area with Lennex(singer famous from rockstar reality tv show rockstar supernova)..... Thanx to all you wise and noble listeners with exceptional taste for adding an extra digit on our total myspace plays!! We now have well over 100,000 plays .... and thanx to the precession of the equinoxes, and earth-crust displacement for shakin it up and keeping things fresh... .... -Davidivichski ...... ........March 12, 07........ Greetings from Cleveland, Ohio. A lot has happened with NIMBUS since the last update, so let's start with the now and work backwards. (If you read the rest of this message through a mirror held to your computer screen, it'll make a lot more sense…) We just got back from our 6th show in Ohio and for the first time as a band fully realized the uncontrollable power of "word of mouth!" This was our 3rd show at the same venue, but this time instead playing our hearts out to the 4 fortunate regular bar-folk (as did the previous two shows) the place was filled with booze-loving, snow-dwelling, overly applauding, great listeners with exceptional taste in music! Next stop: indoctrination into the Rock and Roll Hall of Fame (then the akashic hall of records but that's a different story, and our stuff isn't available on vinyl yet!). .... Other mentionable Ohiolights…It fuckin snows here! With wind-chill factors of -20 and supposedly the worst blizzard in 20 years, it's been an interesting winter. But I guess the snow looks pretty on camera. Check out the pics of us in the snow and walking on frozen Lake Erie strewn about our site! We've met some truly amazing bands in our travels, the coolest being -Seer-(www.seerband.com), and Lourds (www.lourdsmusic.com), both from New York. If you've made it this far in the NIMBUS update I urge you to check them both out for your own benefit. Hopefully you'll see us on the road with one or both of them later this year. .... By now you'd think we moved to Ohio or something. Well, that's entirely correct as of December 06'. With a more affordable living situation, and a whole new group of people to entertain, NIMBUS is now a Midwesterner. (Don't worry LA, we still love you and we'll be back soon, baby). The road trip up here was awesome, I highly recommend it! All I can advise is don't incinerate herbs that produce a skunky odor inside your motel room right before you check out the next morning…the cleaning ladies really don't like that! .... Just before moving, NIMBUS spent much time and care (and federal reserve notes) recording our first full-length album, Unending Dream. Hopefully this is already common knowledge to everyone reading this…if not, please pick up a copy! It's really fuckin good! To enhance tasty track potential, we got to record at Sage and Sound-an amazing studio(right between recording sessions of The Mars Volta and Marylin Manson!), with Rae Dileo-an amazing producer(Filter, Army Of Anyone, Henry Rollins, Varuca Salt, etc). I think pictures of the sessions are on this site as well. Anyway, check out some of the tracks on our "songs page" and then grab a copy of the album here: www.cdbaby.com/nimbus. .... That pretty much brings us to date with the Nimbusciles. If I could predict the rest of our year, I'd envision a map of the US&A and NIMBUS but an intersecting moving red line upon it. .... Peace out,.. -David .... .. .. ............ ...... ..Add our banner to your page:.... ........ .... .. .... ...... ............ .. .. ...... .. .. ...... ........

Members

....-Tim Deschaine- .... .. .. ..vocals, guitar, stuff........ ....-Adam Howe- .... .... ..guitar, banjo........ ....-David Howe- .... .... ..electric & upright bass, vocals........ ....-Rob Petricca- .... .... ..drums, percussion........

Influences

....A few of our musical influences:.... Radiohead, Tool, Pink Floyd, Beatles, Muse, The Used, Dredg, The Mars Volta, Chevelle, Ours, Circa Survive, Mt. Helium, The Apex Thoery, Blonde Redhead, Remy Zero, Coldplay, Medeski Martin & Wood, Porcupine Tree, Elliot Smith, Miles Davis, Blindside, The Bled, Deftones, At The Drive In, The Cure, Death Cab For Cutie, Bush, Filter, Led Zeppelin, Squarepusher, Isis, STP, Amon Tobin, Incubus, Alice in Chains, Bob Marley, Greatful Dead, Bad Religion, Black Sabbath, Government Mule, Soundgarden, Godspeed You Black Emperor, Glassjaw, Meat Beat Manifesto, Silverchair, CKY, Nirvana, Gomez, (old) U2, Mogwai, Sigur Ros, DJ Shadow, H.I.M., Metallica, Steely Dan, Porcupine Tree, Opeth, Daedelus, Pearl Jam, The Doors, Oscar Peterson, Portishead, Bela Fleck, Morphine, Twineman, Prince, John Coltrane, A Static Lullaby, Orbital, Depeche Mode, Korn, A Perfect Circle, The Police, Otis Redding, Primus, Ravi Shankar, The Verve, Beck, Dave Matthews, Jimi Hendrix, Paul Simon, Nine Inch Nails, Dan Crow, Iron Maiden, Joe Pass, Built To Spill, Lovage, Peter Frampton, Beastie Boys, Red Hot Chili Peppers, 311, Pinback, John Butler Trio, Victor Wooten, No Doubt, R.E.M., Lake Trout, Stevie Wonder, Travis, Phish, Shakti, Slayer, James Taylor, Foo Fighters, J. S. Bach, Jaco Pastorius, A Tribe Called Quest, Beta Band, Jurrasic 5, The Roots, Orbital, Peeping Tom, Guns N Roses, Sneaker Pimps, Massive Attack, Charles Mingus, Cut Chemist, Marvin Gaye, Tom Petty, Niels Henning Orsted Pederson, Death, Dr. Dre, Imperial Drag, Weezer, Busta Rhymes, Dido, Dead Can Dance, The Disociatives, Oingo Boingo, The Cardigans, Slipknot, Hella, Sublime, Finch, Thrice, Bob Dylan, David Grisman, Rolling Stones, Skinny Puppy, Duran Duran, Toadies, Rosenburg Trio, Dada, Fear Factory, Sublime, Tortoise, Bill Evans, Aerosmith, Micheal Jackson, Jeff Buckley, Tim Buckley, Dashboard Confessional, Aphex Twin, Bjork, Cadence, 2nd Attention, many more....

Sounds Like
Bio:
.. .. .. .. .. .. ..
..UNENDING DREAM (2006)
.. $12

..NIMBUS EP (2003)..
$12

..

..

.. .. .. .. .. .. .. .. .. .. ....
..

..

.. .. .. .. .. .. .. .. .. .. .. ..
..*Nimbus News*
..
..
Apr 9th, 2010..
****MAJOR NIMBUS UPDATE****
What do you want first, the good news or the bad news?
Well, lets get the bad news out of the way first. Nimbus is currently and officially not an active entity anymore. We have been pulled in various directions by the forces of life and have all moved on to new endeavors. Luckily, the music we created will live on and we feel very proud of all the art we created together through the years. Perhaps even more importantly we have felt the love and support of so many amazing people for many years, and wish to extend the utmost of gratitude to you all for being a part of our story!!!
Rob is poised to take over the world with his new band Honeysmash. Check them out at
myspace.com/honeysmash
. Tim is now residing in Kansas with his new wife Andrea with their first child on the way in just a few short months! CONGRATS GUYS!!! David is back in school studying music production and has a tough decision ahead after getting accepted to every college and university he applied to. Adam is currently teaching the next generation of young rockers, working on his first ever 'solo' album scheduled for completion later this year, and collaborating on new music with talented artists such as Adam Werner and Shawn Lyon.
Tim, David and Adam spent the past few months working on the first REMIX from the unending dream album for the tune 'It Doesn't Matter' which is finished and up now on our myspace page! Its not what you might expect, it's a full-on electronic reworking of the tune which was mixed and mastered buy audio god (and our good friend) Greg Ripes!
There's also a YOUTUBE VIDEO of the tune up on our profile (and at
youtube.com/nimbusmusic
) featuring a "throughout the years" slide show.
We wish to thank each and every one of you from the bottom of our hearts for listening to our music! Every ending yields a new beginning and we are all excited about the future!
Peace and Good vibes from NIMBUS…
..
May 11th, 2009..
apparently the paypal buttons have stopped working on the new merch page. we are looking into it. thanks for letting us know. we will have it fixed asap!
..
Apr 26th, 2009..
wassup everyobody?!?! we know its been a while since you've heard from us but we have a crap-load of new stuff to share with ya! we've got:
-a
NEW MUSIC VIDEO
for our song "out of here" (the banjo song) directed by peter dang.
-a
NEW YOUTUBE CHANNEL
where you can watch the music video plus see live footage of us playing some originals and covers taken on our 2007 national tour. (
youtube.com/nimbusmusic
)
-
4 NEW SONGS
up on our profile. we've added 3 more songs from our album 'unending dream' and one from our self-titled ep.
-
4 NEW PHOTO ALBUMS
including stills from the video shoot plus some awesome new live shots by kaley nelson
-
A NEW PUZZLE
we wont tell your boss youre doing a nimbus puzzle instead of working if you dont ;)
and last but certainly not least:
-the
NIMBUS MERCH PAGE
is now up and operational!!! you can now easily purchase cd's, shirts for guys and gals, stickers, buttons & lighters directly from us using paypayl. (myspace/com/nimbusmerch)
-PLUS, we've got
2 SHOWS!
coming up for our Los Angeles peeps:
Friday May 1 - Acoustic show @ Follow Your Heart Café
in Canoga Park
Saturday May 23 @ Cobalt Café
also in Canoga Park
we thank you very much for supporting our endeavors! hope you are all well.
enjoy all the NEWNESS!!! and please feel free to drop us a line anytime to tell us how you are doing...
..
Mar 17th, 2009..
Hey everyone! We have been hard at work composing new material, but we are coming out from our hiding place to rock a couple local shows for y'all!
Friday May 1st - Acoustic Show!!! @ Follow your Heart
(in Canoga Park) its been a few years since we rocked the Heart but it is the perfect environment for the intimacy of the acoustic nimbus experience!
Saturday May 23rd @ The Cobalt Cafe
(also in Canoga Park) we plan to do this one up and create not just a killer rock show, but an unforgettable event! there will be great music, amazing art, fun decorations, chimpanzees, plenty of NEW NIMBUS SONGS and maybe even a few really old ones to be heard at this one!
Its been too long and we cant wait to rock with all of our friends once again! Mark your calanders and we shall see ya there!
oh, and happy green beer day!!!
..
Jan 2nd, 09!..
HAPPY NEW YEAR!!! hope everyone has a safe, happy, and healthy 2009!
..
Dec 3rd, 08..
HAPPY HOLIDAYS everyone!!!
just a quick heads up that we have put all of our music on sale at
cdbaby.com
for your holiday shopping pleasure! both the cd and mp3 download for
UNENDING DREAM
and our
SELF TITLED EP
are now only $8 for the month of december!
..
Nov 11th, 08..
we are returning to hibernation mode for a short while while we continue to focus on writing and creating new music. if any amazing show opportunities come our way that we just cant pass up, we will let ya know. otherwise have an awesome rest of the year and we will see ya in 2009! peace and good vibes from nimbus
..
Oct 11th, 08..
the second knitting factory experience was even better than the last! thank you all so much for an amazingly fun time last night! we love you all very much!
our next event is coming up soon! we booked a slot on the So Cal Rock Revolution festival at Hollywood Park Casino on Saturday Oct 25th! we play at 1:30 pm. its all ages. headlining bands include Finch, Hed PE, Kottonmouth Kings, Unwritten Law and many more! its gonna be an all day NIMBUS party so come see some great music and hang with us all day! discount tix available now, just email us.
..
Sep 15th, 08..
we have been asked back to rock the knitting factory main stage once again! the madness shall commence on friday october 10th @ 9:15 pm. its all ages and discount tix are available at
knittingfactory.com
until show day. see ya there!
..
Sep 4th, 08..
just wanna let everybody know how much we appreciated your support at the knitting factory show! our show schedule is gonna remain light for the rest of the year as we are focusing on writing and creating new music but we will most definately have a few more awesome events to look forward to coming soon. as usual, we shall keep ya posted. thanks guys! peace and good vibes~
..
July 27th, 08..
we've got a show!!! our first show back will commence at the knitting factory (main stage) on saturday, august 23rd with our new friends chameleon conductor, ed, and failure to launch. show starts at 8:15 and we go on second so get there nice n early! more details and news soon... be well.
..
June 28th, 08..
all members of nimbus now reside back home in los angeles. the wheels have begun to spin again and as soon as we have some news of shows n such we shall let you know...
..
May 4th, 08..
we apologize for lack of updates lately. for the past few months, we have been on the first legitamate break since we started the band, experiencing some much needed down time for ourselves and our loved ones.
the decision has been made for nimbus to reconvene back home in los angeles when the break is done in a month or so. the next adventure for nimbus includes unlocking some pent up creative energy and writing a plethora of new material, experimenting with new sounds and ideas, rocking some shows in our hometown and surrounding cities, new designs for our myspace profile and website, new photoshoots (which means new puzzles haha), and hopefully a national tour before the year is up to get us back to all the awesome places and people we met in 2007.
more info coming soon... in the meantime, unending thanks to each and every one of you for supporting our endeavors. we love you all!
peace and good vibes~ adam
..
Jan 18th, 08..
brief update: we are gonna take a break for a few months to spend some time planning and preparing for all of our 2008 activities. we will be back in action sometime in late spring or so. hope to see you all again very soon! meanwhile we will still be online regularly, so dont forget to stop by and say hi once in a while! ~peace and good vibes from nimbus~
..
Dec 24th, 07..
just wanna take a second to give thanks to each and every person who was a part of our lives this past year.
it has been a crazy new adventure for us to be away from home for so long, but last night at club 9 was proof that we now have a new family here in cleveland and we love all of you guys very much! you know who you are, and we are gonna miss you all while we are on a lil break for the winter. but dont worry, we will be back sooooooon. you guys rule and we feel blessed to know all of you! thanks for welcoming us to your city.
to our peeps in LA, we just wanna say that we were overwhelmed by the love we felt from you while were back home last month. the malibu inn show was one of our most fun shows ever! it was definately a night we will never forget, and we give unending thanks to you all for being so awesome and supporting us for so many years now! it was great to see everybody after a year away! and this time, we will try to not be away quite so long. see you all soon.
to all the bands and friends, families, and fans of the bands we played with this past year, we give thanks to you for making 2007 an awesome-ly fun and exciting year for us! you guys hooked us up with some kick ass shows, fed us, let us sleep on your couches, practice in your rehearsal spaces, borrow equipment, rocked out with us, and made sure we had a great time everywhere we went! and we did! thank you all so much!
and to the new friends and fans we made along the way, your support is the fuel that drives us. thank you to every single one of you who was at a show, bought our cd, passed out flyers, wore our shirts, told your friends about us, or just stopped by to our myspace every so often to have a listen. you guys are the lifeblood of nimbus and we cant thank you enough!
ok ok, sorry for all the sappy stuff haha. just know that we love you all!
we are now gonna take a little break to step back and plan and prepare for our world domination in 2008! see ya then...
~peace and good vibes from Nimbus~
..
Nov 19th, 07..
THANK YOU TO ALL WHO CAME TO OUR LA SHOWS!!!
they were among our most fun shows ever! our hometown freinds rule!!! thank you for showing us so much love and support after a year away! we appreciate you guys so much and can't wait to be back!
LAST SHOW OF 2007!
our first show of 2007 was at the imfamous CLUB 9, so its only fitting we play our last show of the year there as well!
the party shall commence at 9:30 pm on Saturday, December 1st @ 7621 Mentor Ave. in Mentor, Ohio
we will be joined by our good friends Audiblethread, and are taking a break from performing shows for a few months, so theres 2 more great reasons to make sure to be there!
Cleveland has become our second home base this past year, and we are so happy to have met all of you amazing people we now call friends there. we wanna party with you all at CLUB 9 one more time before the year ends!
see you guys soon...
..
Oct. 14, 07..
BIG NEWS!!!
*EAST COAST TOUR* & *HOMETOWN SHOW* coming up!
if you live near any of the following cities then you better get yourself to a show, as this will be the first time nimbus rocks the atlantic, and we want to finally meet all of our awesome east coast friends!
Oct 18 - PULSE - Ocean City, Maryland (w/Lennex)
Oct 19 - 707 - Ocean City, Maryland (w/Lennex)
Oct 20 - Mr. BEERY'S - Long Island, New York (w/Seer -Presented by Black Mist Productions)
Oct 23 - OTTO'S SHRUNKEN HEAD - New York, New York (w/Nocode - Presented by Black Mist Productions)
Oct 25 - KENNY'S CASTAWAYS - New York, New York (Presented by Black Mist Productions)
Oct 26 - LEARYS - Kingston, Pennsylvania (w/The Drama Club)
Oct 27 - HALLOWEEN PARTY - Selinsgrove, Pennsylvania (w/The Drama Club)
Oct 31 - CLUB 9 - Mentor, Ohio (Halloween show!)
Nov 2 - DIVERSIONS - Chesterland, Ohio
THEN (as if that wasnt cool enough), we head back home to LA to rock one of our favorite venues, THE MALIBU INN on SATURDAY, NOV. 10th! we are honored to be performing with some truly amazing bands, Vokee, Woven, & Ninja Academy! Holy Soundwaves, Batman!!! a night not to miss!
included in the festivities are live painting by Tony Koehl and an art gallery showing featuring works by some of LA's finest artists and photographers including Kaley Nelson, Tony Koehl, Jawn Angione, and many more!
PLUS we will be debuting some brand new material never before heard on the west coast! we cant wait to see everybody back home and have another amazing show after a year away!
if anybody wants to help us promote for the shows coming up, please send us your address and we will send you some promotional stuff. thanks guys!
see you all soon... thanks for listening. we appreciate your support very much!
..
Sept. 10, 07..
much is in being cultivated at the NIMBUS Plantation...national tours, new merch, colorful hair, catchy new vibrational sound frequencies, etc. Until NIMBUS is fully stockpiled, nationalized, and ready for fair trade, I'll leave you with some little known band and band member facts. Get to know the real NIMBUS...
-NIMBUS is compact and lightweight but rugged
-NIMBUS is certified flameproof
-NIMBUS is considered an improvement over the old favorite
-NIMBUS is designed to provide an engaging and highly realistic experience
-NIMBUS is the computational workhorses of the Helix Systems
-NIMBUS is Sun's next-generation look and feel
-NIMBUS is free for academic teaching and research purposes
-NIMBUS is also available in gaucho brown
-NIMBUS is a Zeon Ace pilot
-NIMBUS is available as stud to approved bitches
-NIMBUS has been developed at the University of Jyväskylä, Department of Mathematical Information Technology
-NIMBUS is not only super-babe-a-licious, but is also fabulously kind and generous
-NIMBUS is ready to offer unmatched performance for the next generation
-NIMBUS is easy to use, configure and maintain
-NIMBUS is often seen attached to the heads of evil spirits
-NIMBUS is on the wall with the question "How are we going to compete with this?
-NIMBUS is clearly visible
-NIMBUS is on a distinguished road
-NIMBUS is equipped with a fot gearshift
-NIMBUS is a multiobjective optimization method capable of solving nondifferentiable and nonconvex problems
-NIMBUS is a compact clumper
-NIMBUS is yelling and screaming a lot less than i would be
-NIMBUS is extremely jeoulous of your new track
-NIMBUS is off the scale
-NIMBUS is implemented in a matter of hours
-NIMBUS was built entirely with shapes and vectors
-NIMBUS is specifically designed to make a real difference to your company's operations
-Comfort with NIMBUS is not an issue
-David is joining the spying game
-Adam is a significant architectural paradigm shift
-Tim is the quality in each of us which can get a slinky all the way down the stairs without stopping
-Rob is like a kitten being weaned from its momma's teat
-David is looking forward to a new hand held monocular in the fall
-Adam is an effervescent new spin on romance in present-day Ireland
-Rob is a spicy fellow
-Adam is dead sexy
-Adam is protected by court order from receiving electroshock
-David is currently breaking ground in the African-American community
-David is the vegetable
-Adam is limited to eight chemicals
-Rob is always available by appointment to meet with you
-Tim is referred to in other ways among PC geeks
-Rob is just 'that much better' than Tim McGraw
-Adam is not quite as strong as Tiger, but it's close
-Rob is a run through the Amazon
-Rob is good at Puzzles
-David is scaling new heights
-Rob is conveniently posted up on the other side of the candy cane movement
-Tim is an emalgamation of Ideas and Concepts that have helped to shape the Universe
-David's winter interest is Rugby
-Tim is road-proven
-Tim is not the goat
-David is more than halfway done
-Rob is a lesbian
-Adam is the perfect tool for the job
-Tim is just the start
-Adam is walking out of here
-Tim is a domain-independent automatic domain analysis tool
-David is updated weekly
-David is clearly suggesting that he has transcended the physical
-Adam is not a metaphor
-David is the result of intense anatomy studies
-Rob is anything but a jerk-off
-David is a master at innuendo and half-to-no-truths
-Adam is an accident waiting to happen
-Tim is nominated for high quality
-David is in it
-Adam is surprised, but glad he's here
-David is a creature of moral absolutes
-Rob is out on the porch, and it is about to rain
-David is so highly regarded in the hip-hop community
-Adam is truly a brown man trapped in a white man's body
-Tim is on the other end of the telephone
-David is a superb literary achievement
..
June 29, 07..
..TOURING 101-a study guide-..
syllabus:after a few weeks touring the midwest with LENNEX, self-proclaimed newfound touring experts, NIMBUS, relinquish tips of the trade and key midwest facts...
*make sure the whole band is in the vehicle before leaving; if one must be left behind, the bassist is probably the most easily replaceable.
*when in Fort Wayne, IN, look for the old man with the long grey beard. He will enjoy your music immensely, most noticeably via his fingers.
*touring with the amazing band, Lennex, is probably a good idea(if you have extra floorspace during off hours)
*asking a rockstar to play volleyball just after they did their hair makeup and nails will only set you up for dissapointment.
*a good musician is only measured by their turkey sandwich making ability(plenty of books have already been written on good turkey sandwich making).
*condemned brothels in Michigan are usually haunted, but make for very fun music venues.
*be careful, evangelests can be in rock bands too!
*bringing tools can make the difference of being trapped in a parkinglot in Harrisburg, PA at 3am, or breaking the chains to freedom.
*if you can't make good turkey sandwiches at least be good at oragami, or quit.
*the hallmark inn probably has the cleanest insect-free rocks.
*don't let the banjoist forget his banjo(then he'll try and play the triangle or something)
*if you haven't checked Lennex out, do so now. Though they might lack in the sandwich making department, they're very good at oragami.
that's pretty much all you need to be a successful touring musician. Stay tuned for my seminar on, Musical Chairs.
-6ac
a.k.a. professor Dave
..
May 18, 07..
Thanx to Pat and Jim at Inner Sanctum for taking a liking to us, and playing our music on 92.3 Krock. If you live in Cleveland, OH, USA, Earth, you can listen to us live answering questions, and reading act 1 of Shakespear's MacBeth on said station July 15th @ ~10:00. Until then catch NIMBUS laking it up this summer touring the Great Lakes area with Lennex(singer famous from rockstar reality tv show rockstar supernova).
Thanx to all you wise and noble listeners with exceptional taste for adding an extra digit on our total myspace plays!! We now have well over 100,000 plays
and thanx to the precession of the equinoxes, and earth-crust displacement for shakin it up and keeping things fresh...
-Davidivichski
..
March 12, 07..
Greetings from Cleveland, Ohio. A lot has happened with NIMBUS since the last update, so let's start with the now and work backwards. (If you read the rest of this message through a mirror held to your computer screen, it'll make a lot more sense…) We just got back from our 6th show in Ohio and for the first time as a band fully realized the uncontrollable power of "word of mouth!" This was our 3rd show at the same venue, but this time instead playing our hearts out to the 4 fortunate regular bar-folk (as did the previous two shows) the place was filled with booze-loving, snow-dwelling, overly applauding, great listeners with exceptional taste in music! Next stop: indoctrination into the Rock and Roll Hall of Fame (then the akashic hall of records but that's a different story, and our stuff isn't available on vinyl yet!).
Other mentionable Ohiolights…It fuckin snows here! With wind-chill factors of -20 and supposedly the worst blizzard in 20 years, it's been an interesting winter. But I guess the snow looks pretty on camera. Check out the pics of us in the snow and walking on frozen Lake Erie strewn about our site! We've met some truly amazing bands in our travels, the coolest being -Seer-(
www.seerband.com
), and Lourds (
www.lourdsmusic.com
), both from New York. If you've made it this far in the NIMBUS update I urge you to check them both out for your own benefit. Hopefully you'll see us on the road with one or both of them later this year.
By now you'd think we moved to Ohio or something. Well, that's entirely correct as of December 06'. With a more affordable living situation, and a whole new group of people to entertain, NIMBUS is now a Midwesterner. (Don't worry LA, we still love you and we'll be back soon, baby). The road trip up here was awesome, I highly recommend it! All I can advise is don't incinerate herbs that produce a skunky odor inside your motel room right before you check out the next morning…the cleaning ladies really don't like that!
Just before moving, NIMBUS spent much time and care (and federal reserve notes) recording our first full-length album, Unending Dream. Hopefully this is already common knowledge to everyone reading this…if not, please pick up a copy! It's really fuckin good! To enhance tasty track potential, we got to record at Sage and Sound-an amazing studio(right between recording sessions of The Mars Volta and Marylin Manson!), with Rae Dileo-an amazing producer(Filter, Army Of Anyone, Henry Rollins, Varuca Salt, etc). I think pictures of the sessions are on this site as well. Anyway, check out some of the tracks on our "songs page" and then grab a copy of the album here:
www.cdbaby.com/nimbus
.
That pretty much brings us to date with the Nimbusciles. If I could predict the rest of our year, I'd envision a map of the US&A and NIMBUS but an intersecting moving red line upon it.
Peace out,
-David
Add our banner to your page: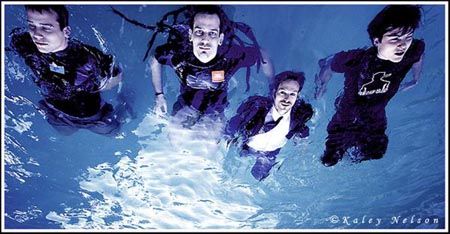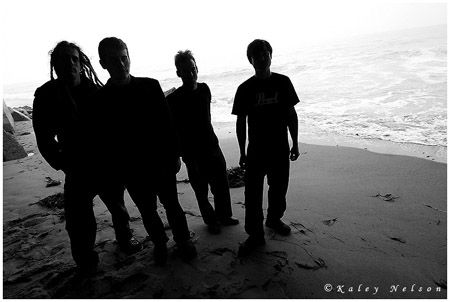 Member Since:
February 17, 2004
Members: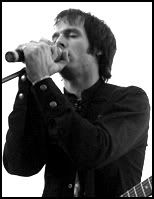 vocals, guitar, stuff
guitar, banjo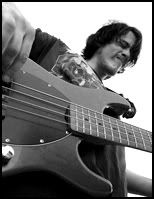 electric & upright bass, vocals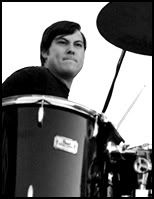 drums, percussion
Influences:
..A few of our musical influences:
.. Radiohead, Tool, Pink Floyd, Beatles, Muse, The Used, Dredg, The Mars Volta, Chevelle, Ours, Circa Survive, Mt. Helium, The Apex Thoery, Blonde Redhead, Remy Zero, Coldplay, Medeski Martin & Wood, Porcupine Tree, Elliot Smith, Miles Davis, Blindside, The Bled, Deftones, At The Drive In, The Cure, Death Cab For Cutie, Bush, Filter, Led Zeppelin, Squarepusher, Isis, STP, Amon Tobin, Incubus, Alice in Chains, Bob Marley, Greatful Dead, Bad Religion, Black Sabbath, Government Mule, Soundgarden, Godspeed You Black Emperor, Glassjaw, Meat Beat Manifesto, Silverchair, CKY, Nirvana, Gomez, (old) U2, Mogwai, Sigur Ros, DJ Shadow, H.I.M., Metallica, Steely Dan, Porcupine Tree, Opeth, Daedelus, Pearl Jam, The Doors, Oscar Peterson, Portishead, Bela Fleck, Morphine, Twineman, Prince, John Coltrane, A Static Lullaby, Orbital, Depeche Mode, Korn, A Perfect Circle, The Police, Otis Redding, Primus, Ravi Shankar, The Verve, Beck, Dave Matthews, Jimi Hendrix, Paul Simon, Nine Inch Nails, Dan Crow, Iron Maiden, Joe Pass, Built To Spill, Lovage, Peter Frampton, Beastie Boys, Red Hot Chili Peppers, 311, Pinback, John Butler Trio, Victor Wooten, No Doubt, R.E.M., Lake Trout, Stevie Wonder, Travis, Phish, Shakti, Slayer, James Taylor, Foo Fighters, J. S. Bach, Jaco Pastorius, A Tribe Called Quest, Beta Band, Jurrasic 5, The Roots, Orbital, Peeping Tom, Guns N Roses, Sneaker Pimps, Massive Attack, Charles Mingus, Cut Chemist, Marvin Gaye, Tom Petty, Niels Henning Orsted Pederson, Death, Dr. Dre, Imperial Drag, Weezer, Busta Rhymes, Dido, Dead Can Dance, The Disociatives, Oingo Boingo, The Cardigans, Slipknot, Hella, Sublime, Finch, Thrice, Bob Dylan, David Grisman, Rolling Stones, Skinny Puppy, Duran Duran, Toadies, Rosenburg Trio, Dada, Fear Factory, Sublime, Tortoise, Bill Evans, Aerosmith, Micheal Jackson, Jeff Buckley, Tim Buckley, Dashboard Confessional, Aphex Twin, Bjork, Cadence, 2nd Attention, many more
NIMBUS has 32721 friends.