Play

Play Next

Add to queue
Play

Play Next

Add to queue

1,327 plays

Play

Play Next

Add to queue

671 plays

Play

Play Next

Add to queue

335 plays

Play

Play Next

Add to queue

174 plays

Play

Play Next

Add to queue

5,611 plays
Genre: Metal / Progressive / Thrash

Location SEATTLE, Washington, Un

Profile Views: 105561

Last Login: 1/27/2013

Member Since 11/29/2004

Type of Label Major

Bio

.............. .. .............. .. ONLY HUMAN has recently finished their new album titled "The Dismantling" and it is being well received by long time fans and newcomers alike. We recorded, tracked, edited & mixed with local Seattle engineer ..Don Gunn.. at Two Sticks Audio the new studio built and owned by Jason McGerr of Death Cab for Cutie. .. The CD was mastered and features a guest guitar solo by ..James Murphy!.. James is most noted for his guitar work with Death, Testament, Disincarnate and two cult classic solo albums. He currently spends most of his time working as a world class engineer out of his Safe House Studio in Central Florida. .. As a Band we are collectively working to bring about awareness to important issues both local and universal. Through raising personal consciousness and responsibility to new heights in our day to day lives, we are expressing a positive and challenging perspective through our music, lyrics and our live performances. We are working to spread this message through embracing our collective reality so that we might be able to progress forward together, to leave behind the unhealthy and destructive patterns that we've created for ourselves, which breeds the suffering we constantly experience as a whole that the universe deems literally unnecessary. .. "Each human has a unique talent which, when discovered, nurtured, and truly lived, changes our own personal world. By living that pure true self beyond our limited beliefs, we slowly change the world around us into an experience of higher intention, greater freedom and possibility. Humans are conditioned to dissect, judge, separate, and tear down our reality. This fractures or cracks the unified reality of which we are all a part. Seeing unity and nurturing it will heal the cracks of separation and strengthen our relationship with the divine in us all. " .. ***Drunvalo Melchizedek*** .. ONLY HUMAN is a hard working, forward thinking, dedicated touring metal band that has been on a quest to make honest and sincere music that transcends the individuals making it. With the word spreading fast like wildfire ONLY HUMAN is quickly making some great friends with a few unique sponsors including; VHT Guitar Amps, Glaceau Vitamin & Smart Water, The Vital Energy Center, EMG Pickups, Graphtech Guitar Labs, and recently joining forces with Sage Francis to help spread the word about the revolutionary web-collective KNOWMORE.org. .. ONLY HUMAN has shared the stage with such acts as Will Haven, Into Eternity, Cryptopsy, Today is the Day, Cattle Decapitation, Watch Them Die, ASESINO, Apiary, Six Feet Under as well as many others. <iframe width="560" height="315" src="http://www.youtube.com/embed/31yfZ9YoVvM" frameborder="0" allowfullscreen></iframe>

Members

Current Members; .. .. ..Jeremy Schulz - Drums.. .. .. ..Tony Musacchia - Bass.. .. .. ..Chrys Johnson - Guitar.. .. .. Previous Members; .. .. ..Russell Graham - Vocals (The Dismantling).. .. .. ..Ryan Meranda - Guitar (Tyranny of Ignorance).. .. .. ..Don Wade - Vocals (Tyranny of Ignorance).. .. .. ..Mike Moore - Bass (Tyranny of Ignorance).... ..

Influences

Candiria, Meshuggah, Between the Buried and Me, James Murphy, Tony Williams, Shawn Lane, Buckethead, Allan Holdsworth, System of a Down, Stevie Ray Vaughn, Pantera (R.I.P. Dime), Testament, Brian May, Into Eternity, Billy Cobham, All That Remains, Alex Skolnick, TOOL, Something Must Die, Jaco Pastorius, Mudvayne, John McLauglin, Apiary, Marty Friedman, Expiration Date, At the Gates, Ephel Duath, Jason Becker, Botch, Shane Theriot, John 5, Black Sabbath, George Lynch, Steve Vai, Vinnie Moore, Fall of Troy, Clutch, Victor Wooten, Unearth, Larry Coryell, Megadeth, Refused, Jimi Hendrix, Spiral Architect, Metallica, Sylvain Luc, Carcass, John Petrucci, Death & Control Denied (R.I.P. Chuck), Cynic, Martyr, The Mars Volta, Al Di Meola, Faith No More and all things Mike Patton. --------

Sounds Like

The hope of a secure and livable world lies with disciplined nonconformists who are dedicated to justice, peace and brotherhood. Martin Luther King Jr .. .. ..> ...... .......... .... .. .. .... .. ..VHT Guitar Amps.. .. ..Seattle Drum School of Music.. .. ..EMG Pickups for Guitar and Bass.. .. ..GraphTech Guitar Labs.. .. ..Vipassana Meditation.. .. ..The Vital Energy Center.. .. ..Vitamin Water.. .. .. .. .. .. .. .. ................ .. "We could say that meditation doesn't have a reason or doesn't have a purpose. In this respect it's unlike almost all other things we do except perhaps making music and dancing. When we make music we don't do it in order to reach a certain point, such as the end of the composition. If that were the purpose of music then obviously the fastest players would be the best. Also, when we are dancing we are not aiming to arrive at a particular place on the floor as in a journey. When we dance, the journey itself is the point, as when we play music the playing itself is the point. And exactly the same thing is true in meditation. Meditation is the discovery that the point of life is always arrived at in the immediate moment." .. ~Alan Watts
Bio: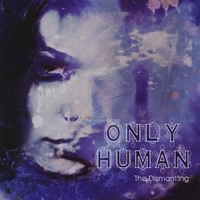 ONLY HUMAN has recently finished their new album titled "The Dismantling" and it is being well received by long time fans and newcomers alike. We recorded, tracked, edited & mixed with local Seattle engineer ..Don Gunn at Two Sticks Audio the new studio built and owned by Jason McGerr of Death Cab for Cutie.
The CD was mastered and features a guest guitar solo by ..James Murphy! James is most noted for his guitar work with Death, Testament, Disincarnate and two cult classic solo albums. He currently spends most of his time working as a world class engineer out of his Safe House Studio in Central Florida.
As a Band we are collectively working to bring about awareness to important issues both local and universal. Through raising personal consciousness and responsibility to new heights in our day to day lives, we are expressing a positive and challenging perspective through our music, lyrics and our live performances. We are working to spread this message through embracing our collective reality so that we might be able to progress forward together, to leave behind the unhealthy and destructive patterns that we've created for ourselves, which breeds the suffering we constantly experience as a whole that the universe deems literally unnecessary.
"Each human has a unique talent which, when discovered, nurtured, and truly lived, changes our own personal world. By living that pure true self beyond our limited beliefs, we slowly change the world around us into an experience of higher intention, greater freedom and possibility. Humans are conditioned to dissect, judge, separate, and tear down our reality. This fractures or cracks the unified reality of which we are all a part. Seeing unity and nurturing it will heal the cracks of separation and strengthen our relationship with the divine in us all. "
***Drunvalo Melchizedek***
ONLY HUMAN is a hard working, forward thinking, dedicated touring metal band that has been on a quest to make honest and sincere music that transcends the individuals making it. With the word spreading fast like wildfire ONLY HUMAN is quickly making some great friends with a few unique sponsors including; VHT Guitar Amps, Glaceau Vitamin & Smart Water, The Vital Energy Center, EMG Pickups, Graphtech Guitar Labs, and recently joining forces with Sage Francis to help spread the word about the revolutionary web-collective KNOWMORE.org.
ONLY HUMAN has shared the stage with such acts as Will Haven, Into Eternity, Cryptopsy, Today is the Day, Cattle Decapitation, Watch Them Die, ASESINO, Apiary, Six Feet Under as well as many others.
Member Since:
November 29, 2004
Members:
Current Members;
Jeremy Schulz - Drums
Tony Musacchia - Bass
Chrys Johnson - Guitar
Previous Members;
..Russell Graham - Vocals (The Dismantling)..
Ryan Meranda - Guitar (Tyranny of Ignorance)
Don Wade - Vocals (Tyranny of Ignorance)

Mike Moore - Bass (Tyranny of Ignorance)


Influences:
Candiria, Meshuggah, Between the Buried and Me, James Murphy, Tony Williams, Shawn Lane, Buckethead, Allan Holdsworth, System of a Down, Stevie Ray Vaughn, Pantera (R.I.P. Dime), Testament, Brian May, Into Eternity, Billy Cobham, All That Remains, Alex Skolnick, TOOL, Something Must Die, Jaco Pastorius, Mudvayne, John McLauglin, Apiary, Marty Friedman, Expiration Date, At the Gates, Ephel Duath, Jason Becker, Botch, Shane Theriot, John 5, Black Sabbath, George Lynch, Steve Vai, Vinnie Moore, Fall of Troy, Clutch, Victor Wooten, Unearth, Larry Coryell, Megadeth, Refused, Jimi Hendrix, Spiral Architect, Metallica, Sylvain Luc, Carcass, John Petrucci, Death & Control Denied (R.I.P. Chuck), Cynic, Martyr, The Mars Volta, Al Di Meola, Faith No More and all things Mike Patton. --------
Sounds Like:
The hope of a secure and livable world lies with disciplined nonconformists who are dedicated to justice, peace and brotherhood. Martin Luther King Jr
VHT Guitar Amps
EMG Pickups for Guitar and Bass
"We could say that meditation doesn't have a reason or doesn't have a purpose. In this respect it's unlike almost all other things we do except perhaps making music and dancing. When we make music we don't do it in order to reach a certain point, such as the end of the composition. If that were the purpose of music then obviously the fastest players would be the best. Also, when we are dancing we are not aiming to arrive at a particular place on the floor as in a journey. When we dance, the journey itself is the point, as when we play music the playing itself is the point. And exactly the same thing is true in meditation. Meditation is the discovery that the point of life is always arrived at in the immediate moment."
~Alan Watts
Label Type:
None
ONLY HUMAN (entire new CD up for streaming!!!& has 17736 friends.