Play

Play Next

Add to queue
Genre: Experimental / Indie / Rock

Location CAMAS, Washington, Un

Profile Views: 94216

Last Login: 7/24/2012

Member Since 6/27/2006

Website www.kyekyemusic.com

Record Label None

Type of Label Unsigned

Bio

.. .. .. .. .. .. .. .. ........ .... ...... .... ...... .... ...... .... ...... .... ...... .......... .. .. .. .. We are friends and we are siblings. Our love for music was passed on from our parents. Our Love for Christ was given to us from our Heavenly Father. We fuse the two and we get Kye Kye. We experienced a personal encounter with Jesus Christ in 2009;; our meeting went down something like Acts 2:2. It was nothing short of profound. We KNOW we have found the meaning of life, and we KNOW it is Eternal Life. John 3:16 tells us that this is the reason He came. Then in John 17;3 Christ expounds on what this truly means. "" And this is eternal life, that they know you the only true God, and Jesus Christ whom you have sent. """ .. WHY DOES Kye Kye EXIST? Certain things happen in a persons life that are a result of an intimate relationship with God through Christ. One of those things is the desire to spread the good news of the Kingdom of God. As this relationship grows a second set of desires tends to rise up in your heart. This desire is designed and tailored to you and grows for the very purpose of supporting the desire to pour out the gospel from within you. .. Kye Kye is our second set of desires. .. We Love what we do and are blessed to be able to pour out what God has done through Christ, why he did it, what that means, why its different than anything else that's offered in this world .. through the art of Music. .. .. Think Big--Move Big--Spread The Difference .. .. .. .. If anyone feels it in their heart to support our ministry, we would love your help in spreading what is on our hearts. As we prepare to go into the studio in October, we are saving up to pay for our Sophomore record. If you can't help financially, please keep us in your thoughts and prayers! Below is a button to donate whatever amount you feel called in your hearts to. Thank you and we love all of you! - Paper Rings .. .. .. .. .. .. .. .. .. .... .. <[[[[[[[iframe]]]]]]] src="http://player.vimeo.com/video/14260184" width="400" height="300" frameborder="0">......Worshiping in Spirit and in Truth.. from ..Paper Rings.... .. .. .. .. .. .. ........ .. .. .. .. .. .... .. .. .. .. .. .. .......... .. ....

Members

...... ...... .. .. .. .. .... .... .. .. .... ...... .... ...... .. .... ...... .... ...... .... .. ...... .... ........ .. .... ...... .... ........ .. .. .. .. .... .. ...... .. .. ....HOMETOWN.... ....Camas, WA.... .. .. ....URL.... ....www.myspace.com/paperrings.... .. .. ....BOOKING.... .... ..paperringsmusic@gmail.com...... .. ....Management.... ....Ryan Shrout.... .. .. ....TYPE OF LABEL.... ....Indie.... .. .. ....DESIGN.... ....Robbie King.. ..robbiekingphoto@gmail.com.... .. .. ...... ...... .. .. ..!-END block to replace General Table-!..

Influences

Sounds Like
No recent updates in this category.
Why not...
Bio:
..


We are friends and we are siblings. Our love for music was passed on from our parents. Our Love for Christ was given to us from our Heavenly Father. We fuse the two and we get Kye Kye. We experienced a personal encounter with Jesus Christ in 2009;; our meeting went down something like Acts 2:2. It was nothing short of profound. We KNOW we have found the meaning of life, and we KNOW it is Eternal Life. John 3:16 tells us that this is the reason He came. Then in John 17;3 Christ expounds on what this truly means. "" And this is eternal life, that they know you the only true God, and Jesus Christ whom you have sent. """
WHY DOES Kye Kye EXIST? Certain things happen in a persons life that are a result of an intimate relationship with God through Christ. One of those things is the desire to spread the good news of the Kingdom of God. As this relationship grows a second set of desires tends to rise up in your heart. This desire is designed and tailored to you and grows for the very purpose of supporting the desire to pour out the gospel from within you.
Kye Kye is our second set of desires.
We Love what we do and are blessed to be able to pour out what God has done through Christ, why he did it, what that means, why its different than anything else that's offered in this world .. through the art of Music.

Think Big--Move Big--Spread The Difference



If anyone feels it in their heart to support our ministry, we would love your help in spreading what is on our hearts. As we prepare to go into the studio in October, we are saving up to pay for our Sophomore record. If you can't help financially, please keep us in your thoughts and prayers! Below is a button to donate whatever amount you feel called in your hearts to. Thank you and we love all of you! - Paper Rings

.. .. .. ..
..




<[[[[[[[[iframe]]]]]]]] src="http://player.vimeo.com/video/14260184" width="400" height="300" frameborder="0">..

Worshiping in Spirit and in Truth from Paper Rings
Member Since:
June 27, 2006
Members:
...... ......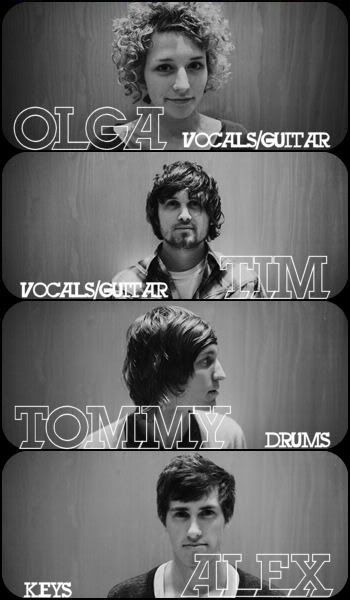 .. .. !-END block to replace General Table-!
Record Label:
None