Planet Verge Internet-TV hasn't earned any badges yet... have you?
General

CUPCAKE FEST 2010!

Planet Verge

(n.): A creative outlet for agenda setting, dream chasing media professionals to do what they love while making an impact on the world, one indie rocker at a time. Through various forms of media (zines, blogs, Web-TV episodes), Planet Verge has established a reputation for bringing its audience the future of music, fashion and entertainment now. The all-female staff produces up-close-and-personal content with acclaimed national touring acts and on-the-rise indie bands and trendsetters. Along with bringing "what's hot," Planet Verge reports on social issues –"what's important"- by raising awareness to causes and encouraging impressionable generations to take action.

Planet Verge Girls

(n.): The global staff of Planet Verge. By day, these twenty-something's climb the corporate ladders of their chosen entertainment-based careers (marketing, journalism, public relations, graphic design, etc) and then unite under a love for chasing dreams, enduring the rigors of the rock world (like getting accidentally hit with a rock stars spit while in the photo pit) and making a difference. Having a sensational sense of style and great hair (as one critic hailed) is not a requirement, but is undeniably obvious.

On the Verge

(n.): The Web-TV show produced by Planet Verge and Ambush TV (2009). Through On the Verge, the PV Girls bring viewers What's Hot and What's Important.

START SOMETHING. WE DID.

WATCH US ON

WWW.AMBUSH.TV

WE SUPPORT INDEPENDENT MUSIC!!

Music

OTV Guests Include: (Indie and acclaimed artists from the USA

,

UK

, Ireland & Australia)

PLANET VERGE TV EPISODE ARCHIVE: (Indie and acclaimed artists from the USA,

UK

, Ireland & Australia) 30 Seconds to Mars Addictive Ahymsa Sunrise Aimee Allen AM Taxi A Moment's Worth April SmithDead Gorgeous" Bird By Bird (Feat. Jonathan Devoto/ The Matches) Black Gold Butch Walker Burn Halo Cash Cash Carnivores Chloe Jo Berman (The Girly Girl Army) Chris Unck Closure in Moscow Daniela Sea (The L Word) David Garrett Drive By Elephant Gun Emery Emii Eye Alaska Franko Frank and Derol Funeral For a Friend Gabrielle Brick (The One Chocolate Bar) Gene Bauer (Farm Sanctuary) Hanson Hellogoodbye If But When Jerseylicious Premiere Party Jet Lag Gemini John Nolan (Taking Back Sunday/Straylight Run) Karnivool Kate Rockland (Author, Falling is Like This) Katie Cole Kelsey and the Chaos Lostprophets Love Automatic Marcy Playground Makeshift Lullaby Maniac (Feat. Shawn Harris/The Matches) Matt Lowell Nine Circles NJ Underground Relief Rob Hitt (Midtown/ Angels and Kings DJ) Sherwood Shiragirl Semi Precious Weapons Sohodolls: Full band interview, Matt Lord solo interview Solange Knowles The Academy Is… The Bigger Lights The Booze The Colourist The Gay Blades The Glam Fairy (Alexa from Jerseylicious/ behind-the-scenes of PV staff photoshoot) The Lives of Famous Men The Lovemakers The Matches The Right Coast The Summer Set The Years Gone By Those Mockingbirds This Providence Vegan Drink Night at Angels and Kings: Part 1 and Part 2 Vinnie Caruana (The Movielife/ I Am The Avalanche) Washington Square Park Wild Light Young Love Segments Include: - Up-close with endangered tigers at The Marcan Tiger preserve - On the runway at Fashion a Cure for The American Cancer Society. - The Face of Animal Cruelty -Stogo Vegan Ice Cream PLANET VERGE TV SERIES: -Going VEGAN (featuring The Lives of Famous Men's Dylan Mandel) -Road to SXSW with The Right Coast EVENTS: - Cupcakefest 2010: COMMERCIALS: Planet Verge TV Launch Promo Planet Verge + No One You Know Productions Cupcakefest 2010

Movies

Television

Books

Heroes

Numerous issues of Planet Verge (when we were a print 'zine) have been reviewed by fellow media outlets:

The pictures are by far the sharpest I've ever seen in an independent magazine. The spontaneity of some of the pieces just delight me. The interplay between the coverage that PV gives to major label acts (such as The All American Rejects, Alkaline Trio, and Wakefield), and lesser known acts such as Fixer, Pete, Superspecs, and Trouble Is really shows that there is more to music than a major vs. independent argument." - JERSEY BEAT issue 74

Always hip and in the know about upcoming bands, Joelle and the crew have put their money and clout behind these bands, and only a few months later, you hear about these bands on MTV and Clearchannel radio." ---

NEUFUTUR.COM

It's all laid out really well and the articles aren't too long so they're perfect for people with a short attention span. You'll find yourself giggling at some of their crazy articles. BLACK VELVET MAGAZINE (UK) .. 39

Heres a glimpse into our mailbag:

Thank you VERY much for your support of our bands and label-we don't always get that and we really appreciate it!! -Drive-Thru Records co-founder, Richard Reines

I heard about Planet Verge from

TheNJScene.com

, or whatever it is. I live in Michigan, but want to get the hell out of here as quickly as I can. Anyway, thanks for replying to my e-mail. I thought that maybe you were like Alternative Press- "too cool" to respond to any e-mails.- Brian Oakley

All I have to say is Wow! I love your magazine! It's unlike anything I've read. I love the way you guys take time to help promote the local bands you love. !!!!! It's nice to see such an original zine with people as dedicated as you working behind it. Brianna Hinton, OFallon, IL
Planet Verge music network has 11882 friends.
Play

Play Next

Add to queue

Play

Play Next

Add to queue

Play

Play Next

Add to queue

Play

Play Next

Add to queue

Play

Play Next

Add to queue
About me: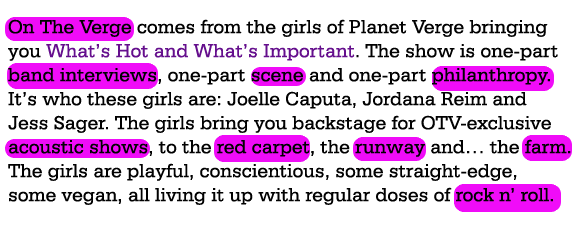 WE USE FACEBOOK MORE! http://www.facebook.com/planetverge
WATCH On The Verge, OUR INTERNET-TV SHOW:
Who I'd like to meet: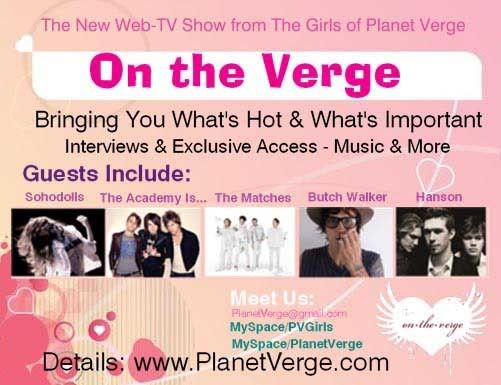 MEET OUR STAFF
www.myspace.com/pvgirls
LEARN MORE ABOUT PLANET VERGE ON OUR OFFICIAL SITE:
www.planetverge.com
Status:

Single

Here for:

Friends

Zodiac Sign:

Taurus