Play

Play Next

Add to queue
Play

Play Next

Add to queue

5,775 plays

Play

Play Next

Add to queue

13,512 plays

Play

Play Next

Add to queue

80 plays

Play

Play Next

Add to queue

2,323 plays

Play

Play Next

Add to queue

2,121 plays
Genre: Metal / Rock

Location Stuttgart, Baden-Württemberg, DE

Profile Views: 110687

Last Login: 9/12/2012

Member Since 11/20/2006

Website www.pump-rocks.net

Record Label Fastball Music/Sony Distribution_Jamsync Music USA

Type of Label Indie

Bio

.. .. .. .. .. .. .. .. .. .. .. .. .. .. ...... .. .. .. .. .. .. .. Some people might say you can't play 80ies Metal nowadays, you can't do this, you can't do that…come on…the only thing you can't do is put music into drawers! It's only Rock'N' Roll…and they like it!!! Nothing more – nothing less. It's beer drinkin', whiskey slammin', hotel trashin'; chick bangin' – kick ass Rock-N-Roll!!!!!!!!!! That's what it's all about. A description of them, the code they live by, or better both. Come inside and join the PUMP circle of friends. You won't believe your eyes and ears. PUMP is one of the most exciting new bands of the new millennium. Lookin' upon them and listening to their music may leave you changed for life. You might feel a sudden need to get drunk, remove your clothes and doin' all the the things your Mom shouldn't know. Just things you've only fantasized about. If so, welcome to the world of PUMP! PUMP is: Marcus Jürgens, Vocals Selly Berhardt, Guitar Michael Vetter, Bass Aki Reissmann, Guitars Andy Minich, Drums PUMP is a band with a solid foundation and real Rock-N-Roll blood runnin' down their veins. 5 guys who where only born to do one thing, rock the world!!!!!! PUMP was formed in February 2002 by a group of talented, hard-working musicians. Tired of being told what type of music they should play, PUMP decided to go against the pervasive Grunge/Nu-Metal grain to play the hard rock music they love in the vain of Skid Row, Tesla, Whitesnake, Aerosmith and Dokken. Their defiance has paid off. After only a short time, they are taking hard rock and metal to a new generation. PUMP's current line-up is led by vocalist Marcus Jürgens, whose raw vocal ability contributes to the band's distinctive sound. The guitar team of Selly Bernhardt and Aki Reissmann each bring his own unique guitar style to this hard-driving mix: bluesy, yet melodic with a heavy twist. Bassist Michael Vetter and drummer Andy Minich provide the solid, rhythmic foundation on which the music is built. PUMP has what it takes to bring hard rock to a scene hungry for music that is loud, heavy, and straight from the gut. The music is about good times, bad times, sex, booze and lots of life stories, all wrapped up into high-energy Rock-N-Roll music. It's pure, not pretend, not faked or forced. It's just simple, but PUMP has something special, a gift, the passion, the drive, the ability to make it happen. It's time to stand up and salute the next generation of Rock-N-Roll music. Some people already could witness their raw live energy whereas they had the opportunity to open up a few shows for Harem Scarem and legendary US-Rockers Dokken. Now it's time to present their first full-length album produced by german top producer Tommy Newton which was recorded at the famous Area 51 Studios in Celle and proofs the amazing variety of PUMP. From hard driving heavy rockers to soulful ballads PUMP offers everything you need for your next Rock 'n' Roll party! On Tour with Axel Rudi Pell on the first leg of their European tour On Tour with Queensryche in Germany So lock up your daughters and prepare yourself to follow the call of the wild – Get ready to rock with PUMP. NOW! Don't forget to visit our homepage http://www.pump-rocks.net for more info about Pump . . PUMP USES : ...... .. ............Myspace Layouts.. - ..Myspace Editor.. - ..Hot Comments.. - ..Image Hosting....

Members

...... .. .. .. .. .. .. .. .. ...... ...... ________________________________________________________________________CONTACT : Info@pump-rocks.net __________________________________________________ FOR PROMOTION : BROOKE-LYNN PROMOTION Birgit Bräckle Vordere Schafstr. 17 D-70599 Stuttgart Tel: ++49-711-450 54 33 Fax: ++49-711-450 54 36 www.brooke-lynn-promotion.de

Influences

Skid Row/ Tesla /Whitesnake / Accept ..... ........

Sounds Like

100% PURE KICK ASS PUMP'N ROLL
No recent updates in this category.
Why not...
Bio: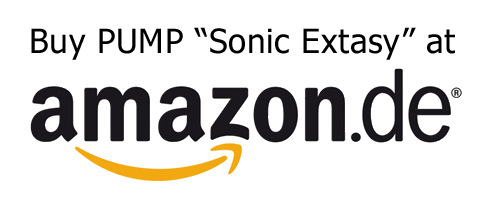 Some people might say you can't play 80ies Metal nowadays, you can't do this, you can't do that…come on…the only thing you can't do is put music into drawers! It's only Rock'N' Roll…and they like it!!! Nothing more – nothing less. It's beer drinkin', whiskey slammin', hotel trashin'; chick bangin' – kick ass Rock-N-Roll!!!!!!!!!! That's what it's all about. A description of them, the code they live by, or better both. Come inside and join the PUMP circle of friends. You won't believe your eyes and ears. PUMP is one of the most exciting new bands of the new millennium. Lookin' upon them and listening to their music may leave you changed for life. You might feel a sudden need to get drunk, remove your clothes and doin' all the the things your Mom shouldn't know. Just things you've only fantasized about. If so, welcome to the world of PUMP! PUMP is: Marcus Jürgens, Vocals Selly Berhardt, Guitar Michael Vetter, Bass Aki Reissmann, Guitars Andy Minich, Drums PUMP is a band with a solid foundation and real Rock-N-Roll blood runnin' down their veins. 5 guys who where only born to do one thing, rock the world!!!!!! PUMP was formed in February 2002 by a group of talented, hard-working musicians. Tired of being told what type of music they should play, PUMP decided to go against the pervasive Grunge/Nu-Metal grain to play the hard rock music they love in the vain of Skid Row, Tesla, Whitesnake, Aerosmith and Dokken. Their defiance has paid off. After only a short time, they are taking hard rock and metal to a new generation. PUMP's current line-up is led by vocalist Marcus Jürgens, whose raw vocal ability contributes to the band's distinctive sound. The guitar team of Selly Bernhardt and Aki Reissmann each bring his own unique guitar style to this hard-driving mix: bluesy, yet melodic with a heavy twist. Bassist Michael Vetter and drummer Andy Minich provide the solid, rhythmic foundation on which the music is built. PUMP has what it takes to bring hard rock to a scene hungry for music that is loud, heavy, and straight from the gut. The music is about good times, bad times, sex, booze and lots of life stories, all wrapped up into high-energy Rock-N-Roll music. It's pure, not pretend, not faked or forced. It's just simple, but PUMP has something special, a gift, the passion, the drive, the ability to make it happen. It's time to stand up and salute the next generation of Rock-N-Roll music. Some people already could witness their raw live energy whereas they had the opportunity to open up a few shows for Harem Scarem and legendary US-Rockers Dokken. Now it's time to present their first full-length album produced by german top producer Tommy Newton which was recorded at the famous Area 51 Studios in Celle and proofs the amazing variety of PUMP. From hard driving heavy rockers to soulful ballads PUMP offers everything you need for your next Rock 'n' Roll party! On Tour with Axel Rudi Pell on the first leg of their European tour On Tour with Queensryche in Germany So lock up your daughters and prepare yourself to follow the call of the wild – Get ready to rock with PUMP. NOW! Don't forget to visit our homepage
http://www.pump-rocks.net
for more info about Pump . . PUMP USES :

..

Myspace Layouts - Myspace Editor - Hot Comments - Image Hosting
Member Since:
November 20, 2006
Members:


________________________________________________________________________CONTACT : Info@pump-rocks.net __________________________________________________ FOR PROMOTION : BROOKE-LYNN PROMOTION Birgit Bräckle Vordere Schafstr. 17 D-70599 Stuttgart Tel: ++49-711-450 54 33 Fax: ++49-711-450 54 36
www.brooke-lynn-promotion.de
Influences:
Skid Row/ Tesla /Whitesnake / Accept ..... ..
Sounds Like:
100% PURE KICK ASS PUMP'N ROLL
Record Label:
Fastball Music/Sony Distribution_Jamsync Music USA