Play

Play Next

Add to queue
Play

Play Next

Add to queue

4,937 plays

Play

Play Next

Add to queue

3,341 plays

Play

Play Next

Add to queue

2,634 plays

Play

Play Next

Add to queue

4,725 plays

Play

Play Next

Add to queue

4,544 plays
Genre: Reggae

Location ID

Profile Views: 196624

Last Login: 12/20/2012

Member Since 3/19/2006

Website email address : Ras_Muhamad@yahoo.com

Record Label JAH Star

Type of Label Indie

Bio

"Dem a Sponsor" Music Video.. .. .. .. .. .. .."Rebel Music live @ Mtv Studio's.. .. .. .. .. .. .."Rebel Music" Live @ Soulnation Festival.. .. .. .. .. .. .."Jah is Love" Music Video.. .. .. .. .. .. ..Live @ TVRI.. .. .. .. .. .. .. Siempre Video.. .. .. .. .. .. .. ...... Dubplate reggae compilation from Portugal Tempo Magazine ...... ...... 1st President of Indonesia, Sukarno & Che Guevara ...... reasoning between 2 revolutionaries .. .. .. .. .. .. .. Bruck shot pon Babylon now! guerilla warfare in "Next Chapter"! ...... real city life in Jakarta

Members

"It's King Selassie in whom I represent"

Influences

Garnett Silk,Luciano, Sizzla,Capleton,Anthony B, Ras Shiloh, KRS-One, Nas, Gza/Genius, Dennis Brown, Agustus Pablo, Peter Tosh, Rakim Allah, Mobb Deep, Burning Spear, Abyssinians, IyahKub Miller,Bimbo... & many,many more. not just musicians & lyricists that i draw inspiration from... thinkers,revolutionaries of past/present & those who take true action. adapting thoughts from Karl Marx,Guevara,Sukarno,Haile Selassie,Gandhi will come a "new" artist... the "Social Compositioner"

Sounds Like

Me... FOR MANAGEMENT & BOOKING,CONTACT: 0812 888 60802 : 45 Reggae management
No recent updates in this category.
Why not...
Bio:
"Dem a Sponsor" Music Video"Rebel Music live @ Mtv Studio's"Rebel Music" Live @ Soulnation Festival"Jah is Love" Music VideoLive @ TVRI Siempre Video
Dubplate reggae compilation from Portugal Tempo Magazine
1st President of Indonesia, Sukarno & Che Guevara
reasoning between 2 revolutionaries Bruck shot pon Babylon now! guerilla warfare in "Next Chapter"!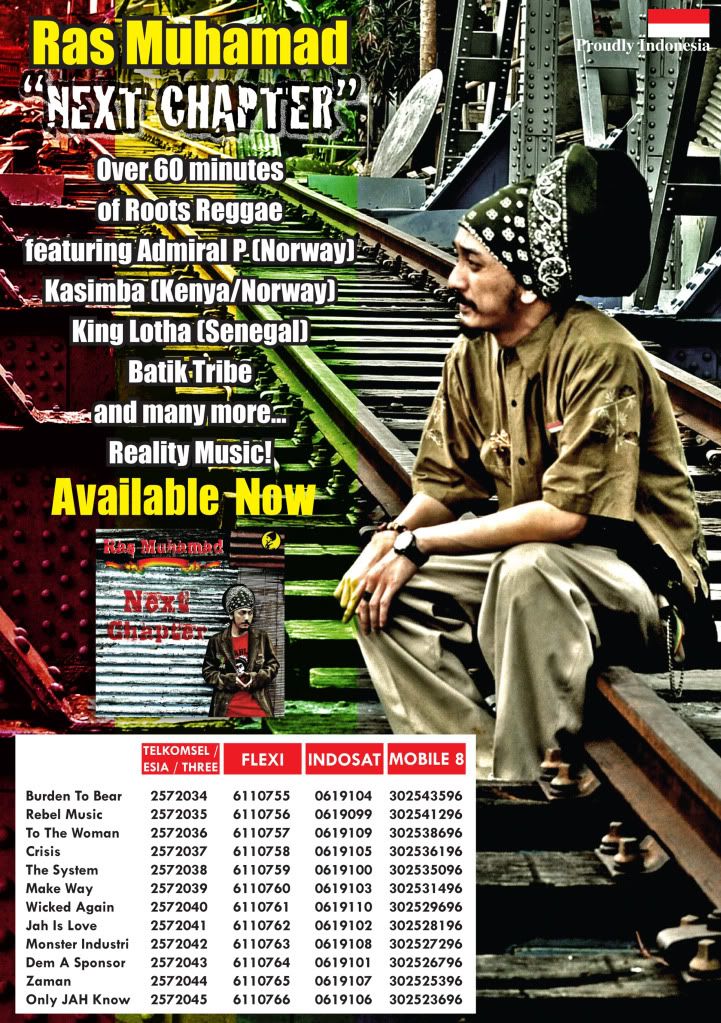 real city life in Jakarta
Member Since:
March 19, 2006
Members:
"It's King Selassie in whom I represent"
Influences:
Garnett Silk,Luciano, Sizzla,Capleton,Anthony B, Ras Shiloh, KRS-One, Nas, Gza/Genius, Dennis Brown, Agustus Pablo, Peter Tosh, Rakim Allah, Mobb Deep, Burning Spear, Abyssinians, IyahKub Miller,Bimbo... & many,many more. not just musicians & lyricists that i draw inspiration from... thinkers,revolutionaries of past/present & those who take true action. adapting thoughts from Karl Marx,Guevara,Sukarno,Haile Selassie,Gandhi will come a "new" artist... the "Social Compositioner"
Sounds Like:
Me... FOR MANAGEMENT & BOOKING,CONTACT: 0812 888 60802 : 45 Reggae management
Record Label:
JAH Star