Play

Play Next

Add to queue
Play

Play Next

Add to queue

11,641 plays

Play

Play Next

Add to queue

9,058 plays

Play

Play Next

Add to queue

11,296 plays

Play

Play Next

Add to queue

4,176 plays

Play

Play Next

Add to queue

2,577 plays
Genre: Blues / Other / Rock

Location Brooklyn, Un

Profile Views: 98786

Last Login: 12/7/2012

Member Since 9/2/2005

Website reidpaley.com

Record Label Metaphor Rhythms

Type of Label Major

Bio

WE ARE NEVER HERE. Again: WE ARE NEVER HERE. Please find us here: http://www.facebook.com/reidpaleytrio http://www.youtube.com/reidpaleytrio http://www.facebook.com/PaleyFrancis http://twitter.com/reidpaley http://reidpaley.com

Members

Reid Paley on the vocals and the electric archtop guitar, Mr. Eric Eble on the Czechoslovakian upright bass, and Mr. James Murray working that trap kit.

Influences

A seemingly limitless capacity for laughing in the face of life's unrelenting ugliness. And also, WE ARE NEVER HERE.

Sounds Like

Some species of bluesy, jazzy, rootsy, noirish rock WE ARE NEVER HERE. Please find us here: http://www.facebook.com/reidpaleytrio http://www.youtube.com/reidpaleytrio http://www.facebook.com/PaleyFrancis http://twitter.com/reidpaley http://reidpaley.com
Bio: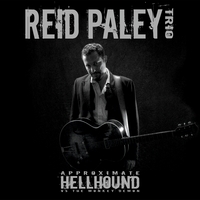 APPROXIMATE HELLHOUND
Get the Approximate Hellhound CD
Download on iTunes
Carpe diem, pal.
Step up and get your own personal
Approximate Hellhound
.
Dare to broaden those horizons.
Enrich your life beyond your wildest dreams.
And of course, astound your friends, appall your neighbors, and give that special someone something to think about.
Really.
You can also help us stride boldly forward by getting these fine albums right here:

REVIVAL
(Produced by the enigmatically legendary Eric Drew Feldman)
Get the Revival CD
Download on iTunes

LUCKY'S TUNE
(Produced by Pixies mastermind & mythic rock deity Frank Black
aka Black Francis)
Get the Lucky's Tune CD
Download on iTunes
You'll be glad you did.
And there's that
Sub Pop single
in gleaming black vinyl.
Alright then. Here's what some other people have to say:
"One of America's best -- and most underrated -- songwriters."
--PopMatters
"A voice to turn good girls bad...Maybe crazy but damn exciting."
--The Village Voice
"One of the East Coast's best-kept secrets, his wryly misanthropic schtick is all his own. Live, he is the Bill Hicks of the blues. You need to see him."
--What's On In London
"The deliciously gravelly voice and Weillian pomp of tracks like "Yr Polish Uncle" might put The Bad Seeds out of business. It's not often that adjectives like "clever." "dark," and "heartwrenching" should be bandied about in the same sentence, but Reid Paley Trio's a special case. They're a special NY band."
--The Sentimentalist
"Straightforward, sarcastic, funny and gifted at putting a song together."
--New York Press
"Possessed with the voice of a drunken wolf…Songs that roar."
--Pittsburgh Tribune-Review
"Best Actual Gig of the Year. Very very impressive."
--Sleazegrinder UK
"A proudly weird talent with a nervy raw appeal."
--Time Out New York
"Reduce-you-to-tears razor wit...Reid Paley ought to be a household name."
--Pittsburgh City Paper
"Put simply, the Reid Paley Trio knows how to get down. He's got mischief in his eye, Elvis in his joints, and booze everywhere else."
--NYRock
"The bastard child of Sinatra and Lemmy."
--Random Magazine UK
"Paley's visionary take on modern music brings something quite exciting to the table; syncopated rock with simplicity of feel - dark humor, cutting remarks, witty poetic ramblings - all feeling like a breath of fresh air. Wondrously intriguing, compelling as hell, and refreshingly original."
--Toxic Pete UK
"As Baudelaire was the spleen of Paris, Reid Paley is the spleen of New York... How else could he write such messianic blues, such prophetic rock 'n' roll?"
--442éme Rue, Paris
"As soon as Reid Paley sings you realise there's something else in the mix. A jazz-blues-rockabilly sound so distinctive that it takes a while for your listening organs to balance the gruff, hoarse voice with the excellent playing. A dark wit that will have you spitting your dinner over the stereo in mirth."
--SoundsXP UK
"More messy jazz from a drunken genius."
--City Life, Manchester UK
"Blues and jazz trip around his nocturnal growl in this accomplished collection. There's no holding back the ferocious swing of Take What You Want, and the brooding Better Days manages to rouse the soul even when Paley is staring destruction in the face. A gem worth uncovering."
--The Big Issue UK
"Everyone has a favorite drinking album. Right now, mine is REVIVAL."
--Seattle Weekly
"Best 50 Albums of the Year"
--Alternative Press
Four Stars
--GermanRollingStone
"Best Of Manhattan"
--New York Press
"A soot-black sense of humor as biting as an underfed Rottweiler."
--Cleveland Free Times
"For fans of churlish honesty and unaffected one-man shows, REVIVAL is a nonstop riot."
--San Francisco Weekly
"An unholy howl of a voice."
--CMJ
"Though records like Revival drip with talent, sweat and humor, live is the way to experience Paley."
--The Village Voice
"A great musical attraction...a sort of Sinatra for the disaffected."
--Mississippi Reflector
"Actually, it's more than one date with this vampiric Brooklyn songwriter - it's four. And lucky us. Paley lives on the darker side of Saturday night..."
--City Life, Manchester UK
"Reid Paley is the kind of artist Seattle loves."
--The Stranger
"Paley's bare-boned and bloody-knuckled approach grabs you like a shot of tequila that's gone down the wrong pipe."
--Aquarian Weekly
"A jarring reminder of what rock'n'roll once was and could be again."
--The Washington Times
"For all his simplicity, Reid is like nobody else."
--Seattle Weekly
"What? You want some kind of description of the artist and his music? Just fucking listen to the guy and enjoy his prowess."
-- Frank Black a.k.a. Black Francis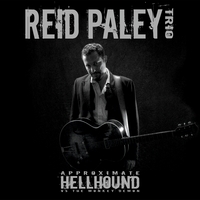 Click for
CD
and
>> Get on that Mailing List at
www.reidpaley.com
..
Member Since:
September 02, 2005
Members:
Reid Paley
on vocals and the electric archtop guitar


Mr Eric Eble
on the Czechoslovakian upright bass


Mr James Murray
working that trap kit



Influences:
A seemingly limitless capacity for laughing in the face of life's unrelenting ugliness.


Sounds Like:
The voices in your head at 4am. If they had a sense of humor, and you could shake your ass to them.
Ahem.
Its Rock.
Bluesy, jazzy, Rock Noir with balls and a pitch-black sense of humor. Not for the timid, trendy, or humorless. Come. Bask in the love.
Or merely bask in the afterglow.
APPROXIMATE HELLHOUND
is here:

Click for
CD
and
Find us elsewere in the cyberweird over here:
Facebook
Facebook Group
Facebook Page
Oh, hell:
Twitter
>> And don't forget to get on that Mailing List at
www.reidpaley.com
You'll be glad you did.
Record Label:
Metaphor Rhythms
Reid Paley has 5559 friends.