Play

Play Next

Add to queue
Play

Play Next

Add to queue

37,560 plays

Play

Play Next

Add to queue

4,850 plays

Play

Play Next

Add to queue

4,327 plays

Play

Play Next

Add to queue

3,794 plays

Play

Play Next

Add to queue

3,739 plays
Genre: Alternative / Metal / Rock

Location Oakland, US

Profile Views: 201946

Last Login: 10/18/2010

Member Since 12/29/2004

Website reignitionmusic.net

Type of Label Indie

Bio

......Join the mailing list....Re:Ignition............Email Address:.... ........................ .. .. .... .. ..A divine covergence of great musical minds and somewhat non-congruent influences that has blossomed in to a band, known as Re:Ignition. Dedicated to music, every show is performed with energy, energy that spills into the audience creating an atmosphere which few groups ever achieve. One listen and you'll know that the guys in Re:Ignition are driven. They believe in the music they write. The band prides itself on creating an atmosphere of emotional extremes that sonically illustrate the highs and lows of the human condition, connecting with their listeners in a most uncommon, intimate way. With a burgeoning fanbase spanning the nation, The band is fronted by vocalist,Dave Moore, guitarists Steev Esquivel(Skinlab)& tim Howell(Fueled,Sacrilege BC). The rhythm section is rounded out by the rock solid combination of Snake AKA Burl Blakk (Skinlab,Skrew)on bass guitar and Mark Hernandez on drums. The end result is a style that is totally fresh, but with intimations of influences from music of both the past and present. Re:Ignition has been favorably compared to many notable musicians, including Soungarden, Tool, Deftones,Jeff Buckley, Radiohead,and QOTSA, but finally the band's commitment to the creation of intensely memorable songs erases all comparisons and presents the listener with something entirely new.........RE:Ignition.... .. .. .. .. .. .. .. ...... .. ...... .. ...... .. ...... .. ...... .. ...... .. ...... .. ...... .. ...... ........ ..

Members

........ ..MARK HERNANDEZ.. ..Drums.... ......SNAKE.. ..Bass.... ..........DAVE MOORE.. ..Vocals-Guitar.... ..........STEEV ESQUIVEL.. ..Guitar.... ..........TIM HOWELL.. ..Guitar..

Influences

..Individually we listen to everything!!....Tool..Soundgarden..Deftones..Alice In Chains..Pefect Circle..Mad Season..Skinlab..36crazyfists..Neurosis..Glassjaw..Acid Bath..Sevendust..Strait Up (RIP Lynn)..Abloom..Soil..Life Sex,Death..Bad Brains..Faith No More..Pearl Jam..Judas Preist..MachineHead..Metallica..Lamb Of God.. Snot..Crowbar..Elton John..Mudvayne..Mother Love Bone..Godflesh..Crowbar..NIN..The Cult ..Cold..AFI..Deadsy..SocialD..Swamp Terrorists..Stone Sour..Drowning Pool..Staind.. Slipknot..SUB HUM ANS..10years..AvengedSevenfold ..Pissing Razors..SOD..Primate..HIM..MotleyCrue..Korn

Sounds Like

..More Hi fi than Low Fi More Soundgarden/Kyuss than Metallica/Pantera
No recent updates in this category.
Why not...
04:01 | 2483 plays | Jul 13 2007
Bio:
..
A divine covergence of great musical minds and somewhat non-congruent influences that has blossomed in to a band, known as Re:Ignition. Dedicated to music, every show is performed with energy, energy that spills into the audience creating an atmosphere which few groups ever achieve. One listen and you'll know that the guys in Re:Ignition are driven. They believe in the music they write. The band prides itself on creating an atmosphere of emotional extremes that sonically illustrate the highs and lows of the human condition, connecting with their listeners in a most uncommon, intimate way. With a burgeoning fanbase spanning the nation, The band is fronted by vocalist,Dave Moore, guitarists Steev Esquivel(Skinlab)& tim Howell(Fueled,Sacrilege BC). The rhythm section is rounded out by the rock solid combination of Snake AKA Burl Blakk (Skinlab,Skrew)on bass guitar and Mark Hernandez on drums. The end result is a style that is totally fresh, but with intimations of influences from music of both the past and present. Re:Ignition has been favorably compared to many notable musicians, including Soungarden, Tool, Deftones,Jeff Buckley, Radiohead,and QOTSA, but finally the band's commitment to the creation of intensely memorable songs erases all comparisons and presents the listener with something entirely new.......RE:Ignition



..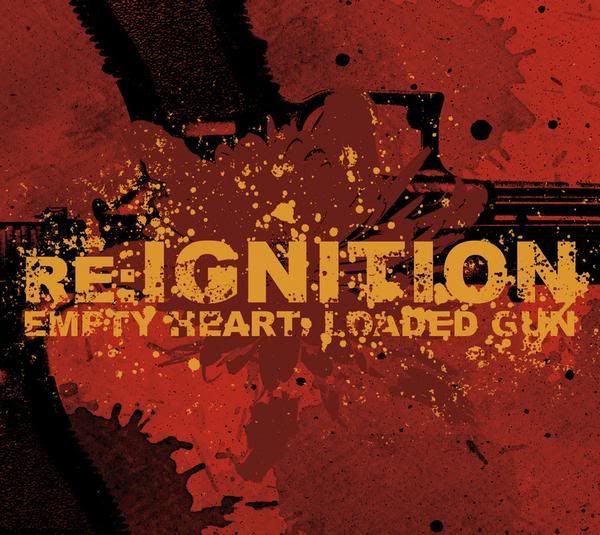 Member Since:
December 29, 2004
Members:
MARK HERNANDEZ
Drums

SNAKE
Bass

DAVE MOORE
Vocals-Guitar

STEEV ESQUIVEL
Guitar

TIM HOWELL
Guitar
Influences:
Individually we listen to everything!!

Tool
Soundgarden
Deftones
Alice In Chains
Pefect Circle
Mad Season
Skinlab
36crazyfists
Neurosis
Glassjaw
Acid Bath
Sevendust
Strait Up (RIP Lynn)
Abloom
Soil
Life Sex,Death
Bad Brains
Faith No More
Pearl Jam
Judas Preist
MachineHead
Metallica
Lamb Of God
Snot
Crowbar
Elton John
Mudvayne
Mother Love Bone
Godflesh
Crowbar
NIN
The Cult
Cold
AFI
Deadsy
SocialD
Swamp Terrorists
Stone Sour
Drowning Pool
Staind
Slipknot
SUB HUM ANS
10years
AvengedSevenfold
Pissing Razors
SOD
Primate
HIM
MotleyCrue
Korn
Sounds Like:
More Hi fi than Low Fi More Soundgarden/Kyuss than Metallica/Pantera
Label Type:
Indie
Re:Ignition New music coming soon! has 17011 friends.