Play

Play Next

Add to queue
Genre: Metal / Progressive / Rock

Location Belo Horizonte, Minas Gerais, BR

Profile Views: 49604

Last Login: 12/6/2010

Member Since 6/22/2006

Website www.rosaignea.com

Record Label *Ancient Eyes (2006) *Theatre of Illusions (2008)

Bio

....Myspace Contact Tables.. .. .... .. .. .. .. .. .. .. .. .......... .......... .......... ..Get Your Own!.. | ..View Slideshow...... ...... ...... ...... The band's history starded in july of 2003, when came up the idea of working on some songs originally made for another band, Magna Carta which had some of the members from Rosa Ígnea. The original proposal was to have our own work. Concerts invitations came before expected and among these presentations, where the band played covers and some of its own songs, the composition and recording's work were continueing on what later would become "Ancient Eyes" album. It was necessary to stop the concerts at a certain moment so we could dedicate entirely to the compositions and recording, because we faced a lot of difficulties during this process specially when some of the members left the band, and when the singer Isabela Santos and the drummer Guilherme Mitre started to make their "line-up". About the subbject matter, our proposal is play and sing about the questions that affects the human being through the time. Questions which always comes up in every kind of religion and brings the exhausting search for answers. Meanwhile, the religious and faith questions are not the main point. Despite of all the differences, they all have something in common, which is the search that goes beyond of what is immediate and real. Transform in lyrics the afflictions, serach and hope of the human being . The challenge is to put in the lyrics all the afflictions, the search and the faith of the human being in a impartial and coherent way. In the middle of 2006 the "Ancient Eyes" album came out as an independent album. It was completely produced by the band at its own studio, what made all of us very proud. We ran out of cd's quickly, making some labels interested, and it was when Rosa Ígnea made a partnership with the Erpland Records, for a new distribution but now with the label on the cd. On may, 2007 the band walked through a big change when the soprano Isabela Santos left the band. Immediately, we made a search for a new "front woman" and, in less than a month Rosa Ígnea could count on the beautiful voice of the soprano Lígia Ishitani. Finally, now it's time to keep searching for larger horizons. ...... ...... ...... A história da banda se iniciou em julho de 2003, quando surgiu a idéia de se trabalhar em algumas músicas que tinham sido originalmente compostas para outra banda (Magna Carta) que alguns dos componentes do Rosa Ígnea integravam. A proposta original era partir diretamente para um trabalho próprio. Antes do previsto surgiram convites para shows e em meio a estas apresentações, onde a banda tocava "covers" e algumas músicas próprias, continuava o trabalho de composição e gravação, que mais tarde se tornaria o álbum "Ancient Eyes", Em determinado momento foi necessário parar com os shows para que fosse possível a total dedicação às composições e gravações, pois foram enfrentadas muitas dificuldades durante este processo, principalmente a saída de alguns membros, quando a cantora Isabela Santos e o baterista Guilherme Mitre passaram a compor o seu "line-up". Quanto à temática os objetivos são tocar e cantar sobre questões que afetam o ser humano através dos tempos, estas que sempre afloram nas diferentes vertentes religiosas e que através de toda a história conhecida tem traduzido a busca incansável do ser humano pelo entendimento dos fatos que o afligem, sem abordar aspectos específicos de qualquer crença ou fé, mesmo porque apesar de "todas as diferenças" percebe-se facilmente um ponto em comum, que é a busca por algo além do imediato e palpável. Traduzir em letras as aflições, busca e esperança do ser humano de forma coerente e imparcial é o desafio. Em meados de 2006 o álbum "Ancient Eyes" foi lançado numa primeira prensagem totalmente independente e produzido completamente pela própria banda em seu estúdio, motivo de orgulho para todos. A primeira remessa se esgotou rapidamente, despertando o interesse de alguns selos, momento em que o Rosa Ígnea firmou parceria com a Erpland Records, para uma nova prensagem e distribuição. Em maio de 2007 a banda passou por uma grande mudança com a saída da soprano Isabela Santos. Não houve demora na busca de uma nova "front woman" e em menos de um mês a banda já contava com a bela voz da soprano Lígia Ishitani. Enfim, agora é continuar na busca por maiores horizontes... ...... .. .. .. .. .. ROSA ÍGNEA WITH NIGHTWISH .. .. .. .. .. STEPS TILL' MYSELF .. .. .. .. .. BACKSTAGE, SOUNDCHECK, LIVE SCENES ...... ............

Members

Lígia Ishitani (vocal), Daniel Kojima (guitar), Richard Squair (guitar), Renato Kojima (bass), Guilherme Mitre (drums), Gustavo Ivon (Keyboard) ...... ...... ...... ......

Influences

Nightwish, Epica, After Forever, Angra, Within Temptation, Dream Theater

Sounds Like
No recent updates in this category.
Why not...
03:56 | 184 plays | Oct 14 2007

The band's history starded in july of 2003, when came up the idea of working on some songs originally made for another band, Magna Carta which had some of the members from Rosa Ígnea. The original proposal was to have our own work. Concerts invitations came before expected and among these presentations, where the band played covers and some of its own songs, the composition and recording's work were continueing on what later would become "Ancient Eyes" album. It was necessary to stop the concerts at a certain moment so we could dedicate entirely to the compositions and recording, because we faced a lot of difficulties during this process specially when some of the members left the band, and when the singer Isabela Santos and the drummer Guilherme Mitre started to make their "line-up". About the subbject matter, our proposal is play and sing about the questions that affects the human being through the time. Questions which always comes up in every kind of religion and brings the exhausting search for answers. Meanwhile, the religious and faith questions are not the main point. Despite of all the differences, they all have something in common, which is the search that goes beyond of what is immediate and real. Transform in lyrics the afflictions, serach and hope of the human being . The challenge is to put in the lyrics all the afflictions, the search and the faith of the human being in a impartial and coherent way. In the middle of 2006 the "Ancient Eyes" album came out as an independent album. It was completely produced by the band at its own studio, what made all of us very proud. We ran out of cd's quickly, making some labels interested, and it was when Rosa Ígnea made a partnership with the Erpland Records, for a new distribution but now with the label on the cd. On may, 2007 the band walked through a big change when the soprano Isabela Santos left the band. Immediately, we made a search for a new "front woman" and, in less than a month Rosa Ígnea could count on the beautiful voice of the soprano Lígia Ishitani. Finally, now it's time to keep searching for larger horizons.

A história da banda se iniciou em julho de 2003, quando surgiu a idéia de se trabalhar em algumas músicas que tinham sido originalmente compostas para outra banda (Magna Carta) que alguns dos componentes do Rosa Ígnea integravam. A proposta original era partir diretamente para um trabalho próprio. Antes do previsto surgiram convites para shows e em meio a estas apresentações, onde a banda tocava "covers" e algumas músicas próprias, continuava o trabalho de composição e gravação, que mais tarde se tornaria o álbum "Ancient Eyes", Em determinado momento foi necessário parar com os shows para que fosse possível a total dedicação às composições e gravações, pois foram enfrentadas muitas dificuldades durante este processo, principalmente a saída de alguns membros, quando a cantora Isabela Santos e o baterista Guilherme Mitre passaram a compor o seu "line-up". Quanto à temática os objetivos são tocar e cantar sobre questões que afetam o ser humano através dos tempos, estas que sempre afloram nas diferentes vertentes religiosas e que através de toda a história conhecida tem traduzido a busca incansável do ser humano pelo entendimento dos fatos que o afligem, sem abordar aspectos específicos de qualquer crença ou fé, mesmo porque apesar de "todas as diferenças" percebe-se facilmente um ponto em comum, que é a busca por algo além do imediato e palpável. Traduzir em letras as aflições, busca e esperança do ser humano de forma coerente e imparcial é o desafio. Em meados de 2006 o álbum "Ancient Eyes" foi lançado numa primeira prensagem totalmente independente e produzido completamente pela própria banda em seu estúdio, motivo de orgulho para todos. A primeira remessa se esgotou rapidamente, despertando o interesse de alguns selos, momento em que o Rosa Ígnea firmou parceria com a Erpland Records, para uma nova prensagem e distribuição. Em maio de 2007 a banda passou por uma grande mudança com a saída da soprano Isabela Santos. Não houve demora na busca de uma nova "front woman" e em menos de um mês a banda já contava com a bela voz da soprano Lígia Ishitani. Enfim, agora é continuar na busca por maiores horizontes...
ROSA ÍGNEA WITH NIGHTWISH STEPS TILL' MYSELF BACKSTAGE, SOUNDCHECK, LIVE SCENES



..
Member Since:
June 22, 2006
Members:
Lígia Ishitani (vocal), Daniel Kojima (guitar), Richard Squair (guitar), Renato Kojima (bass), Guilherme Mitre (drums), Gustavo Ivon (Keyboard)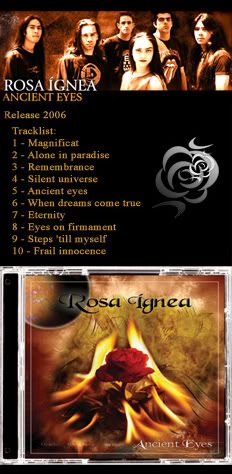 Influences:
Nightwish, Epica, After Forever, Angra, Within Temptation, Dream Theater
Record Label:
*Ancient Eyes (2006) *Theatre of Illusions (2008)