Play

Play Next

Add to queue
Play

Play Next

Add to queue

731 plays

Play

Play Next

Add to queue

716 plays

Play

Play Next

Add to queue

164 plays

Play

Play Next

Add to queue

162 plays

Play

Play Next

Add to queue

155 plays
Genre: Electronica / Experimental / Other

Location Lisboa, PT

Profile Views: 34005

Last Login: 6/2/2010

Member Since 5/26/2006

Website http://www.binauralmedia.org

Record Label 1000 füssler/No Type/SIRR/Crónica/Mandorla/Alg-a

Type of Label Indie

Bio

Rui Costa is a sound artist from Lisbon, Portugal. He has been performing live since 1997. He is a founding member of Binaural (..http://www.binauralmedia.org..), an arts collecive dedicated to the promotion of sound and media arts in a rural context. Binaural runs an artist residency space in Nodar, a small village in the north of Portugal. Rui's artistic expression favours the creation of intricate sonic textures through computer-based sound manipulation techniques and using as a source field recordings and live sampling of acoustical instruments. He has performed in many cities across Portugal, Spain, Italy and the United States with such musicians as Maile Colbert, Manuela Barile, Iñaki Ríos, Paulo Raposo, Natividad Plasencia, Pablo Rega, Nilo Gallego, Toshio Kajiwara, Casey Rice, Lê Quan Ninh, Richard Antez, John Herndon, André Gonçalves, Carlos Santos, Emídio Buchinho, Miguel Carvalhais, Pali Mersault and Cédric Anglaret. .... ..New Release on 1000 füssler: Sightseeing for the Blind.. .... Including reinterpretations by Gregory Büttner, Pali Meursault, Bill Jarboe, Maile Colbert and Marc Behrens.... ...... .... RUI COSTA.. Sightseeing For The Blind.. CD, (56:20 min), 300 copies, cardboard cover.. © 2009 / 1000füssler 012, Release Date: August 2009.. .... Tracklist:.. Rui Costa: Sightseeing For The Blind, 26'22.. .... further Sightings.... Gregory Büttner: Side Play for Blinds, 5'43.. Pali Meursault: Hidden Insights, 5'08.. Bill Jarboe: Sightseeing joint sdif 2', 3'58.. Maile Colbert: Site Sighing for the Time, 5'01.. Marc Behrens: Site for a Numb, 9'54.. .... The idea for the piece first came to me in 2005, when I was invited to develop a sound project with the city of Lisbon as its theme. I decided to wander through the city, making a series of sound recordings using a pair of binaural microphones. What I concluded from these recordings was that, more than capturing the sound of the place or its "atmosphere", they reflected a lot about me: my decisions of where to go, what places to avoid, how fast to walk, how long to linger in one place… preconceived ideas of what I wanted to be captured on tape..... Later I followed up on this idea by introducing an element of "sonic sightseeing". I grabbed a tourist guide of Lisbon, walked along the recommended hiking routes and made recordings with binaural and shotgun microphones. I wrote down my impressions, states of mind, mental associations and decisions and then mapped the recorded sounds against these notes, considering them as "instructions" or "cues" for a sound composition..... I suppose that the experience that tourists get from a city is in great measure determined by the randomness of these almost unconscious impressions, of a permanent mapping out of what they see against their desires, preconceived ideas, memories, etc. All in all, my intention was to convert this process into a method for sound composition using field recordings. (Rui Costa, 2009).... Sound recordings made by Rui Costa between 2005 and 2008 in Lisbon, Portugal. Composed and mixed by Rui Costa in 2008. .... .. ..

Members

Rui Costa usually performs solo. He is currently collaborating with the American video and sound artist (and his wife) Maile Colbert and with the italian performer Manuela Barile

Influences

Bernard Parmegiani, Luc Ferrari, Luciano Berio, Brandon Labelle, Erik M, Yannick Dauby, Lê Quan Ninh, Joëlle Léandre, Alejandra and Aeron, Marc Behrens, John Grzinich, Stephen Vitiello, Otomo Yoshihide, Toshiya Tsunoda, John Hudak and so many others...

Sounds Like

nothing else, hopefully
No recent updates in this category.
Why not...
Bio:
Rui Costa is a sound artist from Lisbon, Portugal. He has been performing live since 1997. He is a founding member of Binaural (
http://www.binauralmedia.org
), an arts collecive dedicated to the promotion of sound and media arts in a rural context. Binaural runs an artist residency space in Nodar, a small village in the north of Portugal. Rui's artistic expression favours the creation of intricate sonic textures through computer-based sound manipulation techniques and using as a source field recordings and live sampling of acoustical instruments. He has performed in many cities across Portugal, Spain, Italy and the United States with such musicians as Maile Colbert, Manuela Barile, Iñaki Ríos, Paulo Raposo, Natividad Plasencia, Pablo Rega, Nilo Gallego, Toshio Kajiwara, Casey Rice, Lê Quan Ninh, Richard Antez, John Herndon, André Gonçalves, Carlos Santos, Emídio Buchinho, Miguel Carvalhais, Pali Mersault and Cédric Anglaret.
New Release on 1000 füssler: Sightseeing for the Blind
Including reinterpretations by Gregory Büttner, Pali Meursault, Bill Jarboe, Maile Colbert and Marc Behrens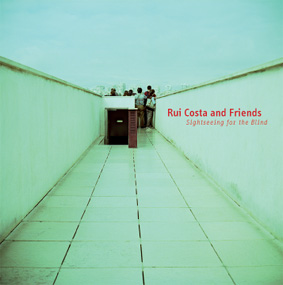 RUI COSTA
Sightseeing For The Blind
CD, (56:20 min), 300 copies, cardboard cover
© 2009 / 1000füssler 012, Release Date: August 2009
Tracklist:
Rui Costa: Sightseeing For The Blind, 26'22
further Sightings
Gregory Büttner: Side Play for Blinds, 5'43
Pali Meursault: Hidden Insights, 5'08
Bill Jarboe: Sightseeing joint sdif 2', 3'58
Maile Colbert: Site Sighing for the Time, 5'01
Marc Behrens: Site for a Numb, 9'54
The idea for the piece first came to me in 2005, when I was invited to develop a sound project with the city of Lisbon as its theme. I decided to wander through the city, making a series of sound recordings using a pair of binaural microphones. What I concluded from these recordings was that, more than capturing the sound of the place or its "atmosphere", they reflected a lot about me: my decisions of where to go, what places to avoid, how fast to walk, how long to linger in one place… preconceived ideas of what I wanted to be captured on tape.
Later I followed up on this idea by introducing an element of "sonic sightseeing". I grabbed a tourist guide of Lisbon, walked along the recommended hiking routes and made recordings with binaural and shotgun microphones. I wrote down my impressions, states of mind, mental associations and decisions and then mapped the recorded sounds against these notes, considering them as "instructions" or "cues" for a sound composition.
I suppose that the experience that tourists get from a city is in great measure determined by the randomness of these almost unconscious impressions, of a permanent mapping out of what they see against their desires, preconceived ideas, memories, etc. All in all, my intention was to convert this process into a method for sound composition using field recordings. (Rui Costa, 2009)
Sound recordings made by Rui Costa between 2005 and 2008 in Lisbon, Portugal. Composed and mixed by Rui Costa in 2008. ..
Member Since:
May 26, 2006
Members:
Rui Costa usually performs solo. He is currently collaborating with the American video and sound artist (and his wife) Maile Colbert and with the italian performer Manuela Barile
Influences:
Bernard Parmegiani, Luc Ferrari, Luciano Berio, Brandon Labelle, Erik M, Yannick Dauby, Lê Quan Ninh, Joëlle Léandre, Alejandra and Aeron, Marc Behrens, John Grzinich, Stephen Vitiello, Otomo Yoshihide, Toshiya Tsunoda, John Hudak and so many others...
Sounds Like:
nothing else, hopefully
Record Label:
1000 füssler/No Type/SIRR/Crónica/Mandorla/Alg-a