Play

Play Next

Add to queue
Play

Play Next

Add to queue

51,673 plays

Play

Play Next

Add to queue

11,534 plays

Play

Play Next

Add to queue

131,868 plays

Play

Play Next

Add to queue

70,983 plays

Play

Play Next

Add to queue

18,811 plays
Location From The BAY THE VALLEY from THE VALLEY to LA, US

Profile Views: 1583437

Last Login: 5/10/2013

Member Since 9/30/2003

Type of Label Unsigned

Bio

...... .. Da Zoo California Promo Tour.. Im soooo in it!! Shout outs to them theyre SUPER DOPE!! Twitter.com/dazoo_music .. .. .. .. .. .. .. .. .. .. .. .. .. .. .. .......... .. WADDUP ERRBODY ITS ME YOUR GIRL SANDRA PENA... A YOUNG AND PROUD LATINA!!!!... BORN AND RAISED IN THE BAY AREA WITH A SUPER MEXICAN FAMILY, SCHOOL AND A SOCCER BALL... LOL.. I PLAYED SOCCER FOR 12 YEARS. ANYHOW, I AM A HUUUUGE FAN OF MUSIC AND WHAT IT REPRESENTS... UNITY, LIFE, AND HAPPINESS. AS A LITTLE GIRL MY DREAM ERA TO BECOME A BIG STAR SINGER COMO SELENA...LOL.. NO JOKE ERA MI FAVORITA. AS I GOT OLDER YOU WOULD CATCH ME AT QUINCEANERAS, WEDDINGS, EVEN IN THE CHURCH CHOIR TRYNNA GET MY SING ON....LOL.. AND THAT DROVE ME TO MY INTERNSHIP IN RADIO. CUANDO LLEGUE AL MUNDO DE RADIO A LOS 17, IT WAS SOMETHING SO DIFFERENT PERO ME ENCANTO.... I FELL IN LOVE WITH RADIO NOT ONLY DO YOU LISTEN TO MUSIC ALL DAY BUT, YOU MEET THE COOLEST PEOPLE EVER!!! I STARTED OF EN SAN FRANCISCO, MOVED ON TO PHOENIX, AZ. AND NOW AT THE AGE OF 25 YOU CAN CATCH ME ON AIR FROM 10A-3P ON LATINO 96.3 L.A.'S 1 PARTY STATION EN LOS ANGELES.... ITS LIKE A DREAM COME TRUE AND TREASURE CADA MOMENTO. GRAND OPENNING OF LA FONDA RESTERAUNT... RED CARPET .. .. .. .. .. .. .. "BAILANDO" Sami Cultura.. 1 of my faves under rated artists.. and Im in his video yaay.. once again playin the beeyatch.. I dont et it.. alter ego i guess lol .. .. .. .. .. .. ......Sami Cultura Music Video- "Bailando".. from ..Sandra Varona.. on ..Vimeo..... GOTTA THANK MC MAGIC N SOPHIA MARIA FOR THE CAMEO OPPORTUNITY... SUPER FUN!! ..Forget About Her...... .. .. .. .. .. .. ......Add to My Profile.. | ..More Videos..

Members

Influences

............ ....Myspace Layouts.. / ..Brick.. / ..Hot Comments.. / ..Image Hosting.. ..

Sounds Like
No recent updates in this category.
Why not...
01:14 | 4581 plays | Mar 27 2009
Bio:
Da Zoo California Promo Tour.. Im soooo in it!! Shout outs to them theyre SUPER DOPE!!
Twitter.com/dazoo_music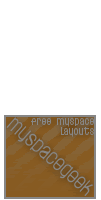 .. WADDUP ERRBODY ITS ME YOUR GIRL SANDRA PENA... A YOUNG AND PROUD LATINA!!!!... BORN AND RAISED IN THE BAY AREA WITH A SUPER MEXICAN FAMILY, SCHOOL AND A SOCCER BALL... LOL.. I PLAYED SOCCER FOR 12 YEARS. ANYHOW, I AM A HUUUUGE FAN OF MUSIC AND WHAT IT REPRESENTS... UNITY, LIFE, AND HAPPINESS. AS A LITTLE GIRL MY DREAM ERA TO BECOME A BIG STAR SINGER COMO SELENA...LOL.. NO JOKE ERA MI FAVORITA. AS I GOT OLDER YOU WOULD CATCH ME AT QUINCEANERAS, WEDDINGS, EVEN IN THE CHURCH CHOIR TRYNNA GET MY SING ON....LOL.. AND THAT DROVE ME TO MY INTERNSHIP IN RADIO. CUANDO LLEGUE AL MUNDO DE RADIO A LOS 17, IT WAS SOMETHING SO DIFFERENT PERO ME ENCANTO.... I FELL IN LOVE WITH RADIO NOT ONLY DO YOU LISTEN TO MUSIC ALL DAY BUT, YOU MEET THE COOLEST PEOPLE EVER!!! I STARTED OF EN SAN FRANCISCO, MOVED ON TO PHOENIX, AZ. AND NOW AT THE AGE OF 25 YOU CAN CATCH ME ON AIR FROM 10A-3P ON LATINO 96.3 L.A.'S 1 PARTY STATION EN LOS ANGELES.... ITS LIKE A DREAM COME TRUE AND TREASURE CADA MOMENTO. GRAND OPENNING OF LA FONDA RESTERAUNT... RED CARPET "BAILANDO" Sami Cultura.. 1 of my faves under rated artists.. and Im in his video yaay.. once again playin the beeyatch.. I dont et it.. alter ego i guess lol
Sami Cultura Music Video- "Bailando" from Sandra Varona on Vimeo.
GOTTA THANK MC MAGIC N SOPHIA MARIA FOR THE CAMEO OPPORTUNITY... SUPER FUN!!
Forget About Her
Add to My Profile
|
More Videos
Member Since:
September 30, 2003
Influences:
..
Twitter.com/SaNdra PeNa LaDy HeNNeSSy LaTiNO96.3 has 79513 friends.