No recent updates in this category.
Why not...
SaveHialeahPark hasn't earned any badges yet... have you?
General

Alex Fuentes Interviews Halsey Minor

SAVEHIALEAHPARK.COM

Hialeah Park: A Brief History

HIALEAH PARK RACE COURSE

Sun Sentinel Front Page News on October 16th 2007.

Halsey Minor on Hialeah Park Channel 10 News

Halsey Minor on Hialeah Park Pt.1

Halsey Minor on Hialeah Park Pt.2

Halsey Minor on Hialeah Park Pt.3

Hialeah Park 1977 Triple Crown winner Seattle Slew wins the Flamingo stakes!

Music

HIALEAH PARK ON TELEMUNDO 3-11-08
LOS PRIMEROS IN THE NEWS! Performing "SAVE HIALEAH PARK."
LP on the News to Save Hialeah Park

Movies

Television

Books

Hialeah: what's in a name?, Hialeah: A Racing Legend, Beautiful Hialeah, The Path Between The Seas, The rise of Theodore Roosevelt, Havana Bay, Prize, As a Man Thinketh,

Heroes

MY FATHER and MY SON
About me:
..
Myspace Codes
..
..
We shape our buildings, thereafter, they shape us. -Winston Churchill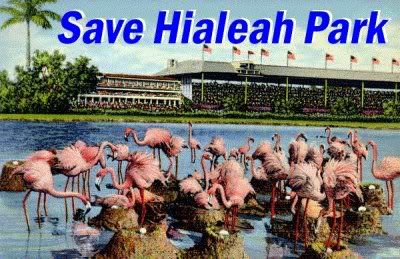 Welcome to the official myspace page of SAVE HIALEAH PARK.
My name is Alex Fuentes and I am a member of Save Hialeah Park Inc. We are a Non-Profit organization created to educate the public about Hialeah Park, creating awareness as to its fascinating history, current situation, and its significance to South Florida and the Nation.
Hialeah Park is a nationally historic race track built in 1925. Prior to being a horse track the grounds later known as Hialeah Park was home to The Miami Kennel Club (1921) the first pari-mutuel greyhound racing track in the country. This original greyound track was donated by City Founder James Bright and aviation pioneer Glen Curtis (founder of Miami Springs and Opa-locka). Along with the Kennel Club there was an amusement park with a large Ferris wheel, a Seminole Indian tribe settlement, and the first Jai alai fronton in Florida. The days at Hialeah Park in the early 20's consisted of action packed entertainment and adventure for winter tourists in what was largely swampland. A land boom followed and Hialeah officialy became an incorporated city in 1925 coinciding with the creation of an 1 1/8 mile oval horse track with a new clubhouse grandstand and given the name Hialeah Park.
A year later in the Great Hurricane of 1926 destroyed most of the park and original structures but the original oval horse track is still there today. In 1930 Joseph Widner began a $3 million renovation and recreated the Hialeah Park the world knows today. A magnificent French inspired clubhouse and grandstand were built, a lake was constructed, and a flock of pink flamingos were brought over from Cuba (which still call Hialeah Park home)along with thousands of trees used for its world renowned gardens.
In its 80 + years its grounds have been graced the worlds most famous horses and people. Everybody who was anybody, Rich and Famous or poor the like, around the world wanted to visit its magnificent structures and gardens known worldwide for its elegant beauty. Millions would enter its gates every year.
Since its last race in 2001 Hialeah Park's gardens and structures have fallen in grave disrepair and continue exposed to the elements as no repairs have taken place. Hurricane "Wilma" dealt a major blow to this legendary place in 2005 and it is not likely that it will survive another one in its current condition. Further aggravating the Park's situation is the constant threat of demolition and development. In early 2007 the historic stables that were home to thousands of horses every year since the early 30's were demolished following a unanimous decision by Hialeah's city council.
The flamingos thankfully survived the storm and still reside in on their "Flamingo Island" within the lake built for them over 75 years ago. These mesmerizing creatures served as the only breeding flock in the US providing hatchlings to zoos across North America and still do today. There are more flamingos living in Hialeah Park than there are in the S. Florida wild thanks to the storms of 2004 and 2005.
Please visit us periodically as we will be providing updates. We will post alerts on the bulletins please repost and forward to all your friends.
For more information or to join our mailing list please visit us on the web @ WWW.SAVEHIALEAHPARK.COM


Thanks for visiting us.
Status:

In a Relationship

Here for:

Networking

Hometown:

Hialeah!

Orientation:

Straight

Ethnicity:

Latino / Hispanic

Religion:

Christian - other

Zodiac Sign:

Aries

Children:

Proud parent

Education:

College graduate

Occupation:

Friend of Hialeah Park