Play

Play Next

Add to queue

8,393 plays

Play

Play Next

Add to queue

8,941 plays

Play

Play Next

Add to queue

3,205 plays

Play

Play Next

Add to queue

121,122 plays

Play

Play Next

Add to queue

127,963 plays
Genre: Electronica / House / Trance

Location LA LA LAND, California, US

Profile Views: 573525

Last Login: 12/27/2010

Member Since 11/11/2004

Website www.secondsun.info

Record Label ULTRA RECORDS

Type of Label Indie

Bio

..0b9329981386062b900d73f465f2d966.. ..0b9329981386062b900d73f465f2d966.. .. .. .. .. .. .. .. .. .. .. .. .. .. "THE LOST WEEKEND is all about disconnecting from the world and just going for it," laughs Antoine Becks, one half of electronic music duo SECOND SUN about the band's long-awaited sophomore album out August 30 on Ultra Records. "We wrote and recorded the album while we were living in Miami, which was a huge influence on the sound, feel and lyrics of the album. It's such a unique way of life down there, with all of the sun and partying and beautiful people. But there's also a dark side to that life, and it's so easy for people to get lost in it. This album explores both sides of that lifestyle." .. .. A tour through the album reveals a crate's worth of infectious club-ready gems sure to set the world's dance floors alight. From the crushing bass lines of "Howl at the Moon" to the post-trance euphoria of "More Pills," The Lost Weekend finds SECOND SUN at the peak of their sonic powers. They even meld classic new wave aesthetics into the album, harkening back to the days of eyeliner and trench coats. .. .. "I'm a huge fan of lots of music that was made in the '80s," Antoine raves. "I love groups like Depeche Mode, Tears for Fears and INXS. Instead of just sampling '80s music for a dance track, why not make something original that still gives you that feel?" .. .. Obsessed with electronic music ever since his first rave at 14 back in the mid-'90s, it was Antoine's intense obsession for dance music and culture that inadvertently set him on a new career path. .. .. "What really struck me about that rave was that I couldn't understand how the music had been made. This was before the Internet, so even finding the music was difficult. What started with me taping tracks from radio shows turned into me traveling to Berlin for Love Parade and all over Europe just clubbing and listening to music, but going down to Twilo in New York City in the late '90s was where it all really crystallized." .. .. When Antoine randomly met music partner Adam White in a music store, what started out as fun soon found the dance music rookies in the middle of a fierce bidding war between two of the biggest DJs in the world. .. .. "It took us six months to make that first track, because we still didn't really know what we were doing," Antoine admits with a laugh. "But we finally hammered it out." Antoine figured it was good enough for his personal favorite DJ at the time, Paul van Dyk. He caught up with van Dyk at Twilo, where he handed him a copy of that fateful first SECOND SUN track. A week later, an email came from van Dyk wanting to release the track on his fledgling new label, Vandit Records. They jumped at the chance. .. .. The resulting track, "Empire," (which van Dyk included on his now legendary debut mix CD, The Politics of Dancing) has gone on to become a defining trance anthem that still gets hands in the air on the dance floor. By the time they teamed up with van Dyk to release the smash hit "Crush," the requests for SECOND SUN DJ sets were pouring in. But the duo has always been adamant: They are a live act. Period. .. .. "It would have definitely been easier to be DJs, but we're musical performers. We wanted to bring more of a rock show feel to this world. It was a lot of work to figure out how to do it," Antoine admits. "Our first show was a complete disaster because of it. We opened for Paul van Dyk in Berlin on his special night and it all just went wrong. Adam and I went back to the drawing board and came up with as close of a fool-proof system as possible." .. .. It was also during that SECOND SUN produced their debut album, Inside Out. Considered a trance act due to the van Dyk association, they surprised listeners with a wide variety of sounds and acoustic instruments. Peaking at #5 on the iTunes Dance Chart, the album's popularity sent the band on their first proper tour, which exceeded their wildest expectations, despite the many obstacles encountered along the way. .. .. "We got an RV, with the grandiose notion of recording while we were on the road. The RV didn't even make it to our first show," Antoine laughs about now. "We were driving from Atlanta to San Francisco. We were on the outskirts of El Paso, Texas, when it just died. Finally we crammed all of our gear into a mini-van for the rest of the way. What made it special is that every show was just bonkers. It made touring in that mini-van totally worth it. That's when we knew we were onto something. .. .. "We're always going to give a kick-ass show, and make it something special. We make a point to play things like that you'll only hear at our shows, like live exclusives," Antoine stresses. "For me, I wanted to bring back that front-man aspect to dance music. I'm really proud of the fact that we can fit all of that into this whole DJ world." .. .. Demanding a particularly rabid fan base in South America, SECOND SUN toured the region extensively before hitting all of the big summer festivals of Europe, which was especially sweet for Antoine. .. .. "I remember hearing about those festivals on Radio One back in the day, so to actually play them was really quite special." Adding remixing to their resume, SECOND SUN's version of "Another One Bites The Dust" under Queen vs The Miami Project—their collaboration with Cedric Gervais--got the thumbs up from the remaining members of Queen. Antoine also collaborated with Sharam of Deep Dish to contribute the vocals to a cheeky remake of Eddie Murphy's '80s camp classic "Party All The Time." .. .. "We love that hands-in-the-air feel of trance, but at the same we want to incorporate more house-based dance beats into our sound," Antoine says ultimately as reflected in their current single "Doing It Well" with Paul Harris of Dirty Vegas. "The more we work with different styles, the easier it is to bring it all together." .. .. .. .. .... .. .. .. .. .. .. .. .. .. .. .. .............................. .. .. OUR NEW SINGLE "WE OWN THE NIGHT" IS OUT NOW ON ITUNES & BEATPORT! .. .. ...... .. .. OUR SINGLE "FIRE AND WATER" IS OUT NOW ON ITUNES & BEATPORT! .. .. ...... .. .. OUR SINGLE "GOLDEN" IS OUT NOW ON ITUNES & BEATPORT! .. .. .... .. .. .. .. .. .. ...... .. ....

Members

Antoine Becks (right) & Adam White (left) .. .. ..

Influences

BOOKINGS: .. .. .. AM ONLY .. .. .. MATT@AMONLY.COM ..

Sounds Like

DISCOGRAPHY .. .. .. SINGLES .. .. .. SECOND SUN "Empire" (Vandit) .. .. SECOND SUN "The Spell" (Vandit/System) .. .. SECOND SUN "Playground" (Vandit) .. .. PAUL VAN DYK Feat. SECOND SUN "Crush" (Positiva/EMI/Mute) .. .. QUEEN VS. THE MIAMI PROJECT "Another one bites the dust" (Positiva/EMI) .. .. CEDRIC GERVAIS Feat. SECOND SUN "Pills" (Ultra) .. .. SECOND SUN "Golden" (Ultra) .. .. SECOND SUN "Fire and Water" (Ultra) .. .. SECOND SUN "We own the night" (Ultra) .. .. SECOND SUN & PAUL HARRIS "Doing it Well" (Ultra) .. .. .. ALBUMS .. .. .. SECOND SUN "Inside Out" (System Recordings) - North American release only .. .. SECOND SUN "Uncovered EP" (System Recordings) - on Itunes music store only .. .. SECOND SUN "The Lost Weekend" (Ultra Records) - out August 30 .. .. .. REMIXES .. .. .. SHARAM "PATT (Party all the time)" (Misitry of Sound/DATA) .. .. THE SHAPESHIFTERS "Sensitivity" (Positiva/EMI) .. .. SANDER KLEINENBERG "This is not Miami" (Ultra) .. .. MATT DAREY "Eternity" (Darey Products) .. .. SEAMUS HAJI "Last night a DJ saved my life" (Apollo/Universal/Big Love) .. .. MARK KNIGHT "Animal" (Toolroom) .. .. 30 SECONDS TO MARS "A Beautiful Lie" (Virgin/EMI) .. .. BM LINX "123CAT" (Craze Factory/Atlantic Records) .. .. CEDRIC GERVAIS FEAT. MYA "Love is the answer" - upcoming on Ultra Records .. .. .. GUEST VOCALS .. .. .. SHARAM "PATT (Party all the time)" (Misitry of Sound/DATA) .. .. NORMAN DORAY & ALBIN MEYERS "Drink N Dial" (Strictly Rhythm) .. .. SERGE DEVANT "Shadow" (Ultra) .. .. PATRICK M & DENNIS DEMENS "Same time" (Sleaze)
No recent updates in this category.
Why not...
00:24 | 603 plays | Jan 19 2010
Bio:
"THE LOST WEEKEND is all about disconnecting from the world and just going for it," laughs Antoine Becks, one half of electronic music duo SECOND SUN about the band's long-awaited sophomore album out August 30 on Ultra Records. "We wrote and recorded the album while we were living in Miami, which was a huge influence on the sound, feel and lyrics of the album. It's such a unique way of life down there, with all of the sun and partying and beautiful people. But there's also a dark side to that life, and it's so easy for people to get lost in it. This album explores both sides of that lifestyle."
A tour through the album reveals a crate's worth of infectious club-ready gems sure to set the world's dance floors alight. From the crushing bass lines of "Howl at the Moon" to the post-trance euphoria of "More Pills," The Lost Weekend finds SECOND SUN at the peak of their sonic powers. They even meld classic new wave aesthetics into the album, harkening back to the days of eyeliner and trench coats.
"I'm a huge fan of lots of music that was made in the '80s," Antoine raves. "I love groups like Depeche Mode, Tears for Fears and INXS. Instead of just sampling '80s music for a dance track, why not make something original that still gives you that feel?"
Obsessed with electronic music ever since his first rave at 14 back in the mid-'90s, it was Antoine's intense obsession for dance music and culture that inadvertently set him on a new career path.
"What really struck me about that rave was that I couldn't understand how the music had been made. This was before the Internet, so even finding the music was difficult. What started with me taping tracks from radio shows turned into me traveling to Berlin for Love Parade and all over Europe just clubbing and listening to music, but going down to Twilo in New York City in the late '90s was where it all really crystallized."
When Antoine randomly met music partner Adam White in a music store, what started out as fun soon found the dance music rookies in the middle of a fierce bidding war between two of the biggest DJs in the world.
"It took us six months to make that first track, because we still didn't really know what we were doing," Antoine admits with a laugh. "But we finally hammered it out." Antoine figured it was good enough for his personal favorite DJ at the time, Paul van Dyk. He caught up with van Dyk at Twilo, where he handed him a copy of that fateful first SECOND SUN track. A week later, an email came from van Dyk wanting to release the track on his fledgling new label, Vandit Records. They jumped at the chance.
The resulting track, "Empire," (which van Dyk included on his now legendary debut mix CD, The Politics of Dancing) has gone on to become a defining trance anthem that still gets hands in the air on the dance floor. By the time they teamed up with van Dyk to release the smash hit "Crush," the requests for SECOND SUN DJ sets were pouring in. But the duo has always been adamant: They are a live act. Period.
"It would have definitely been easier to be DJs, but we're musical performers. We wanted to bring more of a rock show feel to this world. It was a lot of work to figure out how to do it," Antoine admits. "Our first show was a complete disaster because of it. We opened for Paul van Dyk in Berlin on his special night and it all just went wrong. Adam and I went back to the drawing board and came up with as close of a fool-proof system as possible."
It was also during that SECOND SUN produced their debut album, Inside Out. Considered a trance act due to the van Dyk association, they surprised listeners with a wide variety of sounds and acoustic instruments. Peaking at #5 on the iTunes Dance Chart, the album's popularity sent the band on their first proper tour, which exceeded their wildest expectations, despite the many obstacles encountered along the way.
"We got an RV, with the grandiose notion of recording while we were on the road. The RV didn't even make it to our first show," Antoine laughs about now. "We were driving from Atlanta to San Francisco. We were on the outskirts of El Paso, Texas, when it just died. Finally we crammed all of our gear into a mini-van for the rest of the way. What made it special is that every show was just bonkers. It made touring in that mini-van totally worth it. That's when we knew we were onto something.
"We're always going to give a kick-ass show, and make it something special. We make a point to play things like that you'll only hear at our shows, like live exclusives," Antoine stresses. "For me, I wanted to bring back that front-man aspect to dance music. I'm really proud of the fact that we can fit all of that into this whole DJ world."
Demanding a particularly rabid fan base in South America, SECOND SUN toured the region extensively before hitting all of the big summer festivals of Europe, which was especially sweet for Antoine.
"I remember hearing about those festivals on Radio One back in the day, so to actually play them was really quite special." Adding remixing to their resume, SECOND SUN's version of "Another One Bites The Dust" under Queen vs The Miami Project—their collaboration with Cedric Gervais--got the thumbs up from the remaining members of Queen. Antoine also collaborated with Sharam of Deep Dish to contribute the vocals to a cheeky remake of Eddie Murphy's '80s camp classic "Party All The Time."
"We love that hands-in-the-air feel of trance, but at the same we want to incorporate more house-based dance beats into our sound," Antoine says ultimately as reflected in their current single "Doing It Well" with Paul Harris of Dirty Vegas. "The more we work with different styles, the easier it is to bring it all together."
..
..........................
OUR NEW SINGLE "WE OWN THE NIGHT" IS OUT NOW ON ITUNES & BEATPORT!
OUR SINGLE "FIRE AND WATER" IS OUT NOW ON ITUNES & BEATPORT!
OUR SINGLE "GOLDEN" IS OUT NOW ON ITUNES & BEATPORT!
.. .. .. ...... ..
Member Since:
November 11, 2004
Members:
Antoine Becks (right) & Adam White (left)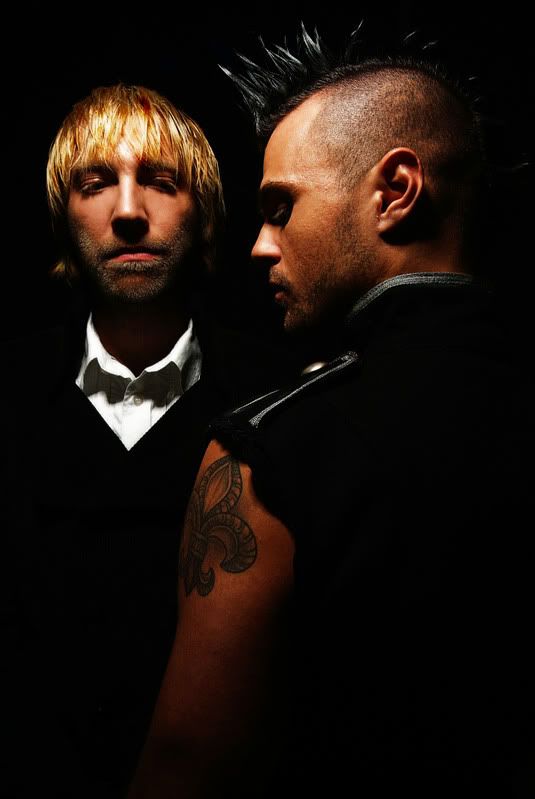 Influences:
BOOKINGS: ..

AM ONLY .. ..
MATT@AMONLY.COM ..
Sounds Like:
DISCOGRAPHY ..

SINGLES ..

SECOND SUN "Empire" (Vandit) ..
SECOND SUN "The Spell" (Vandit/System) ..
SECOND SUN "Playground" (Vandit) ..
PAUL VAN DYK Feat. SECOND SUN "Crush" (Positiva/EMI/Mute) ..
QUEEN VS. THE MIAMI PROJECT "Another one bites the dust" (Positiva/EMI) ..
CEDRIC GERVAIS Feat. SECOND SUN "Pills" (Ultra) ..
SECOND SUN "Golden" (Ultra) ..
SECOND SUN "Fire and Water" (Ultra) ..
SECOND SUN "We own the night" (Ultra) ..
SECOND SUN & PAUL HARRIS "Doing it Well" (Ultra) ..

ALBUMS ..

SECOND SUN "Inside Out" (System Recordings) - North American release only ..
SECOND SUN "Uncovered EP" (System Recordings) - on Itunes music store only ..
SECOND SUN "The Lost Weekend" (Ultra Records) - out August 30 ..

REMIXES ..

SHARAM "PATT (Party all the time)" (Misitry of Sound/DATA) ..
THE SHAPESHIFTERS "Sensitivity" (Positiva/EMI) ..
SANDER KLEINENBERG "This is not Miami" (Ultra) ..
MATT DAREY "Eternity" (Darey Products) ..
SEAMUS HAJI "Last night a DJ saved my life" (Apollo/Universal/Big Love) ..
MARK KNIGHT "Animal" (Toolroom) ..
30 SECONDS TO MARS "A Beautiful Lie" (Virgin/EMI) ..
BM LINX "123CAT" (Craze Factory/Atlantic Records) ..
CEDRIC GERVAIS FEAT. MYA "Love is the answer" - upcoming on Ultra Records ..

GUEST VOCALS ..

SHARAM "PATT (Party all the time)" (Misitry of Sound/DATA) ..
NORMAN DORAY & ALBIN MEYERS "Drink N Dial" (Strictly Rhythm) ..
SERGE DEVANT "Shadow" (Ultra) ..
PATRICK M & DENNIS DEMENS "Same time" (Sleaze)
Record Label:
ULTRA RECORDS
Label Type:
Indie
Second Sun has 35187 friends.