Play

Play Next

Add to queue
Play

Play Next

Add to queue

52 plays

Play

Play Next

Add to queue

3,979 plays
Genre: Hip Hop / R&B / Soul

Location Brooklyn, New York, US

Profile Views: 105738

Last Login: 9/22/2012

Member Since 10/28/2005

Website standoutft.com

Record Label Stand Out Music

Type of Label Indie

Bio

Purple Pain Mixtape, FREE DOWNLOAD NOW!! .... ........ .... Beats By Dr. Dre Mixtape [Featuring F.T. On The Project] .... ...... .... ...... .... .. .... .. .... Throughout Hip Hop's 30 plus years of existence Brooklyn has always been the center piece for superstars. From Big Daddy Kane to Notorious B.I.G. to Jay Z and countless others, Brooklyn has always impacted Hip-Hop with thorough-bred superstars. Enter 27 year old ..Brooklyn native FT aka Fuc That aka Full Time... Although his name says it all, this Brooklynite is one of the most ferocious and fearless MC's to ever pick up a microphone. .. ..... ..FT is working on his untitled debut album, which will be released by his imprint Stand Out Music... The entire Hip Hop community will finally get to hear what some industry insiders are dubbing "The craziest artist in the game in most recent history". .... .. .. .... .. .... .... F.T. [Fuc-That] - Don't Trust Anyone .... .. .. .. .. .. .. .... .... F.T. [Fuc-That] - World Iz A Ghetto .... .. .. .. .. .. .. .... .... ...... For: Press/Bookings/Business .. FTMGMT@gmail.com .. ftbeatz@gmail.com.... .... .. .. ..

Members

Influences

.. .... .... FT aka Fuc That Performing Live x The BHF After Party @ South Paw .... .. .. .. .. .. .. .. .. .. .. .. ....

Sounds Like
Watch the Brand New uncut VIDEO for the first single off my debut album T.G.I.F.T . "THE STRIP"

F.T "Strip" Produced by Musicman Directed & Edited By Masar http://standoutft.com/ Purchase "The Strip" on I tunes - http://itunes.apple.com/us/album/the-str...
03:56 | 181 plays | May 7 2008
Bio:
Purple Pain Mixtape, FREE DOWNLOAD NOW!!
Beats By Dr. Dre Mixtape [Featuring F.T. On The Project]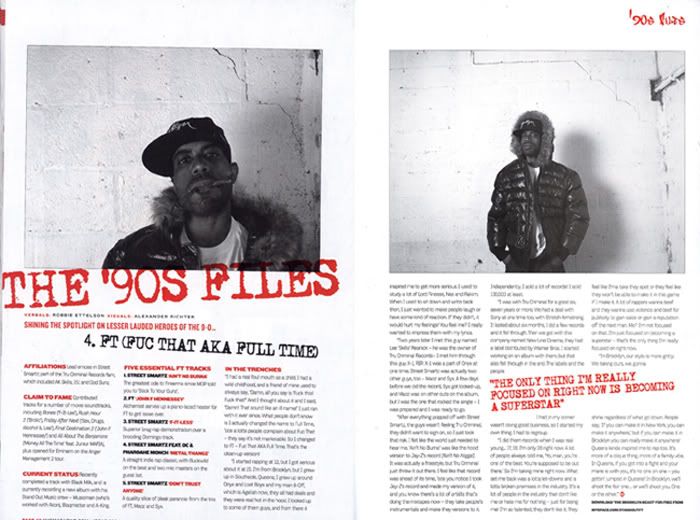 ..
Throughout Hip Hop's 30 plus years of existence Brooklyn has always been the center piece for superstars. From Big Daddy Kane to Notorious B.I.G. to Jay Z and countless others, Brooklyn has always impacted Hip-Hop with thorough-bred superstars. Enter 27 year old
Brooklyn native FT aka Fuc That aka Full Time.
Although his name says it all, this Brooklynite is one of the most ferocious and fearless MC's to ever pick up a microphone.
.
FT is working on his untitled debut album, which will be released by his imprint Stand Out Music.
The entire Hip Hop community will finally get to hear what some industry insiders are dubbing "The craziest artist in the game in most recent history".
..
..
F.T. [Fuc-That] - Don't Trust Anyone
..
F.T. [Fuc-That] - World Iz A Ghetto
..
..
For: Press/Bookings/Business
FTMGMT@gmail.com
ftbeatz@gmail.com
.. ..
Member Since:
October 28, 2005
Influences:
..
FT aka Fuc That Performing Live x The BHF After Party @ South Paw
..
Record Label:
Stand Out Music
StandOut FT has 10982 friends.