No recent updates in this category.
Why not...
Ryan's Smashing Life! hasn't earned any badges yet... have you?
General

I am truly an individual - but not in an overbearing, loathsome, try-too-hard weirdo kind of way. I laugh hard but am sometimes dead serious.

I enjoy writing about music and sharing my ideas. People write back to me and we both learn things; it's pretty cool.

You have got to love checking out new artists. Who doesn't like being on the cutting edge of something exciting and new?

Music (especially live music), Movies, Sports, Comedy, The Great Outdoors, Animals, and my three favorite adult beverages: Newcastle ale, Bass ale and Guinness stout. Visuals:

I enjoy works of fine art and scribbles by children (have some of the best work of my friends' children on my fridge - their little faces light up when they see it there!).

Digital media: I enjoy special effects and things that are made from well-written scripts.

..

Music

Visit the mp3 blog by clicking:

..

HERE

I love rock and roll, punk and indie music. If it's live and I am there, then things are going well.

I think my favorites may always be

Led Zeppelin, Bob Dylan, Black Sabbath, the Pixies, and the Clash

- but then there's all those awesome bands that I have been listening to as of late: Teo Leo & the Pharmacists,

Sound Team

,

Wolf Parade

,

Swan Lake

,

Franz Ferdinand

,

the White Stripes

,

Belle & Sebastian

,

Modest Mouse

,

the 1990s

,

Cold War Kids

,

Tapes 'N Tapes

,

Arctic Monkeys

,

Clap Your Hands Say Yeah

,

The Raconteurs

,

the Yeah Yeah Yeahs

,

Architecture in Helsinki

,

Wintersleep

,

the Greenhornes

,

Voxtrot

,

Kings of Leon

,

Letters and Colours

,

Band of Horses

,

Bishop Allen

,

Another Cynthia

,

Frank Black

,

Theo and the Skyscrapers

,

Ryan Adams

,

Jesse Malin

,

The Decemberists and the Archie Bronson Outfit.

Movies

This list could probably fill the hard drive over at My Space. Here are my favorites: 1. Bogart's Treasure of the Sierra Madre (in glorious black and white) 2. Pulp Fiction / Reservoir Dogs 3. The Usual Suspects 4. Heat 5. High Fidelity 6. This is cheating, but I like all their work: Anything by the Coen brothers. Anything by Wes Anderson. 7. Office Space 8. The Natural 9. Fight Club 10. Silence of the Lambs / Hannibal (Screw the Red Dragon!) 11. Rosencranz and Guildenstern are Dead. 12. Apocolypse Now 13. Dead Man *(scarcely seen black and white movie directed by Jim Jarmusch starring Johnny Depp with a special guitar soundtrack performed by Neil Young) 14. The Assignment 15. Bukaroo Bonzai and the Adventures from the Forbidden Zone - Yes,

yes

,

yes (so insanely bad that it's decadent!)

Television

24 and LOST are the greatest greatest television shows EVER. I have been watching a lot of DIRTY JOBS - The Discovery Series about jobs worse than yours... (no matter what you do for work.) It stars Mike Rowe, who is funny and has an excellent vocabulary. It's obvious that his education has gone to good use! (Favorite episodes: Charcoal factory, sewer treatment plant and tire recovery company)

I also like the Phantom Gourmet (It's a Boston-area food and gourmet restaurant show. I watch it every Sunday morning.

Channels: National Geographic,

History Discovery and ESPN. That is all.

Books

"Well, the rifleman's stalking the sick and the lame, Preacherman seeks the same, who'll get there first is uncertain. Nightsticks and water cannons, tear gas, padlocks, Molotov cocktails and rocks behind every curtain, False-hearted judges dying in the webs that they spin, Only a matter of time 'til night comes steppin' in." Bob Dylan - Jokerman

Heroes

Humphrey Bogart, Cary Grant, Bob Dylan, Alec Guinness, Thomas Edison, Gary Oldman, Winston Churchill and Prussian Otto Von Bismark and Bostonians everywhere.

In realizing our lives:

"Everyone wants to be Cary Grant. Even I want to be Cary Grant."

- CARY GRANT.
Play

Play Next

Add to queue

Play

Play Next

Add to queue

Play

Play Next

Add to queue

Play

Play Next

Add to queue

Play

Play Next

Add to queue
About me:
RYAN'S SMASHING LIFE IS A FINE ENTERTAINMENT BLOG.
http://rslblog.com/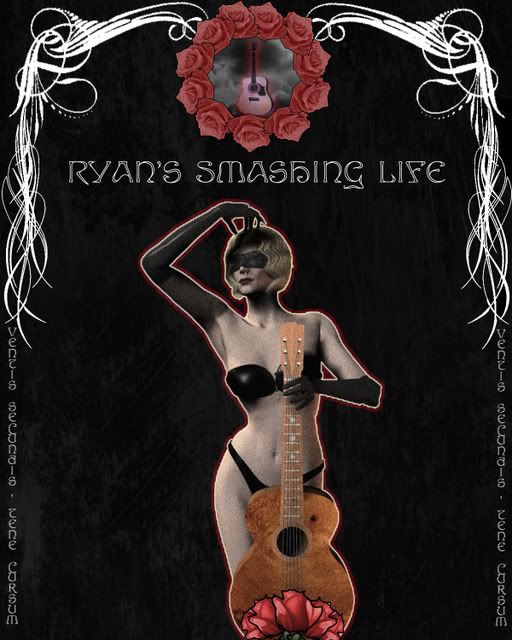 Music: I love rock and indie-music. -- -- What makes you go?

SUBSCRIBE TO MY MP3 BLOG

GO TO MY SU PAGE
..
Who I'd like to meet:
Gary Oldman, Frank Black, Nietzche, Graham Greene, Christopher Walken, Otto Von Bismark, Chuck Klosterman, Cary Grant and Alec Guinness.
Status:

Single

Here for:

Networking, Friends

Hometown:

I come from the land down under... Vermont

Orientation:

Straight

Body type:

6' 3" / Average

Ethnicity:

White / Caucasian

Religion:

Agnostic

Zodiac Sign:

Pisces

Children:

Someday

Smoke / Drink:

No / Yes

Education:

Grad / professional school

Occupation:

Music and Entertainment Blog
Boston University

Boston,Massachusetts

Graduated:

N/A

Major:

Public Relations & Business Communication

Minor:

I never touched a minor.

Clubs:

"I have never let my schooling interfere with my education," - Mark Twain

2001 to Present

Lyndon State College

Lyndonville,Vermont

Graduated:

1997

Degree:

Bachelor's Degree

Clubs:

They called me THOR and being me was a full-time job!

Greek:

Sigma Psi

1992 to 1996

Hartford High School

White River Jun,Vermont

Graduated:

1992

Student status:

Alumni

Degree:

High School Diploma

1988 to 1992