Play

Play Next

Add to queue
Play

Play Next

Add to queue

428,949 plays

Play

Play Next

Add to queue

94,649 plays

Play

Play Next

Add to queue

143,177 plays

Play

Play Next

Add to queue

108,444 plays

Play

Play Next

Add to queue

915,703 plays
Tech N9ne "Boiling Point" EP Now Available!


Things are about to reach a Boiling Point! Tech N9ne already gave you E.B.A.H. and now he's going darker with Boiling Point. On his latest EP, Tech N9ne bares the dark side of his soul yet again – showing you what makes him truly inside out. Tech N9ne just keeps creating – feeding the fans more and more music every chance he gets. Boiling Point is sure to be a fan favorite with production by Seven on tracks like "URALYA" and "Paint On Your Pillowcase". Click here to order your copy today!..

Tech N9ne Live in Europe!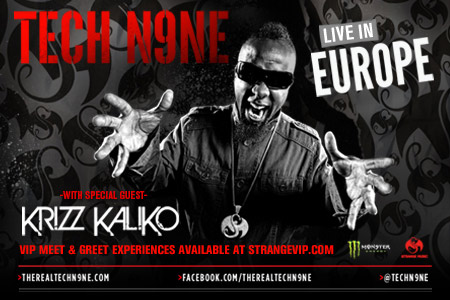 EUROPEAN TECHNICIANS!!! Strange Music is heading to Europe and we're offering a limited number of Meet & Greet VIP Experiences to all of you who want to experience Tech N9ne Live in Europe as a VIP! For $85 USD you can roll like a VIP - you'll get complimentary admission with front of line access to the European show of your choice, a 1-hour Meet & Greet with Tech N9ne and Krizz Kaliko, a limited edition VIP shirt (XL only) and a limited edition souvenir VIP laminate pass. Don't miss your chance to experience the hottest tour in Europe - VIP style! Click here to order your Tech N9ne Live in Europe Meet & Greet VIP Experience now!




After the completing the longest tour in hip hop history, the Hostile Takeover Tour 2012, Tech N9ne immediately jumped back in the studio to get what was in his head onto disc! That non-stop work ethic resulted in the newest EP from Tech N9ne - E.B.A.H.! Click here to order your copy today!


Tech N9ne Goes Gold!

Kansas City Rap Pioneer's "Caribou Lou" Single Passes The 500,000 Sales Mark; The Independent Rapper Named One Of Billboard Magazine's Top Urban Power Players Of 2012

(Los Angeles, CA) Groundbreaking independent rapper Tech N9ne earned Gold certification this week. The Kansas City artist's single, "Caribou Lou", has now sold 501,503 copies, according to SoundScan, which tracks the sale of music. Singles and albums are considered Gold once they have sold more than 500,000 units.

Produced by Rune Rask & Troo.L.S., "Caribou Lou" is featured on Everready (The Religion), Tech N9ne's critically acclaimed 2006 album. "It's a wonderful accomplishment to have a Gold record," Tech N9ne says. "My fans are the reason this happened and I can't thank them enough. To know that they love my music and continue to support what I create is truly a beautiful thing."

The gold certification is the latest in a long line of recent accomplishments for Tech N9ne. The Strange Music co-owner was named one of Billboard Magazine's Top Urban Power Players of 2012, an honor he shares with Cash Money Records, Sean "Diddy" Combs, Dr. Dre, Jay-Z and Magic Johnson, among others. Tech N9ne also made history this year with the "Hostile Takeover 2012 Tour," which included 90 shows in 99 days, making it the longest consecutive tour in rap history.

Tech N9ne has also sold nearly 2 million albums independently and was No. 95 on Pollstar's 2012 Mid-Year ranking of the Top 100 Worldwide Tours in terms of ticket sales. He is one of three rappers on the entire list, behind only Drake and Pitbull.


Man I haven't had pinot in months and today after shooting my dvd footage eating @ cheesecake fac I felt the need to have one! Now this?

via Twitter

FUCK FUCK FUCK! I just was drinkin pinot noir with Ray Manzarek in LA. now I just get a call sayin he's gone? Bad day! Imma drink for RAY!

via Twitter
Genre: Hip Hop / Rap

Location Kansas City, Un

Profile Views: 19958739

Last Login: 1/17/2013

Member Since 7/19/2004

Website blog.therealtechn9ne.com

Record Label Strange Music

Type of Label Major

Bio

TECH N9NE RELEASES NEW ALBUM ALL 6'S AND 7'S ON JUNE 7 AND LAUNCHES BIGGEST TOUR YET "ALL 6'S AND 7'S - THE TOUR": RECORD-PACE TREK KICKS OFF MAY 10, 2011 (Los Angeles, CA) The numbers do not lie, but they will certainly make your eyes bug out. This summer, Strange Music's founding artist, Tech N9ne, celebrates the release of his newest album, All 6's And 7's, on June 7 (aka 6/7). With appearances by Snoop Dogg, B.o.B., E-40, Busta Rhymes, Twista, Yelawolf, Stokley (Mint Condition), Chino Moreno & Stephen Carpenter, Jay Rock, Kendrick Lamar, T-Pain and Lil Wayne (a collaboration hashed out during a visit Tech paid to Lil Wayne at Riker's Island), All 6's And 7's features star power to commensurate with Tech N9ne's own independent notoriety. The highly anticipated follow-up to Tech N9ne's 2009 album K.O.D., All 6's And 7's shines with production from beat maestros Michael "Seven" Summers, Justice League, Will Power, Youngfyre, Em-80, and Wyshmaster. The track "Worldwide Choppers" (co-starring Yelawolf, Twista, Busta plus an explosive coterie of international MCs) has already gained attention for pushing hip-hop into new territories. See it happen up close on "ALL 6'S AND 7'S - THE TOUR" as Tech N9ne heads out for an incredible total of 82 shows in 85 days. On May 10th, 2011 the opening leg breaks north, as the "Canuck The Industry" Tour bucks Canada with 15 shows in 15 days from Montreal, Quebec to Chilliwack, B. C. Then, on May 26, the domestic campaign kicks off in Seattle as "ALL 6'S AND 7's - THE TOUR" blitzes the U.S.A. for 10 non-stop weeks. Fully fueled with iron-hot hip-hop, "ALL 6'S AND 7'S - THE TOUR" will test the limits of man and machine. Many of Strange Music's own custom fleet of vehicles will be called into service as Strange artists including Jay Rock, Krizz Kaliko, Kutt Calhoun, Big Scoob, along with new signees, Stevie Stone and ¡Mayday!, accompany Tech on the road. Surprise guests on certain tour dates have prime potential, as the roster of features on All 6's And 7's suggests. Underground hip-hop's most iconoclastic star is ready to go supernova in the biggest way. "World Domination, One Venue At A Time" has always been something of an unofficial Strange Music motto. Launched in 2000 from their own pockets as a 50/50 partnership between Tech N9ne and self-made entrepreneur Travis O'Guin, Strange Music has grown into the biggest independent label in hip-hop, with annual revenues exceeding $15 million. The Kansas City-based label has circumvented the traditional hip-hop power structure by taking their music to the people, averaging over 200 tour dates a year. In 2009, Tech performed on the main stage of the Rock The Bells festival, proving his worth alongside well-known names like Busta Rhymes, Nas and Mos Def. With his signature face paint front and center, Tech N9ne will tear through 90-plus minutes of high-octane performance each night, laying claim to the title of the hardest working artist in hip-hop, but it's not enough. As Tech attests: "We will not rest until the whole world knows our story." For more information please contact Richie@juggernautsound.com

Members

...... .. ...... .. ...... .. ...... .. .......... ..

Influences

Sounds Like
Tech N9ne has 436551 friends.