Play

Play Next

Add to queue
Play

Play Next

Add to queue

7,558 plays

Play

Play Next

Add to queue

3,361 plays

Play

Play Next

Add to queue

5,294 plays

Play

Play Next

Add to queue

3,346 plays

Play

Play Next

Add to queue

4,317 plays
Genre: Healing & EasyListening / Indie / Pop

Location Manila, PH

Profile Views: 92812

Last Login: 5/27/2011

Member Since 12/2/2005

Website www.thedorques.com

Record Label Kindassault

Type of Label Indie

Bio

.......... According to WIKIPEDIA.ORG - "The Dorque: The Dorque is a quasi-official member of the hall student government. His function is to hide the Thing somewhere on the premises of the hall and post a clue each week to its location. If the Thing is found before the end of the semester, the Dorque is obligated to provide the hall with a keg of beer. [In the 1980s the Dorque was required to provide a case of whiskey.] The Dorque is also responsible for signing the hall up for intramural sports. The Dorque for the new semester is chosen at the semester-ending banquet by the current Dorque.".... Thanks for visiting our site! This is where we're keeping all our Dorquey stuff from now on, so come back whenever you guys want to see what's new with us. Feel free to post a reply if you see something you like, or just want to get in touch, or have a violent reaction, or have an idea on how to change the world order, or to show us a new dance move, or just to show us how dorky we really are. As Bel Biv DeVoe once said, "Our music is mentally smoothed out on the R & B tip with a pop appeal to it." So check out our new posts for music, gigs and other dorquey stuff! PLS CONTACT CHUCKIE B for any bookings @ - 0910 22 88 000.... Top 5 facts:.... 1) we are over three years old.. 2) we will be recording our second album.. 3) we have been through 5 personnel changes .. 4) we considered Cuntwagon as a band name.. 5) we have an album out so please buy it.... The DoRQuEs Album for only $8 + $3 shipping = $11.... .. .. .. .. .. .... FREE!!! Kindassault Compilation to the first 25 buyers! (only 18 left!).. Enjoy the tunes. Send us an e-mail at contact(at)thedorques(dot)com...... or you can download at iTunes:.... .......... and finally at....... ..Amazon Mp3.... ..Emusic...... The Dorques album can also be bought at:.. ..Apple Crumble.. (mail order).. What? Bar - Beijing.. Straits Records - Singapore.. Big Sky Mind - Quezon City.... Aioli Recipe.... 2 garlic cloves.. 1 large egg yolk.. 2 teaspoons fresh lemon juice.. 1/2 teaspoon Dijon mustard.. 1/4 cup extra-virgin olive oil.. 3 tablespoons vegetable oil.. preparation.... Mince and mash garlic to a paste with a pinch of salt using a large heavy knife. Whisk together yolk, lemon juice, and mustard in a bowl. Combine oils and add, a few drops at a time, to yolk mixture, whisking constantly, until all oil is incorporated and mixture is emulsified. (If mixture separates, stop adding oil and continue whisking until mixture comes together, then resume adding oil.) Whisk in garlic paste and season with salt and pepper. If aïoli is too thick, whisk in 1 or 2 drops of water. Chill, covered, until ready to use..... Cooks' notes: .. • The egg yolk in this recipe is not cooked, which may be of concern if there is a problem with salmonella in your area... • Aïoli can be chilled up to 2 days..... .......... By Paolo Cruz.... Listening to The Dorques is a bit like staring into a kaleidescope. No, scratch that -- it's more like riding a shopping cart at warp speed through an empty hypermarket. It's a mess of colors and sensations, whizzing by you. It's a little disorienting, but in a good way. You just know there's a method to all this insanity, but you're too caught up to figure it out, really. You're surrounded by a veritable marketplace of audio pleasures, from all over the world. One moment it's spoken word in Nihonggo, before giving way to a manic indie rock hook. By the next song, it may be a country-tinged boogie, or dirty French pop..... The key difference is that you'd never feel alone with this bunch. Joffy Cruz is the de facto ringmaster, a sven gali, frontman, guitar hero, and rodeo clown, all wrapped up in a lanky six-foot-plus frame. His song-writing is the glue holding it all together. Arnel Fabiana radiates effortless cool, his funky bass lines providing a solid bottom end. Nina Beltran turns on the charm, tinkling away at the keyboard with reckless abandon, even as she coos in Japanese over the electronic melodies. And did I mention that she's a dead ringer for Maggie Gyllenhaal, if she were a perky chinita?.... It's no wonder they've gained such a dedicated following. Of course, tireless gigging helps. So does a healthy online buzz, via websites like MySpace, Multiply, AMP by Channel [V], Odyssey Live!, and the Nokia Independent Artists Club..... Well, then... are you ready for a Dorquegasm yet?....

Members

Joff, Aimee, Arnel, Nina.... CONTACT: joff@kindassault.com

Influences

Weed,Architecture In Helsinki, Blur, Dressy Bessy,Alcohol, Land of the Loops, Stereo Total, Oui Oui, Beyonce,Ecstasy, Pavement, Pavement, old school Hip Hop ..

Sounds Like

Dork-Fringe-Rock or what the love child of Steven Malkmus and Rainbrow Brite would listen to
No recent updates in this category.
Why not...
Bio: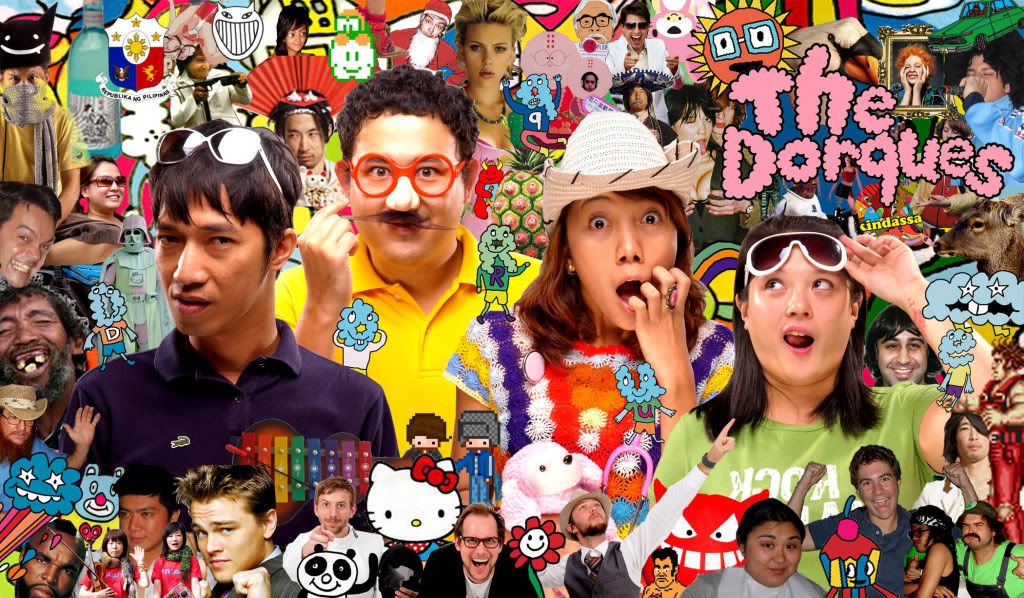 According to
WIKIPEDIA.ORG
- "The Dorque: The Dorque is a quasi-official member of the hall student government. His function is to hide the Thing somewhere on the premises of the hall and post a clue each week to its location. If the Thing is found before the end of the semester, the Dorque is obligated to provide the hall with a keg of beer. [In the 1980s the Dorque was required to provide a case of whiskey.] The Dorque is also responsible for signing the hall up for intramural sports. The Dorque for the new semester is chosen at the semester-ending banquet by the current Dorque."
Thanks for visiting our site! This is where we're keeping all our Dorquey stuff from now on, so come back whenever you guys want to see what's new with us. Feel free to post a reply if you see something you like, or just want to get in touch, or have a violent reaction, or have an idea on how to change the world order, or to show us a new dance move, or just to show us how dorky we really are. As Bel Biv DeVoe once said, "Our music is mentally smoothed out on the R & B tip with a pop appeal to it." So check out our new posts for music, gigs and other dorquey stuff! PLS CONTACT CHUCKIE B for any bookings @ - 0910 22 88 000
Top 5 facts:
1) we are over three years old
2) we will be recording our second album
3) we have been through 5 personnel changes
4) we considered Cuntwagon as a band name
5) we have an album out so please buy it
The DoRQuEs Album for only $8 + $3 shipping = $11
.. .. .. ..
..
FREE!!! Kindassault Compilation to the first 25 buyers! (only 18 left!)
Enjoy the tunes. Send us an e-mail at contact(at)thedorques(dot)com
or you can download at iTunes:

and finally at...
Amazon Mp3
Emusic
The Dorques album can also be bought at:
Apple Crumble
(mail order)
What? Bar - Beijing
Straits Records - Singapore
Big Sky Mind - Quezon City
Aioli Recipe
2 garlic cloves
1 large egg yolk
2 teaspoons fresh lemon juice
1/2 teaspoon Dijon mustard
1/4 cup extra-virgin olive oil
3 tablespoons vegetable oil
preparation
Mince and mash garlic to a paste with a pinch of salt using a large heavy knife. Whisk together yolk, lemon juice, and mustard in a bowl. Combine oils and add, a few drops at a time, to yolk mixture, whisking constantly, until all oil is incorporated and mixture is emulsified. (If mixture separates, stop adding oil and continue whisking until mixture comes together, then resume adding oil.) Whisk in garlic paste and season with salt and pepper. If aïoli is too thick, whisk in 1 or 2 drops of water. Chill, covered, until ready to use.
Cooks' notes:
• The egg yolk in this recipe is not cooked, which may be of concern if there is a problem with salmonella in your area.
• Aïoli can be chilled up to 2 days.
By Paolo Cruz
Listening to The Dorques is a bit like staring into a kaleidescope. No, scratch that -- it's more like riding a shopping cart at warp speed through an empty hypermarket. It's a mess of colors and sensations, whizzing by you. It's a little disorienting, but in a good way. You just know there's a method to all this insanity, but you're too caught up to figure it out, really. You're surrounded by a veritable marketplace of audio pleasures, from all over the world. One moment it's spoken word in Nihonggo, before giving way to a manic indie rock hook. By the next song, it may be a country-tinged boogie, or dirty French pop.
The key difference is that you'd never feel alone with this bunch. Joffy Cruz is the de facto ringmaster, a sven gali, frontman, guitar hero, and rodeo clown, all wrapped up in a lanky six-foot-plus frame. His song-writing is the glue holding it all together. Arnel Fabiana radiates effortless cool, his funky bass lines providing a solid bottom end. Nina Beltran turns on the charm, tinkling away at the keyboard with reckless abandon, even as she coos in Japanese over the electronic melodies. And did I mention that she's a dead ringer for Maggie Gyllenhaal, if she were a perky chinita?
It's no wonder they've gained such a dedicated following. Of course, tireless gigging helps. So does a healthy online buzz, via websites like MySpace, Multiply, AMP by Channel [V], Odyssey Live!, and the Nokia Independent Artists Club.
Well, then... are you ready for a Dorquegasm yet?
Member Since:
December 02, 2005
Members:
Joff, Aimee, Arnel, Nina

CONTACT: joff@kindassault.com
Influences:
Weed,Architecture In Helsinki, Blur, Dressy Bessy,Alcohol, Land of the Loops, Stereo Total, Oui Oui, Beyonce,Ecstasy, Pavement, Pavement, old school Hip Hop ..
Sounds Like:
Dork-Fringe-Rock or what the love child of Steven Malkmus and Rainbrow Brite would listen to
Record Label:
Kindassault
The Dorques has 10684 friends.