Play

Play Next

Add to queue
Genre: Alternative / Electronica / Latin

Location Miami, Florida, Es

Profile Views: 97927

Last Login: 7/20/2011

Member Since 8/26/2005

Website INFO@ELASTICBOND.COM

Record Label Unsigned

Type of Label Unsigned

Bio

The connection comes when you turn it up, and you're transported to a funky, soulful, urban island in the middle of paradise. Miami-based group Elastic Bond mixes traditional Latin, Soul and Afro grooves, with modern electronic sounds. With a solid foundation of organic songwriting, melodic vocals and good vibes, Elastic Bond delivers music even your mom would like. Venezuelan producer Andres Ponce and Honduran singer-songwriter Sofy Encanto formed the band in 2006, and soon after guitarist Buffalo Brown and trumpet player David Burgos joined forces to expand its unique sound. Their latest release "Frecuencia Natural EP" solidifies Elastic Bond's inventive fusion of styles that enchants listeners as diverse as the city they call home. La conexión empieza cuando subes el volumen y eres transportado a una isla bohemia, urbana, y llena de sabor en la mitad del paraíso. El grupo de Miami Elastic Bond mezcla ritmos tradicionales Afro-Latinos y Soul con sonidos electrónicos modernos. Con una base sólida de composiciones orgánicas, voces melodiosas y buena vibra, Elastic Bond crea música que le gustaría hasta a tu mamá. En el 2006 el productor venezolano Andrés Ponce y la cantautora hondureña Sofy Encanto formaron la banda y poco después el guitarrista Buffalo Brown y el trompetista David Burgos unieron fuerzas para expandir su sonido único. Su último lanzamiento "Frecuencia Natural EP" solidifica la fusión de estilos innovadora de Elastic Bond que seduce a oyentes tan diversos como la ciudad a la cual llaman su hogar. For Booking & Licensing, please contact-----info@elasticbond.com----- MUSIC AVAILABLE ON iTUNES NOW ......

Members

Sofy Encanto Andres Ponce Buffalo Brown David Burgos ......

Influences

Beatles, Stones, Pink Floyd, Willie Colon, Eddie Palmieri, Meters, James Brown, David Holmes, Quantic, Thievery Corp., Augustus Pablo, King Tubby, Amigos Invisibles, Desorden Publico, Bob Marley, Suba, Zero 7, Bonobo, Saint Germain, Kraftwerk, Beck, Radiohead, Bjork, Portishead, Lee Perry, Air, Colplay, Tosca, Cafe Tacuba, Cerati, Soda Stereo, Manu Chao, Mano Negra, Stereolab, The JBs, Bossacuccanova, Suenalo, Spam AllStars, Locos Por Juana, Bacon Bits, Fitzroy, Jackie Mittoo, Ursula 1000

Sounds Like

......
No recent updates in this category.
Why not...
Bio:
..
Elastic Bond brings an urban edge with a tropical twist to the scene. With a name that gives reference to an atomic physics concept, Imagine colourful, funky, tropical; Elastic Bond mixes Latin and Soul sounds with modern sample-based production always maintaining a foundation of organic songwriting, rich melodies and lyrics courtesy of their lovely front woman Sofy Encanto. What started out as a project for Venezuelan producer Andres Ponce to experiment and create a unique sonic cocktail, was swiftly transformed after his harmonic textures were combined with the vibrant voice of Honduran songstress Encanto. Later bonding with the guitar sounds of Buffalo Brown and David Burgos on trumpet. The name of the project suggests the idea of eclectic sounds and musical genres held together by a common vibe; it was loosely inspired in a molecular chemistry term. With two independent album releases under their sleeves, this Latin-alternative band has charmed audiences throughout different parts of the world. Their latest album "EXCURSION" presented a more urban sound where the band experimented heavily with hip-hop by collaborating with MC Orion. Voted Best Funky Fusion Band in the "Best of 2007" by the Miami New Times, and "Band of the Hour" by the Miami Herald in 2009, 944 Magazine Buzz Picks 2010. Having shared the stage with SI*SE, Amigos Invisibles, Locos por Juana, Dave Valentin, amongst others while publishing their first album "MADRUGADA" in places like Germany, this Miami band earns instant love amongst the crowds after each performance. Their live show is guaranteed to be a real highlight with a 6 piece ensemble that in cludes a horn section and percussion. Their latest release is the "Frecuencia Natural" EP. Currently in the lab cooking up a brand new album that will follow the EP. "Cutting-Edge" ...Billboard Magazine 2009 "Elastic Bond's funky groove kisses musical boundaries goodbye". … The Miami New Times "Best Funky Fusion Band Even Your Mama Would Like". … The Miami New Times Best of Miami "One of the best bands in Miami"....
Whatmiami.com
2010 ---CONTACT---Elastic Bond at -----info@elasticbond.com----- MUSIC AVAILABLE ON iTUNES NOW
Members:
!!! Start Code To Apply Top Banner !!!!
...... ......
Custom top banner code by Eileen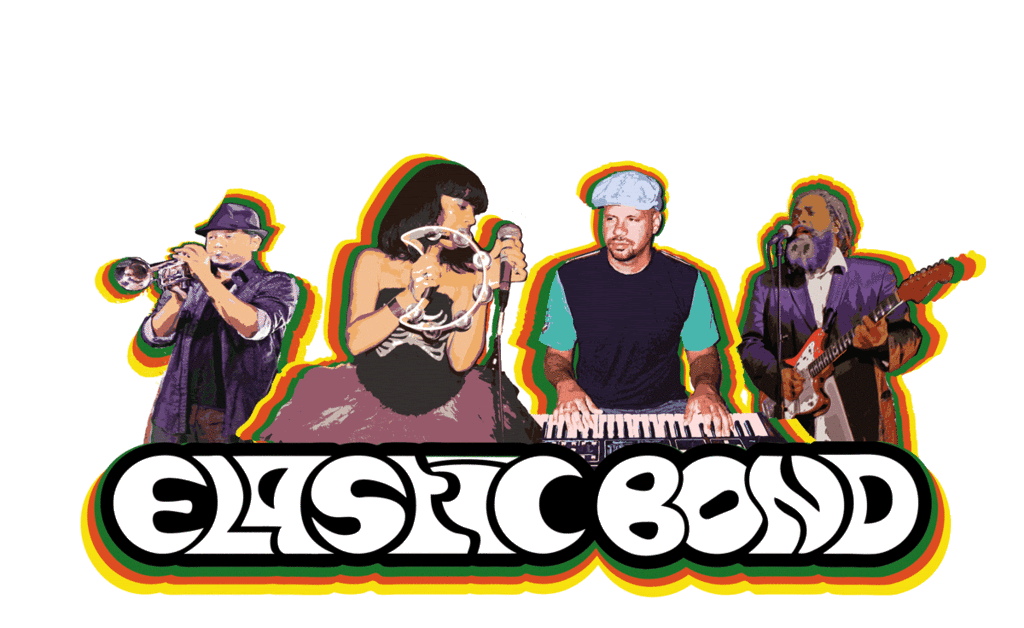 ..
!!! End Code To Apply Top Banner !!! Sofy Encanto Andres Ponce Buffalo Brown David Burgos
Sounds Like: