Play

Play Next

Add to queue
Genre: Punk / Rock

Location Your Mum's bed, Un

Profile Views: 229757

Last Login: 5/22/2013

Member Since 9/19/2004

Website http://www.msplinks.com/MDFodHRwOi8vd3d3LnRoZS1nb25hZHMuY28udWsvaW5kZXguaHRt

Record Label Soitenly Records/Randale Records

Type of Label Indie

Bio

.. .. .. .. .. ..........Oi, Oi, Oi, who's that there? Combat jackets and short cropped hair. Men of iron, men and muckers. The real red army Tucker's Ruckers!............ .. .. .... You can buy Gonads stuff here: http://www.the-gonads.co.uk/shop.htm The Gonads are a schizophrenic mess of street rock 'n' roll - half demented, primal noise, and half punk-oi-Ska knees-up. The band formed in a Deptford pie shop in January 1977. They were influenced by punk rock, Carry On films, Eddie & The Hot Rods, the Faces, Donald McGill, Max Romeo, Max Miller, Monty Python, Leon Trotsky and Dada. The Nads grew out of pub rock comedy outfit Pink Tent. Their early shows erupted like a tramp's boils in Charlton, a small proletarian enclave in south east London which is allegedly home to the finest football team the world has ever seen. They drew on the anarchic comedy of the Goons, wore eccentric garb and followed the music hall tradition in their antics and comic sketches, leading to comparisons with the Small Faces, the Blockheads and the Bonzo Dog Doo-Dah Band. But as guitarist Spanner said at the time: "We're not doing the Bonzos, we are throttling them." Their early comic thrust, including songs such as 'Surrealist Blues', 'Eels', 'Beyond The Minge', 'Whelks' and 'Stroke My Beachcomber, Baby', saw the band identified by music press experts as the godfathers of the punk pathetique movement. A press release described their act as "a ballet for the hooligan element." The Sounds diarist Lord Waistrel dubbed them "a great lusty raspberry of creative excess."..The Nads split painfully in 1978, owing to artistic differences and an accumulation of unpaid bar bills. They reformed in 1981 recording the track 'Tucker's Ruckers Ain't No Suckers' – lampooning Oi's early obsession with football hooligans – for the 'Carry On Oi' album ("dedicated to the spirit of Sid James and Che Guevara"). A live double album eventually followed mixing punk with pub rock, party sing-songs and absurd ditties. Their most famous early song was 'I Lost My Love To A UK Sub', a true tale inspired by the sad defection of the fragrant Janice Gussett to that inferior South London combo. Only the band's unrequited lust for Sandra Bigg (really big) kept them together through-out this difficult period... The Gonads split again in 1985 but reformed ten years later, moving increasingly towards Professionalism. Their third burst of life has been their most productive, with five studio albums featuring songs like 'Alconaut', 'Hey You' and 'Oi Mate'. As well as flag girls and erotic dancers, the current line-up includes Actual Musicians. Their anarchic, highly visual shows appeal to drunks, dossers, loose women, medical students, skinheads, Rastafarians, lap-dancers and the recently deceased. We recently recorded 'Greater Hits Vol 1: Plums', the definitive compilation album. Spokesman Fat Col says poetically: "Don't lump us in with any other groups because they are all cnuts." Although strictly roots and all that jazz, the Gonads have indicated that they will sell out at the first opportunity... .. PLEASE NOTE: This site is for retards, feckwits and poltroons with too much time on their hands to check out our music. We DO NOT handle any business on this site. If you are looking to book The GONADS, or set up interviews, you could try contacting the following: .. UK .. Label: Soitenly Records Publicity: Red Robin Publicity All enquiries: waistrel@the-gonads.co.uk. Management: Waistrel & Associates..Photography: LibraSnake (www.myspace.com/librasnakephotography) EUROPE .. Label: Randale Records. Booking: M.A.D Touring .... USA .. All enquiries: waistrel@the-gonads.co.uk .. EQUATORIAL GUINEA..All enquiries: gblaw2@gmail.com The GONADS: Still South London Yobs!.. The GONADS Discography.. Singles and eps.. 1977 Stroke My Beachcomber Baby (Scrotum Records).. 1981 Pure Punk For Row People (Secret Records); ep.. 1982 Peace Artists (Secret Records); ep.. 1983 Delilah – The Punk Epic (Razor Records); ep – as Max & Gal, the Brothers Gonad.. 1997 Oi Nutter (1,2,3,4 Records, UK; Pub City Royal, USA).. 2006 Oi Mate (Soitenly) – download single.. 2008 Punk Is Back (Havin' a Laugh Records) – split vinyl ep with Klasse Kriminale.. 2008 Go Ska With The Gonads (Soitenly) – download ep.. 2008 St George's Day ep (Soitenly) – download ep.. 2010 Frankenskin/Wir Sind Dabei (Empty) - split vinyl sawblade single with SpringtOifel .. 2011 Charlton Boys - five track ep (Randale) Albums.. 1983 Live And Loud - The Official Bootleg, The Gonads (Syndicate Records), double album.. 1987 Full Time Result (Link) – split album with The Blood.. 1989 The Revenge Of The Gonads (Street Link) .. 1994 Punk Rock Will Never Die (Harry May) .. 1999 Oi! Back & Barking (Captain Oi).. 2001 Schiz-Oi!-phrenia (Captain Oi) .. 2001 Schiz-Oi!-phrenia (Knock Out Records) - vinyl .. 2006 Old Boots No Panties (Captain Oi) .. 2008 Live Free, Die Free (Empty) .. 2009 Live Free, Die Free (Joe Pogo) - vinyl double album.. 2010: Glorious Bastards (Contra) - 18 track CD + 16 track vinyl album in one package. 2011: The Gonads Greater Hits Vol 1: Plums (Randale) 2012: Greater Hits Vol 2: The Mutt's Nuts (Randale). All available from: http://www.the-gonads.co.uk/shop.htm Tracks and oddities.. 1981 Tucker's Ruckers Ain't No Suckers – track on Carry On Oi (Secret).. 1981 Oi Christmas – track on the Bollocks To Xmas ep (Secret) .. 1982 TNT – track on the Total Noise ep (Total Noise) .. 1982 Getting Pissed – track on Oi Oi That's Yer Lot (Secret) .. 1983 Jobs Not Jails and Lager Top Blues – tracks on Son Of Oi (Syndicate), .. 1984 SE7 Dole Day – track on The Oi Of Sex (Syndicate), .. 1990 The Joys Of Oi and Eat The Rich on The Joys of Oi (Syndicate, recorded in 1984). .. 2002 Unky Bunk – track on Addicted To Oi (Captain Oi) .. 2007 Hey You – track on Oi! Fuck You (Ascalon Records) .. 2008 Alconaut and Valhallaballoo – tracks on The Kings Of Streetpunk (GnR Records).. Official Gonads side project: DMG. Previous side projects: Prole, the Orgasm Guerrillas, Lord Waistrel & The Cosh Boys... Our very earliest set-list, 1977, played at The Lads Of The Village pub, Charlton in March 77: 'Antigallican Last Bell', 'Big Balls', 'Stroke My Beachcomber, Baby', 'Darling Harold', 'Eels', 'Pink Tent', 'Rob A Bank', 'Filthy Rich', 'Charlton Warrior', 'Red Army'. .. Our current set-list, 2011: 'Punk Rock Till I Die', 'Yeti', 'Alconaut', 'Oi Mate', 'Gob', 'Grant Mitchell', 'The Growler', 'Pink Tent', 'British Steel', 'Franken-Skin', 'I Lost My Love To A UK Sub', 'Hey You', 'Valhallaballoo'. Encores: 'Tucker's Ruckers', 'That's Oi'.. ..Oi! – A statement from The GONADS: Brothers, sisters and friends...we are Londoners, we are English and we are working class – and we are rightly proud of being so. But we're not obsessive about it. All are welcome at our shows. In recent times there have been attempts to link us with a notorious and discredited political organisation, the British Labour Party. Please ignore these unpleasant smears. It's true that The Gonads started as a bunch of Labour-voting punk drunks but we have nothing but contempt for the Blair/Brown 'project' and politicians in general. As one of the leading first generation Oi! bands, we're very up for "having a laugh and having a say." We have strong views on individual liberty. But we don't preach. We are patriotic but for the benefit of halfwits, cultural snobs and lazy newspaper hacks let us state that we are not now, have never been and will never be a racist band. Ska is part of our musical and cultural heritage, along with the Music Hall, rock, punk, The Long Good Friday, Spike Milligan and Benny Hill. And if you dig that, you will probably dig us. But if you're in to "White Power", Joe Stalin or crusty old Crass it's best not to add us; we ain't your cuppa tea... Oi! is working class punk full-stop. We're not interested in political authoritarians or bigotry. To put it in terms that even a moron could understand: We don't like Nazis, we don't like Communists and we aren't racists. We do not wish to be associated with anyone who is any of the above. Got it? Good. We do not seek your approval. We are indifferent to your disdain. ..And here is something else to chew on: "Europe is fast becoming a Gestapo Khazi, a place of timid conformity, ruled by people who see 1984 not so much as a novel but an instruction manual. We live in an age of caution and subservience when challenging received wisdom is dismissed as 'extremism' and anything new or exciting is written off as too risky or too dangerous. It's an age of low expectations. We are always being told what is bad for us, and life is limited on all sides by petty laws, guidelines and regulations. The spirit of the age is represented by Control, Restriction and Surveillance. The spirit of punk is to go against the grain: to oppose all censorship, bans and bourgeois codes of conduct; to stand up for radical music and for working class rights; to insist that we have a duty to live as free, independent adults who take responsibility for our own affairs and won't be told what to think or feel, or eat or drink or smoke; what to listen to, what to drive, or which imaginary god to follow. These are basic human values that cannot be compromised if we are ever going to create a society fit for people." – Extract from 'Punk Rock Manifesto' by Garry Bushell. .. .. .. ....Gal Gonad's personal MySpace page.. .. ....Clyde Gonad's MySpace page .... ....André Gonad's Maninblack MySpace page .... .. .. .. .. .. .. .. ..MyGen.. ..Profile Generator.. .. ........

Members

Gal Gonad: Vox.. Nacho Jase: Lead Guitar.. Mick Maverick: bass guitar.. South Coast Steve: Drums.. And on the fiddle...our local MP .. ..Plus..The Franken-Skin!.. Wattsie Watts: vuvuzela.. The Charlton Boys: backing vox.... The Gonads USA Gal Gonads: vocals Adam Wade: guitar Jay 'The Mighty Tripod' Letendre: guitar Cam Gunn: bass. Rodger 'Trotsky' Bruiser: drums And André Schlesinger: SynthGuitar (New York City only).. Gonads without portfolio: Clyde Ward; those glorious bastards, Tony Feedback, Scoops and Gentleman John. .. Guest members.. Leah McCaffery, Liberty Hayes, Tony Van Frater, Kiria, Nick Welsh, Jennie Bellestar, Sarah Vezmar...... Distinguished former members.. Jacqui Harthill aka Annie Auldiron, Steve Whale & Steve Kent (Guitar 1980-83), JJ Bedsore, Mick Geggus and Pete Way (Unidentified Cockney Gonads), Si Spanner, Ronnie Rouman, Gladys Pringle, the Elastic Girls, Bertie Bingo, Sir Toby Belch, Tiffany and Parrothead, Nick Cunningham, Martin Smith, Kev Boyce, Casanova Kev, Rockin' Dave, Steve Bishop, Manic Esso, Chili Jon, The Romulan, Wild Thing, Andy Kilminster; Slim Jim 'The Piddler' Piddington; R.D. MacGonad.. original line-up: Gal, Dunhill Pete, Big Al, Mark Gladding, Cowbells Chris, Zoe Bailey.... Dancers: Mercy Ajisafe, Angel Sinclair .. Flag girls: Abigail Print, Vikki Thomas, Rashida Way, Zoe Anderson, Jane Couch, Charlton Lisa, Chelsea Lisa, Swedish Sandra, Ruby Jam, Nicole and Allyson Maverick.... ...... .. .. .. .. .. ..

Influences

Yootha Joyce, Ben Grimm, Buster Keaton, Harry May, Jim Beam, Jenna Jameson, The Archies, Blair Mayne, Joe Strummer, Prince Buster, The Ramones, Jimi Hendrix, The Banana Splits, Ben Tillett, George Orwell, Sid James, Super Clive Mendonca, Tommy Cooper, the Small Faces, The Monkees, Judge Dread, Monty Python, Rose Tattoo, Slade, Spike Milligan, Grant Mitchell, The Mighty Boosh, Barbara Windsor, Agnostic Front, Desmond Dekker, Derek Hales, Pierre-Joseph Proudhon, The Sweet, Dr Zachary Smith, Millie Small, Madness, clunge and publicans everywhere. Barmaids of the world unite, you have nothing to lose but your dignity, underwear and self-respect.

Sounds Like

The English Revolution
27 Songs | Jan 7, 2012

23 Songs | Sep 21, 2008
Bio:
..
..Oi, Oi, Oi, who's that there? Combat jackets and short cropped hair. Men of iron, men and muckers. The real red army Tucker's Ruckers!....
You can buy Gonads stuff here: BUY HERE

The Gonads were formed in a Deptford pie shop in January 1977. They were influenced by punk rock, Carry On films, Donald McGill, Max Romeo, Max Miller, Monty Python, Leon Trotsky and Dada. The Nads grew out of pub rock comedy outfit Pink Tent. Their early shows erupted like a tramp's boils in Charlton, a small proletarian enclave in south east London which is allegedly home to the finest football team the world has ever seen. They drew on the anarchic comedy of the Goons, wore eccentric garb and followed the music hall tradition in their antics and comic sketches, leading to comparisons with the Small Faces, the Blockheads and the Bonzo Dog Doo-Dah Band. But as guitarist Spanner said at the time: "We're not doing the Bonzos, we are throttling them." Their early comic thrust, including songs such as 'Surrealist Blues', 'Eels', 'Beyond The Minge', 'Whelks' and 'Stroke My Beachcomber, Baby', saw the band identified by music press experts as the godfathers of the punk pathetique movement. A press release described their act as "a ballet for the hooligan element." The Sounds diarist Lord Waistrel dubbed them "a great lusty raspberry of creative excess."

The Nads split painfully in 1978, owing to artistic differences and an accumulation of unpaid bar bills. They reformed in 1981 recording the track 'Tucker's Ruckers Ain't No Suckers' – lampooning Oi's early obsession with football hooligans – for the 'Carry On Oi' album ("dedicated to the spirit of Sid James and Che Guevara"). A live double album eventually followed mixing punk with pub rock, party sing-songs and absurd ditties. Their most famous early song was 'I Lost My Love To A UK Sub', a true tale inspired by the sad defection of the fragrant Janice Gussett to that inferior South London combo. Only the band's unrequited lust for Sandra Bigg (really big) kept them together through-out this difficult period.

The Gonads split again in 1985 but reformed ten years later, moving increasingly towards Professionalism. Their third burst of life has been their most productive, with five studio albums featuring songs like 'Alconaut', 'Hey You' and 'Oi Mate'. As well as flag girls and erotic dancers, the current line-up includes Actual Musicians. Their anarchic, highly visual shows appeal to drunks, dossers, loose women, medical students, skinheads, Rastafarians, lap-dancers and the recently deceased. Work has started on a definitive Gonads Greater Hits album which will either be called 'Plums', 'Bollo' or 'Scientology For Beginners'. There is also a DVD in development. If you want to book the band, more fool you. Given the chance they will shag your women, drink your beer and steal your jokes. Spokesman Fat Col says poetically: "Don't lump us in with any other groups because they are all cnuts." Although strictly roots and all that jazz, the Gonads have indicated that they will sell out at the first opportunity.


PLEASE NOTE: This site is for retards, feckwits and poltroons with too much time on their hands to check out our music. We DO NOT handle any business on this site. Please, if you are looking to book The GONADS, or set up interviews, see Sid the Lip in the snug bar of the Swan in Charlton Village. If Sid is unavailable you could try contacting the following:

UK

Label: Soitenly Records

Publicity: Red Robin Publicity

All enquiries: waistrel@the-gonads.co.uk

Management: Waistrel & Associates

Photography: LibraSnake (www.myspace.com/librasnakephotography)

EUROPE

Label: We're available baby

Booking: M.A.D Touring

USA

All enquiries: waistrel@the-gonads.co.uk

EQUATORIAL GUINEA

All enquiries: d.beeson@tiscali.co.uk

The GONADS: Still South London Yobs!

The GONADS - The Complete Discography

Singles and eps

1977 Stroke My Beachcomber Baby (Scrotum Records)

1981 Pure Punk For Row People (Secret Records); ep

1982 Peace Artists (Secret Records); ep

1983 Delilah – The Punk Epic (Razor Records); ep – as Max & Gal, the Brothers Gonad

1997 Oi Nutter (1,2,3,4 Records, UK; Pub City Royal, USA)

2006 Oi Mate (Soitenly) – download single

2008 Punk Is Back (Havin' a Laugh Records) – split vinyl ep with Klasse Kriminale

2008 Go Ska With The Gonads (Soitenly) – download ep

2008 St George's Day ep (Soitenly) – download ep

2010 Frankenskin/Wir Sind Dabei (Empty) - split vinyl sawblade single with SpringtOifel

Albums

1983 Live And Loud - The Official Bootleg, The Gonads (Syndicate Records), double album

1987 Full Time Result (Link) – split album with The Blood

1989 The Revenge Of The Gonads (Street Link)

1994 Punk Rock Will Never Die (Harry May)

1999 Oi! Back & Barking (Captain Oi)

2001 Schiz-Oi!-phrenia (Captain Oi)

2001 Schiz-Oi!-phrenia (Knock Out Records) - vinyl

2006 Old Boots No Panties (Captain Oi)

2008 Live Free, Die Free (Empty)

2009 Live Free, Die Free (Joe Pogo) - vinyl double album

2010: Glorious Bastards (Contra) - 18 track CD + 16 track vinyl album in one package

Tracks and oddities

1981 Tucker's Ruckers Ain't No Suckers – track on Carry On Oi (Secret)

1981 Oi Christmas – track on the Bollocks To Xmas ep (Secret)

1982 TNT – track on the Total Noise ep (Total Noise)

1982 Getting Pissed – track on Oi Oi That's Yer Lot (Secret)

1983 Jobs Not Jails and Lager Top Blues – tracks on Son Of Oi (Syndicate),

1984 SE7 Dole Day – track on The Oi Of Sex (Syndicate),

1990 The Joys Of Oi and Eat The Rich on The Joys of Oi (Syndicate, recorded in 1984).

2002 Unky Bunk – track on Addicted To Oi (Captain Oi)

2007 Hey You – track on Oi! Fuck You (Ascalon Records)

2008 Alconaut and Valhallaballoo – tracks on The Kings Of Streetpunk (GnR Records)

Official Gonads side project: DMG. Previous side projects: Prole, the Orgasm Guerrillas, Lord Waistrel & The Cosh Boys.

Our very earliest set-list, 1977, played at The Lads Of The Village pub, Charlton in March 77: 'Antigallican Last Bell', 'Big Balls', 'Stroke My Beachcomber, Baby', 'Darling Harold', 'Eels', 'Pink Tent', 'Rob A Bank', 'Filthy Rich', 'Charlton Warrior', 'Red Army'.

Our current set-list, 2010: 'Tucker's Ruckers', 'Punk Rock Till I Die', 'Grant Mitchell', 'Gob', 'Oi Mate', 'The Growler', 'Alconaut', 'SE7 Dole Day', 'Rob A Bank', 'Infected', 'It's A Yeti', 'Hey You', 'British Steel', 'I Lost My Love To A UK Sub', 'Franken-Skin'. Encores: 'Charlton Boys', 'Pink Tent', 'England's Glory', 'Valhallaballoo.'



Download our Ska EP featuring 'Oi Mate', 'South London Aggro Girl' and 'Charlton Tel's Stag Weekend' from i-tunes at just 79p a track. Click here to buy.




Oi! – A statement from The GONADS: Brothers, sisters and friends...we are Londoners, we are English and we are working class – and we are rightly proud of being so. But we're not obsessive about it. All are welcome at our shows. In recent times there have been attempts to link us with a notorious and discredited political organisation, the British Labour Party. Please ignore these unpleasant smears. It's true that The Gonads started as a bunch of Labour-voting punk drunks but we have nothing but contempt for the Blair/Brown 'project' and politicians in general. As one of the leading first generation Oi! bands, we're very up for "having a laugh and having a say." We have strong views on individual liberty. But we don't preach. We are patriotic but for the benefit of halfwits, cultural snobs and lazy newspaper hacks let us state that we are not now, have never been and will never be a racist band. Ska is part of our musical and cultural heritage, along with the Music Hall, rock, punk, The Long Good Friday, Spike Milligan and Benny Hill. And if you dig that, you will probably dig us. But if you're in to "White Power", Joe Stalin or crusty old Crass it's best not to add us; we ain't your cuppa tea.

Oi! is working class punk full-stop. We're not interested in political authoritarians or bigotry. To put it in terms that even a moron could understand: We don't like Nazis, we don't like Communists and we aren't racists. We do not wish to be associated with anyone who is any of the above. Got it? Good. We do not seek your approval. We are indifferent to your disdain.

And here is something else to chew on: "Europe is fast becoming a Gestapo Khazi, a place of timid conformity, ruled by people who see 1984 not so much as a novel but an instruction manual. We live in an age of caution and subservience when challenging received wisdom is dismissed as 'extremism' and anything new or exciting is written off as too risky or too dangerous. It's an age of low expectations. We are always being told what is bad for us, and life is limited on all sides by petty laws, guidelines and regulations. The spirit of the age is represented by Control, Restriction and Surveillance. The spirit of punk is to go against the grain: to oppose all censorship, bans and bourgeois codes of conduct; to stand up for radical music and for working class rights; to insist that we have a duty to live as free, independent adults who take responsibility for our own affairs and won't be told what to think or feel, or eat or drink or smoke; what to listen to, what to drive, or which imaginary god to follow. These are basic human values that cannot be compromised if we are ever going to create a society fit for people." – Extract from 'Punk Rock Manifesto' by Garry Bushell.

 

Gal Gonad's personal MySpace page

André Gonad's Maninblack MySpace page

 




..
Member Since:
September 19, 2004
Members:
Gal Gonad: Vox
Nacho Jase: Lead Guitar
Mick Maverick: bass guitar
South Coast Steve: Drums
And on the fiddle...our local MP
Plus
Wattsie Watts: vuvuzela
The Charlton Boys: backing vox

Gonads without portfolio: Clyde Ward; those glorious bastards, Tony Feedback, Scoops and Gentleman John. And André Schlesinger: SynthGuitar (North America only)

Guest members
Leah McCaffery, Liberty Hayes, Tony Van Frater, Kiria, Nick Welsh, Jennie Bellestar, Sarah Vezmar


Distinguished former members
Jacqui Harthill aka Annie Auldiron, Steve Whale & Steve Kent (Guitar 1980-83), JJ Bedsore, Mick Geggus and Pete Way (Unidentified Cockney Gonads), Si Spanner, Ronnie Rouman, Gladys Pringle, the Elastic Girls, Bertie Bingo, Sir Toby Belch, Tiffany and Parrothead, Nick Cunningham, Martin Smith, Kev Boyce, Casanova Kev, Rockin' Dave, Steve Bishop, Manic Esso, Chili Jon, The Romulan, Wild Thing, Andy Kilminster; Slim Jim 'The Piddler' Piddington; R.D. MacGonad
original line-up: Gal, Dunhill Pete, Big Al, Mark Gladding, Cowbells Chris, Zoe Bailey

Dancers: Mercy Ajisafe, Angel Sinclair
Flag girls: Abigail Print, Vikki Thomas, Rashida Way, Zoe Anderson, Jane Couch, Charlton Lisa, Chelsea Lisa, Swedish Sandra, Ruby Jam, Nicole and Allyson Maverick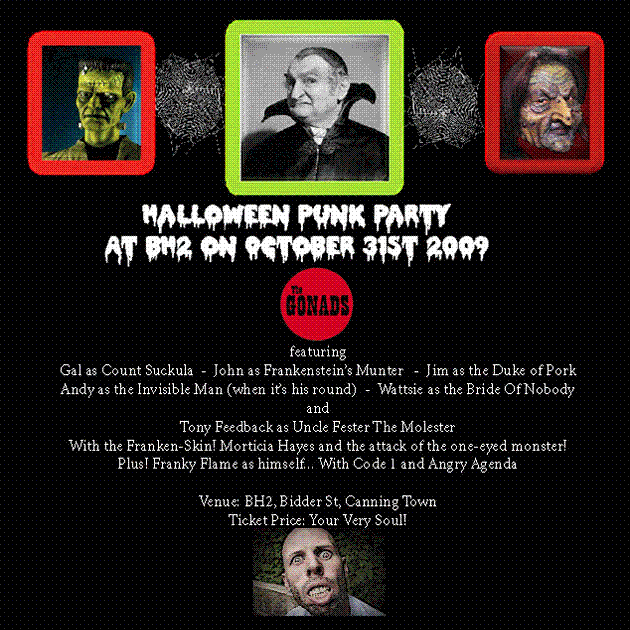 Influences:
Yootha Joyce, Ben Grimm, Buster Keaton, Harry May, Jim Beam, Jenna Jameson, Blair Mayne, Joe Strummer, Prince Buster, The Ramones, Jimi Hendrix, Ben Tillett, George Orwell, Sid James, Super Clive Mendonca, Tommy Cooper, the Small Faces, Judge Dread, Monty Python, Rose Tattoo, Slade, Spike Milligan, Grant Mitchell, The Mighty Boosh, Barbara Windsor, Agnostic Front, Desmond Dekker, Derek Hales, Pierre-Joseph Proudhon, The Sweet, Dr Zachary Smith, Millie Small, Madness and publicans everywhere. Barmaids of the world unite, you have nothing to lose but your dignity, underwear and self-respect.
Sounds Like:
The English Revolution
Record Label:
Soitenly Records/Contra Records/Longshot
Label Type:
Indie
The Gonads - Glorious Bastards! has 26570 friends.