Play

Play Next

Add to queue
Play

Play Next

Add to queue

3,245 plays

Play

Play Next

Add to queue

1,929 plays

Play

Play Next

Add to queue

11,570 plays

Play

Play Next

Add to queue

3,426 plays

Play

Play Next

Add to queue

5,716 plays
Victor Laguna - Drums
Ignasi Bullich - Upright Bass & Electric Bass
Javi "The Oldian" - Guitar
Daniel Lampérez - Hammond & Piano
Alejo Peloche - T-Bone & backing vocals
Miquel Mata "Miky" - Tenor Sax & backing vocals
Carme Martínez - Trumpet & backing vocals
Gemma Soles "Sole" - Lead Vocals
Leire Etxarri - Lead Vocals
Tons of Fun / Get Ready - 2011
Ya está aquí el nuevo trabajo de The Kinky Coo Coo's !!!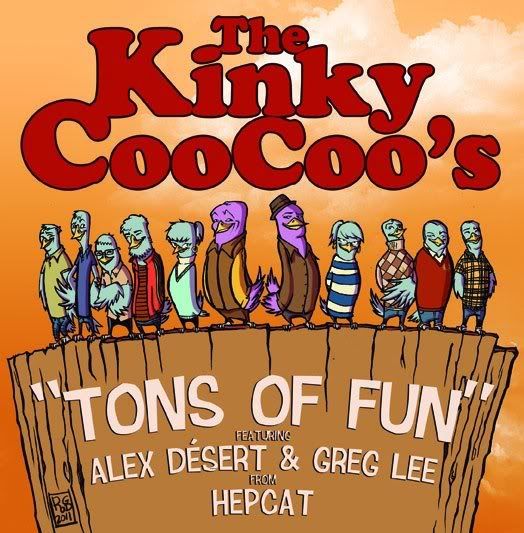 La banda catalana publica 'Tons of Fun' (Liquidator, 2011), un single con la participación de los californianos Greg W. Lee y Alex Désert, conocidos por ser los vocalistas de los venerados Hepcat.

El single consta de dos canciones. 'Tons of Fun" en la cara A, una oda a la diversión en forma de ska tradicional a cuatro voces, con la colaboración estelar de los cantantes de Hepcat.

En la cara B un rocksteady fresco que evoca la sencillez de los hits jamaicanos de finales de los sesenta titulado 'Get Ready'.

El Trabajo ha sido grabado de lado a lado del Atlántico - entre los estudios KinkyLab de Barcelona y el Volcano Lounge de Los Angeles - y es un preludio de lo que será el próximo disco larga duración de la banda.
The Kinky Coo Coos, es una formacion de Barcelona de amantes de la musica Jamaicana. Actualmente son una de las bandas con mas proyeccion dentro de los ritmos mas tradicionales, tras haber llevado su directo por las principales ciudades estatales y europeas, y haciendo de backing band para glorias Jamaicanas como: Dave Barker, Rico Rodriguez, Laurel Aitken (D.E.P.), Roy Ellis, Earl 16, Sister Audrey, Greg Lee & Alex Désert (Hepcat-USA).....
La banda reune en el escenario a 10 musicos: 2 cantantes femeninas, 3 vientos, 2 guitarras, teclista, contrabajo y presenta una variada formula para encandilar a cualquier adicto a la musica Jamaiquina, ofreciendo en sus sets, desde ska instrumental, o vocal; a sabroso rocksteady, pasando por el reggae.. mas gamberro o melodico, y hacer giros constantes al soul.
Hace ocho anos que la banda edito junto a el cantante Lord Kaya el album de debut de versiones titulado "Co Tonga Tonga" y cuatro anos que llegara a las tiendas su segundo album "Montjuic Boneyard".
Montjuic Boneyard fue editado por Liquidator Music & RedStar73 en España y por Ska in the World en Japon, lo que permitio a la banda aparecer en los recopilatorios Japoneses:"Moon Shine - Ska in The World Collection" y "Wonderful Smile - Ska in the World, vol 2" presentando dos dulces composiciones propias, junto a algunos de los mejores nombres de la escena internacional actual.
La locomotora Jamaicana de Barcelona con dos tours internacionales a sus espaldas, ha llevado su show show por escenarios de paises como: Francia, Belgica, Suiza, Slovenja, Austria, Republica Checa, Alemania.. y por diferentes ciudades de la peninsula.
The Kinky Coo Coos comenzaron el 2010 presentando su nuevo trabajo de estudio, un Ep llamado .."The Mean Machine" de la mano de ..Liquidator Music.., tambien autoproducido por la banda en "Kinkylab" donde la banda deja patente una renovacion en su sonido, transmitiendo mas energia y mucho mas soul.
Ahora, la banda prepara la salida de su segundo larga duración prevista para la primavera del 2011,
The Kinky Coo Coos han preparado una esquisita receta, donde el sabor del ska, rocksteady & reggae mas oldies, conseguiran hacerte bailar y sentirte como si estuvieras a finales de los anos 60! Disfrutalos!
__________________________________________
They may be from Barcelona but The Kinky Coo Coos have a long history devoted to classic Jamaican rhythms. One of the hardest working bands on the live scene they offer catchy rocksteady, ska and soulful reggae. The band have backed Jamaican stars such as Dave Barker , Rico Rodriguez, Laurel Aitken (R.I.P) Roy Ellis, Earl 16, Sister Audrey, Greg Lee & Alex Désert (Hepcat-USA).....
We're talking about some of the best musicians on the Catalunya scene. The classic line up of drums and upright bass supplying the rhythm along with two guitars and keyboards serving up the melodies with a brass section and two female vocalists means non stop dancing all night long.
Eight years ago The Kinky Coo Coo's fronted by Lord Kaya launched their fantastic covers album. Three years later Montjuic Boneyard hit the record stores. That album's release in Japan lead to the appearance of band's own songs on two Japanese compilations: "Moon Shine - Ska in The World Collection" and "Wonderful Smile -Ska in the World, vol 2"
At the close of 2010 their Jamaican musical train arrived at Barcelona after two international tours. The Kinky Coo Coo's had presented their new show in France, Belgium, Switzerland, Austria, Slovenja, Rep. Cheka & Germany and several cities in Spain. En route they released a new single (Full of Hope/Alive Brains).Scorcha Records for the German market.
Enthused by the response to their tours the band headed for with renewed energy and laid down some soulful tracks in Kinkylab. Early in 2009 The Kinky Coo Coo's issued a self produced EP called "The Mean Machine" on .. Liquidator.
The Kinky Coo Coos bring you the original sixties/seventies styles of the Jamaican golden era. They're guaranteed to make you dance and feel as if you were backayard in Kingston
Enjoy it!
The Kinky Coo Coo's has 15135 friends.
Genre: Reggae / Ska / Soul

Location Catalunya, Es

Profile Views: 160788

Last Login: 11/21/2012

Member Since 6/29/2006

Website twitter.com/TheKinkyCooCoos

Record Label Liquidator-Redstar73, Scorcha Rc, Ska in the World

Type of Label Indie

Bio

Members

Influences

Sounds Like