Play

Play Next

Add to queue
Play

Play Next

Add to queue

4,044 plays

Play

Play Next

Add to queue

117,685 plays

Play

Play Next

Add to queue

673 plays

Play

Play Next

Add to queue

648 plays

Play

Play Next

Add to queue

464 plays
Genre: Club / Pop / R&B

Location I'm from PARIS but I live in HOLLYWOOD, California, Un

Profile Views: 439283

Last Login: 12/20/2012

Member Since 6/7/2005

Website www.vocalclasswithtilly.com

Record Label Kindred Ent.

Type of Label Indie

Bio

She's an artist…There's no mistaking this even after the briefest of encounters with the music of Tilly Key. You learn the definition of emoting while watching her give life to every note and word of every one of the songs she sings. She's not your typical pop singer. As an artist she's unexpected because she takes risks, gives her whole heart and soul whether performing a ballad or a club song. As a woman, there is a powerful energy that comes out of her when she steps into a room, she has a feline walk, a strong personality, knows what she wants and speaks her mind. Born on the beautiful Mediterranean island of Corsica, Tilly was destined for the music industry from a very young age. Nurtured by an artistic family she was already making a name for herself at the age of 6. She regularly sang on RCFM the Island's most popular radio station. Before she turned 10 years old she had already released two albums, was acknowledged as Best Corsican Singer (competing against adults), and grabbed the attention of major label EMI France. Shortly after, she moved to Paris to begin a professional career in the music industry. On a journey…Known throughout France for her powerful moving voice, Tilly released five successful singles including two top ten hit singles. Notably, "L'ombre Et La Lumiere" reaching the #1 spot in France and top 10 Europe. While living in Paris she was also asked to perform for the charitable foundation of former French President Jacques Chirac in front of 60,000 people in Stade De France. She's a singer/songwriter who pays attention to old school and new school qualities of showmanship bringing the best of both. Make no mistake, Tilly key is not all show. She's also of great substance. She's fluent in French, Italian, Spanish and English and knows that it's important that she connect with audiences on an emotional level. Ready…Tilly Key moved to California on her own at age 22, she is the definition of passion, ambition and dedication. These qualities make her a seasoned performer who approaches her first love of music as the best job of her life.Undoubtedly, her four octave voice establishes her as an artist with staying power. She's already caught the attention of industry heavyweights, to name a few: Diane Warren (Tony Braxton, Christina Aguilera), The Underdogs (Jojo, Beyonce) or super producer Walter Afanasieff (Mariah Carey, Celine Dion, Whitney Houston) who has called Tilly a young mix of Mariah and Celine. While legendary producers Jimmy Jam and Terry Lewis were so impressed with her that they produced "Ne me laisse pas seule ici" (Don't leave me here by myself) with Tilly on the Oscar nominated film Hotel Rwanda. Billboard Magazine called her contribution a "heartfelt performance". "I know when a voice is touched by God, when I hear Tilly I know in my heart that my work here is done" Whitney Houston in April 2011 after Tilly sang for her and confessed she had learned all her songs to become a better singer. In 2013, Tilly Key will be releasing a new single with music video to the French market as well as a Hollywood based reality series about the entertainment business, love and charity. Aside of being an artist, Tilly Key is also a very successful behing the scene expert as an international vocal coach and music business consultant with her studio based in North Hollywood. She has her own company "Kindred Entertainment" with business partner Tim Herndon. She inspires, gives private vocal lessons, studio coaching, books shows, plans another artist's next marketing move or direct a video. It's her way to express her many talents and give back some of the blessings while staying connected with music at all time. The journey... On a regular basis she trains physically, spiritually and vocally because she thrives to be better. Keeping direct contact with her fans through many social networks is very important to her. She has an huge internet following counting more than 12 millions vues on Youtube, thousands of twitter, instagram, facebook and youtube followers/subscribers without ever taking her clothes off. People love to follow Tilly Key because outside of her incredible talent, the ambition and positivity she exhudes is contagious. Now based in Los Angeles she's collaborated or shared the stage with the amazing Prince, Usher, Jimmy Jam and Terry Lewis, Rupaul, Robin Thick, Keisha cole, Mario, Dwayne Wiggin's, Tim and Bob, Babyface, Tony Dixon, Avila Bros, Eric Benet, Bobby Brown as well as the famous international Les Nubians, Willy Denzey, Ai and more ... Tilly key is making music, it's how she sees herself in the world. 2013 will reveal her much anticipated new US and French Album expressing her love for love and delivering Tilly Key as an artist audiences will enjoy listening to for generations to come. .. .. .. ..I'M FROM PARIS BUT I LIVE IN HOLLYWOOD... .. .. .... There is no mistaking this, even after the briefest of encounters with the music of Tilly Key you learn the definition of emotion while watching her give life to every note of every song that she sings. Tilly Key is not your typical pop singer, she is soulful and introspective. After topping the charts in France and touring the world,Tilly Key found herself in the US when Jimmy Jam & Terry Lewis invited her to work on the soundtrack of the movie Hotel Rwanda. Tilly immediately made the US her home and started recording her album.Today Tilly releases her much-anticipated first US debut single "Higher" produced by the Avila Brothers... .... .......... .. .. .......... .. .. .......... .. .. .......... .. .. .... .. .. .. .. .. .. .. .. .... .... .. .. .. .. .. .. .. ..

Members

Tilly Key .. .. .. .. .. .. .. .. .. .. ..first day at the PALMS STUDIO in VEGAS dec 27th 08.. .. .... .. .. .. .. .. .... .. .. ..VIDEO COVER OF "NO ONE" by ALICIA KEYS .. .. .... .. .. .. .. .. .... .. ..EXCLUSIF!!! DUET WITH MARIO.. .. .... .. .. .. .. .. .... .. .. ..Dance class with Kemba Shannon on Brandy's "Departed".. .. .... .. .. .. .. .. .... .. ..

Influences

Whitney Houston, Kim Burrell, Michael Jackson, Beyonce, Rihanna

Sounds Like

The sweetness of Mariah Carey, power of Celine Dion, passion of Bruno Mars, emotion of whitney Houston
04:10 | 2964 plays | Jun 18 2008
Bio: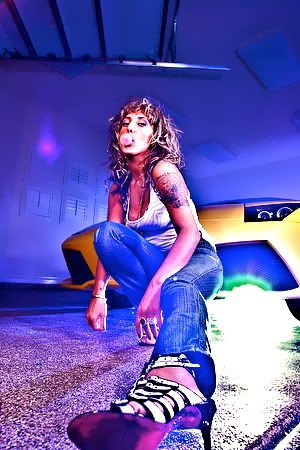 I'M FROM PARIS BUT I LIVE IN HOLLYWOOD.
There is no mistaking this, even after the briefest of encounters with the music of Tilly Key you learn the definition of emotion while watching her give life to every note of every song that she sings. Tilly Key is not your typical pop singer, she is soulful and introspective. After topping the charts in France and touring the world,Tilly Key found herself in the US when Jimmy Jam & Terry Lewis invited her to work on the soundtrack of the movie Hotel Rwanda. Tilly immediately made the US her home and started recording her album.Today Tilly releases her much-anticipated first US debut single "Higher" produced by the Avila Brothers.
Member Since:
June 07, 2005
Members:
..




My Space or Yours? Myspace Layouts and more at myspaceoryours.net!

..
first day at the PALMS STUDIO in VEGAS dec 27th 08
VIDEO COVER OF "NO ONE" by ALICIA KEYS
EXCLUSIF!!! DUET WITH MARIO
Dance class with Kemba Shannon on Brandy's "Departed"
Influences:
Record Label:
ABX/Kindred Ent.
Tilly Key twitter me @tillykey has 17920 friends.