No recent updates in this category.
Why not...
Gary Bembridge hasn't earned any badges yet... have you?
About me:
Hi, my name is Gary and I love travel. This is a good thing as I travel up to two times a month all over the world for work!
With all the travel I was doing, I realised that I was learning so much and getting so many great ideas and suggestions that I started doing a podcast about the places I was visiting called "Tips for Travellers: the global travel destination podcast". After listing it on iTunes, I found quite a few people were listening to it so started blogging to.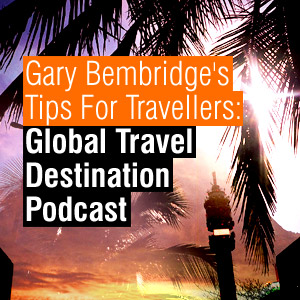 ..PODCASTS..: You can listen to them individually by downloading them from the links on the left of this page, subscribe by clicking here to add them to iTunesor visit my website
..BLOG..: Please subscribe to the blog by clicking here - which I update most days with tips, photos and videos - or comments!
..PICTURES/ VIDEOS..: I post some in the blogs but have piles of photos and videos that you can access from the listings on my site: click here
Feel free to drop me a line with comments or questions and I should get back to you fairly quickly!
This is how I bill the podcast and blog:
IT IS THE GLOBAL TRAVEL DESTINATIONS PODCAST BASED ON FIRST HAND TRAVEL EXPERIENCE. Advice, tips and recommendations of places, hotels, planes, trains, books based on the first hand experience I gain from the up to 2 - 3 times a month I travel all over the world. As well those gained from the research on the book on legends and icons of travel I am writing
Status:

Single

Here for:

Networking

Height:

6' 1"

Zodiac Sign:

Taurus

Occupation:

Vice President Global Marketing