Play

Play Next

Add to queue
Play

Play Next

Add to queue

43 plays
Genre: Drum & Bass / Electronica / Progressive

Location Please select your region, Ma

Profile Views: 35176

Last Login: 10/14/2011

Member Since 6/30/2005

Type of Label Indie

Bio

.. .. http://www.beatsdigital.com">.... .. .. .. .. .. .. .. .. .. .. .. .. .. .. .. ...... .. .. .. ...... .. .. .... .. .. .... .. .. .... .. .. .. .... .. .. .. .... .. .. .... .. .. .... .... .... .... .... .... .... .. .. .. .. .... .. .. .. .... .. ...... .. .. .... .. .. .. ...... .. .. .. ...... ..download video of DNB magzn release by loopscollective & video by mac , CLICK HERE.. .. .. .. .. .. .. .. .. .. .. .. .. .. .. .. .. .. .. .. .. Transient Vortex was an idea conceived by Sugu (a.k.a DJ Sugs) (formerly of Malaysian Band Alert Champions 1999 My Pet Alien) and together with Samlaleo Singh (formerly of the Herb Vendors), Transient Vortex was officially given birth to sometime in November 2004….. Since its inception, DJ Sugs has produced numerous tracks in various styles of electronica such as Trance, Drum & Bass, Progressive House, Electro, Breakbeat, Ambient & New Wave….. Throughout the years, Transient Vortex has proven to become one of Malaysia's leading electronic music producers and DJ Sugs's remixes of tracks such as "Boys..I Like" by Saer Ze, "Starlight" by Melissa Indot, "So Far Away" by Laurie Webb and his collaboration with James Baum on "Touch Me", has earned Transient Vortex a great deal of airplay on Malaysia's leading radio stations such as FLYFM & HITZ.FM…"Starlight" and "Touch Me" both earned No.1 spots on the HITZ.FM Charts & FLYFM Campurcharts respectively...... Other tracks produced by DJ Sugs such as "Demise & Birth" and "Valhalla" from the debut album titled TIMELINES BETWEEN SEPARATION have also received a fair amount of airplay and would make Transient Vortex one of the pioneering electronic music acts to ever receive airplay on mainstream Malaysian radio stations….. Further, DJ Sug's remix of ESKIMO DISKO's (UK) "Mission Control" had also earned Transient Vortex a digital release by 54 Records on iTunes! sometime in year 2008..... Transient Vortex have also played alongside numerous international acts such as GROOVE ARMADA, DJ SUV (formerly of Roni Size's REPRAZENT), SIMIAN MOBILE DISCO, JUNGLE BROTHERS, URBANDUB, GOODNIGHT ELECTRIC & PLUMP DJs, to name a few…During the years, Transient Vortex have played and mesmerised audiences at some of the most prestigious and renowned festivals and concerts in Asia such as Global Gathering, Hong Kong LIVE!, Singfest, Sunburst Festival, FLYFM's 2nd & 3rd Anniversary Parties,Wan U's New Year Eve Celebration Fest & DIG.IT.ALL Festival...... Transient Vortex also had the honour of being endorsed by Hewlett Packard's Sputnik 1000 Entertainment Noteboooks and were elected as National Spokespersons for HP in year 2007/2008….... Transient Vortex were winners of the Best Dance Act and Best Dance Song categories in the VIMA 2008, and winners of the Best Live Act in Choons Awards 2009...this enabled Transient Vortex to stamp their mainstream appeal and some of their remixes have been termed "to bear the hallmarks of greatness.."...Recently, DJ Sugs' remix of Tomas by Jerome Kugan earned Transient Vortex the BEST REMIX AWARD at the VIMA 2010....... Transient Vortex continues to gain popularity amongst the dance fans, club circuits and dance music purveyors in the country with their eclectic blend of electronic music.... .. DJ Sugs currently hosts a one hour slot titled "Subsonic Euphoria" on GLOBAL VORTEX RADIO in the U.S which is officially on live broadcast with his mixes of some of the latest progressive house, electro & nu-trance music….. As of October 2009, Transient Vortex now consists solely of DJ Sugs with Samlaleo Singh's amicable departure from the act due to family commitments… DJ Sugs continues his endeavour to seal Transient Vortex as an international brand name in the fiercely competitive field of dance music ….. DJ Sugs is currently working on some new material for release in year 2010 and also exploring various possibilities of collaborating with some of Malaysia's leading artists/musicians…DJ Sugs is still set on his course 'to lead listeners to an altered state of consciousness'...... DJ Sugs currently runs & manages INTO THE VORTEX productions, an electronic music production house and also writes/composes jingles, theme songs & remixes….having produced the theme song for Nokia's 5800 Xpress Music Handphones titled "Touch….Play…Share", DJ Sugs currently produces electronic music for other production houses in the country…a dance track produced by DJ Sugs titled "Starscream" has been slotted for a scene in the Malaysian movie "SETEM" starring one of Malaysia's acclaimed actors Adflin Shauki…... Further music samples can be found on :- www.myspace.com/intothevortexproductions .. INTO THE VORTEX is partly, also an independent label that currently manages all of Transient Vortex's music that is available on digital download sites such as www.junodownload.com & www.Beatsdigital.com . Transient Vortex's music can also be found on Bimbit.com as downloads for truetones & caller ringtones for Maxis & Celcom users in Malaysia…Get in touch with Dj Sugs if you're interested in the codes for downloads. Feel free to contact DJ Sugs at sugu_kumareson@yahoo.com. for bookings and/or any other queries you may have. .. You can also connect with DJ Sugs on FACEBOOK (http://www.facebook.com/profile.php?ref=profile&id=694821184) (or just search for Sugu-DjSugs).... .. ...... .. ..Sign up to our alerts on Juno Download... .. ...... ..

Members

..DJ Sugs :-.. synth, programming, sequencing, guitars, sampling, knobs & tweaks, DJ.....~ ....

Influences

+ Royksopp.. + Dinka.. + Danny Byrd.. + ALEX M.O.R.P.H.. + ABOVE & BEYOND.. + The Prodigy.. + MARKUS SCHULZ.. + Martin Roth.. + U2.. + Marcus Schossow.. + Marco V.. + Pendulum.. + Glenn Morrison.. + DEADMAU5.. + Nic Chagall.. + Filo & Peri.. + MYON & SHANE 54.. + TOOL .. + KYUSS.. + ALICE IN CHAINS.. + A PERFECT CIRCLE.. + DEPECHE MODE.. + NEW ORDER.. + JOY DIVISION.. + ECHO & THE BUNNYMEN.. + SOUNDGARDEN.. + IN FLAMES.. + DEATH.. + A HA.. + DREAM THEATER.. + THETA WAVE STATE.. + MY BLOODY VALENTINE.. + CRADLE OF FILTH.. + ULTRAVOX.. + THE STONE ROSES.. + THE CHARLATANS.. + RIDE.. + REGGIE & THE FULL EFFECT.. + U2.. + THE PRODIGY.. + CHEMICAL BROTHERS.. + M-ZIQ.. + APHEX TWIN.. + SQUAREPUSHER.. + NINE INCH NAILS.. + STABBING WESTWARD.. + JIMI HENDRIX.. + CAMOUFLAGE.. + THE HUMAN LEAGUE.. + ATB.. + PAUL VAN DYK.. + PHOTEK.. + TIESTO.. + HERB VENDORS.. + JOJO MAYER.. + NITIN SAWHNEY.. + LONDON ELECTRICITY.. + DJ SUV.. + ADAM F.. + RONI SIZE.. + CONCORD DAWN.. + A-HA.. + GOD LIVES UNDERWATER.. + JOHN PETRUCCI.. + JOE SATRIANI.. + ERIC JOHNSON.. + THE CARDIGANS.. + SNEAKER PIMPS.. + PORTISHEAD.. + CHRIS CORNELL.. + BT.. + BEASTIE BOYS.. + BRAD.. + MEW.. + ROOTS .. + DJ SHADOW.. + DJ KENTARO.. + UNDERWORLD.. + JUNKIE XL.. + CRYSTAL METHOD.. + MIKE OLDFIELD.. + BAUHAUS.. + PATRICK O'HEARN.. + HOWARD JONES.. + NIK KERSHAW.. + FILTER.. + THE SMITHS.. + MORRISSEY.. + TEARS FOR FEARS.. + MR.MISTER.. + THE CURE.. + HYBRID.. + ORGY.. + SUNNY DAY REAL ESTATE.. + AT THE DRIVE IN.. + MARS VOLTA.. + RAGE AGAINST THE MACHINE.. + THE DOORS.. + AUTECHRE.. + THE TEA PARTY ..

Sounds Like

.... tripping into a rabbit hole ........ FOR BOOKING PLEASE EMAIL .. sugu_kumareson@yahoo.com
No recent updates in this category.
Why not...
08:27 | 62 plays | Jul 16 2009
Bio:
..
http://www.beatsdigital.com">
..
..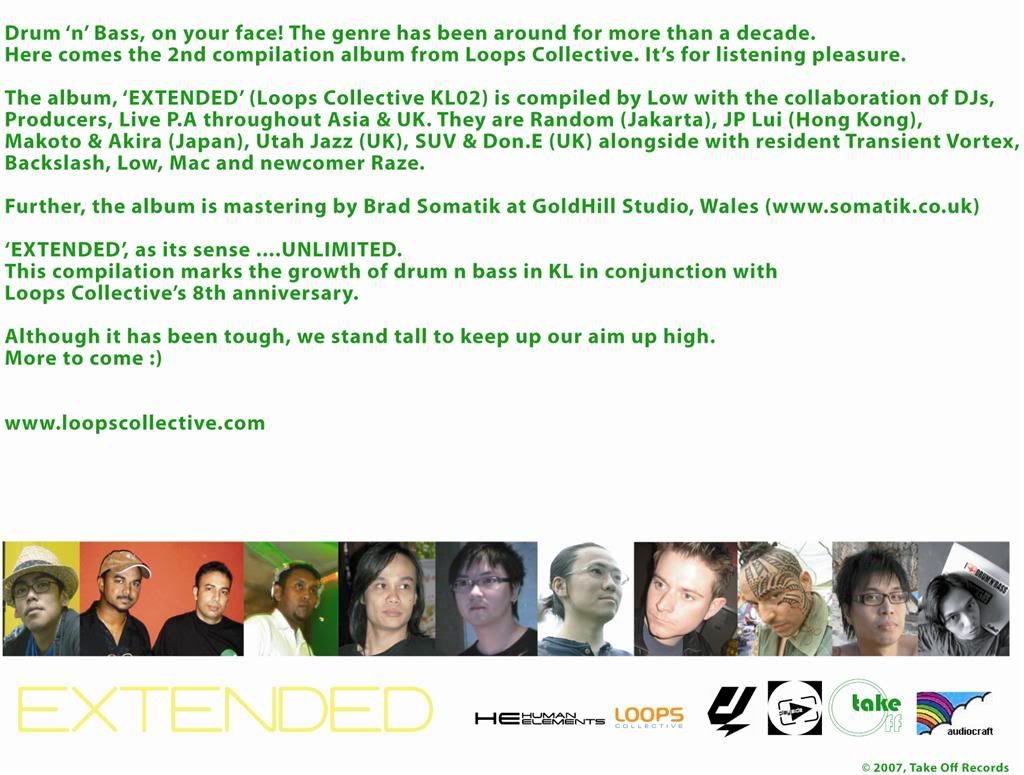 download video of DNB magzn release by loopscollective & video by mac , CLICK HERE
..
Transient Vortex was an idea conceived by Sugu (a.k.a DJ Sugs) (formerly of Malaysian Band Alert Champions 1999 My Pet Alien) and together with Samlaleo Singh (formerly of the Herb Vendors), Transient Vortex was officially given birth to sometime in November 2004…
Since its inception, DJ Sugs has produced numerous tracks in various styles of electronica such as Trance, Drum & Bass, Progressive House, Electro, Breakbeat, Ambient & New Wave…
Throughout the years, Transient Vortex has proven to become one of Malaysia's leading electronic music producers and DJ Sugs's remixes of tracks such as "Boys..I Like" by Saer Ze, "Starlight" by Melissa Indot, "So Far Away" by Laurie Webb and his collaboration with James Baum on "Touch Me", has earned Transient Vortex a great deal of airplay on Malaysia's leading radio stations such as FLYFM & HITZ.FM…"Starlight" and "Touch Me" both earned No.1 spots on the HITZ.FM Charts & FLYFM Campurcharts respectively....
Other tracks produced by DJ Sugs such as "Demise & Birth" and "Valhalla" from the debut album titled TIMELINES BETWEEN SEPARATION have also received a fair amount of airplay and would make Transient Vortex one of the pioneering electronic music acts to ever receive airplay on mainstream Malaysian radio stations…
Further, DJ Sug's remix of ESKIMO DISKO's (UK) "Mission Control" had also earned Transient Vortex a digital release by 54 Records on iTunes! sometime in year 2008...
Transient Vortex have also played alongside numerous international acts such as GROOVE ARMADA, DJ SUV (formerly of Roni Size's REPRAZENT), SIMIAN MOBILE DISCO, JUNGLE BROTHERS, URBANDUB, GOODNIGHT ELECTRIC & PLUMP DJs, to name a few…During the years, Transient Vortex have played and mesmerised audiences at some of the most prestigious and renowned festivals and concerts in Asia such as Global Gathering, Hong Kong LIVE!, Singfest, Sunburst Festival, FLYFM's 2nd & 3rd Anniversary Parties,Wan U's New Year Eve Celebration Fest & DIG.IT.ALL Festival....
Transient Vortex also had the honour of being endorsed by Hewlett Packard's Sputnik 1000 Entertainment Noteboooks and were elected as National Spokespersons for HP in year 2007/2008…..
Transient Vortex were winners of the Best Dance Act and Best Dance Song categories in the VIMA 2008, and winners of the Best Live Act in Choons Awards 2009...this enabled Transient Vortex to stamp their mainstream appeal and some of their remixes have been termed "to bear the hallmarks of greatness.."...Recently, DJ Sugs' remix of Tomas by Jerome Kugan earned Transient Vortex the BEST REMIX AWARD at the VIMA 2010.....
Transient Vortex continues to gain popularity amongst the dance fans, club circuits and dance music purveyors in the country with their eclectic blend of electronic music....
DJ Sugs currently hosts a one hour slot titled "Subsonic Euphoria" on GLOBAL VORTEX RADIO in the U.S which is officially on live broadcast with his mixes of some of the latest progressive house, electro & nu-trance music…
As of October 2009, Transient Vortex now consists solely of DJ Sugs with Samlaleo Singh's amicable departure from the act due to family commitments… DJ Sugs continues his endeavour to seal Transient Vortex as an international brand name in the fiercely competitive field of dance music …
DJ Sugs is currently working on some new material for release in year 2010 and also exploring various possibilities of collaborating with some of Malaysia's leading artists/musicians…DJ Sugs is still set on his course 'to lead listeners to an altered state of consciousness'....
DJ Sugs currently runs & manages INTO THE VORTEX productions, an electronic music production house and also writes/composes jingles, theme songs & remixes….having produced the theme song for Nokia's 5800 Xpress Music Handphones titled "Touch….Play…Share", DJ Sugs currently produces electronic music for other production houses in the country…a dance track produced by DJ Sugs titled "Starscream" has been slotted for a scene in the Malaysian movie "SETEM" starring one of Malaysia's acclaimed actors Adflin Shauki….
Further music samples can be found on :- www.myspace.com/intothevortexproductions
INTO THE VORTEX is partly, also an independent label that currently manages all of Transient Vortex's music that is available on digital download sites such as www.junodownload.com & www.Beatsdigital.com . Transient Vortex's music can also be found on Bimbit.com as downloads for truetones & caller ringtones for Maxis & Celcom users in Malaysia…Get in touch with Dj Sugs if you're interested in the codes for downloads. Feel free to contact DJ Sugs at sugu_kumareson@yahoo.com. for bookings and/or any other queries you may have.
You can also connect with DJ Sugs on FACEBOOK (http://www.facebook.com/profile.php?ref=profile&id=694821184) (or just search for Sugu-DjSugs)....
Sign up to our alerts on Juno Download.
Member Since:
June 30, 2005
Members:
DJ Sugs :- synth, programming, sequencing, guitars, sampling, knobs & tweaks, DJ.....~


Influences:
+ Royksopp
+ Dinka
+ Danny Byrd
+ ALEX M.O.R.P.H
+ ABOVE & BEYOND
+ The Prodigy
+ MARKUS SCHULZ
+ Martin Roth
+ U2
+ Marcus Schossow
+ Marco V
+ Pendulum
+ Glenn Morrison
+ DEADMAU5
+ Nic Chagall
+ Filo & Peri
+ MYON & SHANE 54
+ TOOL
+ KYUSS
+ ALICE IN CHAINS
+ A PERFECT CIRCLE
+ DEPECHE MODE
+ NEW ORDER
+ JOY DIVISION
+ ECHO & THE BUNNYMEN
+ SOUNDGARDEN
+ IN FLAMES
+ DEATH
+ A HA
+ DREAM THEATER
+ THETA WAVE STATE
+ MY BLOODY VALENTINE
+ CRADLE OF FILTH
+ ULTRAVOX
+ THE STONE ROSES
+ THE CHARLATANS
+ RIDE
+ REGGIE & THE FULL EFFECT
+ U2
+ THE PRODIGY
+ CHEMICAL BROTHERS
+ M-ZIQ
+ APHEX TWIN
+ SQUAREPUSHER
+ NINE INCH NAILS
+ STABBING WESTWARD
+ JIMI HENDRIX
+ CAMOUFLAGE
+ THE HUMAN LEAGUE
+ ATB
+ PAUL VAN DYK
+ PHOTEK
+ TIESTO
+ HERB VENDORS
+ JOJO MAYER
+ NITIN SAWHNEY
+ LONDON ELECTRICITY
+ DJ SUV
+ ADAM F
+ RONI SIZE
+ CONCORD DAWN
+ A-HA
+ GOD LIVES UNDERWATER
+ JOHN PETRUCCI
+ JOE SATRIANI
+ ERIC JOHNSON
+ THE CARDIGANS
+ SNEAKER PIMPS
+ PORTISHEAD
+ CHRIS CORNELL
+ BT
+ BEASTIE BOYS
+ BRAD
+ MEW
+ ROOTS
+ DJ SHADOW
+ DJ KENTARO
+ UNDERWORLD
+ JUNKIE XL
+ CRYSTAL METHOD
+ MIKE OLDFIELD
+ BAUHAUS
+ PATRICK O'HEARN
+ HOWARD JONES
+ NIK KERSHAW
+ FILTER
+ THE SMITHS
+ MORRISSEY
+ TEARS FOR FEARS
+ MR.MISTER
+ THE CURE
+ HYBRID
+ ORGY
+ SUNNY DAY REAL ESTATE
+ AT THE DRIVE IN
+ MARS VOLTA
+ RAGE AGAINST THE MACHINE
+ THE DOORS
+ AUTECHRE
+ THE TEA PARTY

Sounds Like:
tripping into a rabbit hole

FOR BOOKING PLEASE EMAIL
sugu_kumareson@yahoo.com
Record Label:
INTO THE VORTEX productions