Play

Play Next

Add to queue
Play

Play Next

Add to queue

150,117 plays

Play

Play Next

Add to queue

60,579 plays

Play

Play Next

Add to queue

60,565 plays
Genre: Grunge / Metal / Rock

Location FORT MYERS, FLORIDA, US

Profile Views: 240035

Last Login: 3/23/2007

Member Since 9/13/2004

Website http://twistedmethod.com

Record Label geffen

Type of Label Major

Bio

.. .. .. In 1998 Twisted Method came into being when, at the time, 16-yr. old Andrew Howard along with his friends Derek DeSantis, Ben Goins, and Derrick Tribbett formed the band simply for something they could all do after they got out of school. (All were in the same grade in high school together.) They'd go on to play everything in their area starting from the high school pep rallies, onto the local scene soon after graduating, onto selling out shows 3 times a week in their area, onto a record deal with MCA Records a year later, onto Ozzfest 2003 soon after. Twisted Method came out of the box kicking, swinging, screaming. Without a doubt one of the most energetic bands to play that summer tour, things were looking ever more promising for the young 4-piece out of the unsung coast of Florida. Their debut CD "Escape from Cape Coma" was released a week into Ozzfest; from then on out they would go on to sell the most CDs that year on the second stage. The following months would take them on a 4 month tour with Static-X, Soil, and Skrape. Again, night after night, the pits would shake as kids sang and shouted along to the band's songs "The End", "Reach", and "Change Me." They would continue to tour for another 2 years, alongside the likes of Motograter, Dope, Slitheryn, Mushroomhead, Gargantua Soul, Slaves on Dope, RA, 40 Below Summer, Machine Head, Nonpoint, Soulfly, Nothingface, and others. Without a doubt Twisted Method's fanbase became a loyal and extremely (even to this day) supportive more so than most bands could ever have. Soon after what would be the band's final tour, Andrew became a father of two beautiful baby twin girls, Jade and Riley. In the offtime following that tour he finally had the oppurtunity to be with his brand new (2 brand new) bundles of joy. The remaining 3 of the band would meet up regularly and began to write new material for the next album. This went on for a few months time. Along the line Ben found he was at a turning point in his life and decided to take another path elsewhere. Tripp and Derek respectfully condoned his act and when on writing, but unaware of the atom bomb that was unfortunately to hit next. On September 19, 2005, guitarist Andrew Howard was found dead in his appartment. The shock was felt by not only family and close friends, but by Twisted Method fans the world over. It was certainly true that at this point Twisted Method rest with its creator, its very ideal. Since then Tripp and Derek have formed a new band, along with Edsel and Virus (of Dope fame,) called Makeshift-Romeo. They are currently planning a tour for the summer of 2006 and recording their first album. .. ...... .. .. .. .. .. .. .. .. .. .. }.. .. .. ..(CLICK BELOW FOR MERCHANDISE!!!!!).. .. .. .. .. .......... .. ..CLICK ABOVE FOR MERCHANDICE!!!!!!! ..Everyone Check Out The New Makeshift Romeo Myspace!!!!.. .. .. .. .... ...... .. .. .. .. width="425" height="350">.......... .. .. .. .. .. .. .. ....>

Members

Twisted Method is: Derrick "Tripp" Tribbett - vocals / Ben Goins - drums / Andrew Howard - guitar / Derek DeSantis - bass /

Influences

Sounds Like
No recent updates in this category.
Why not...
Bio:
..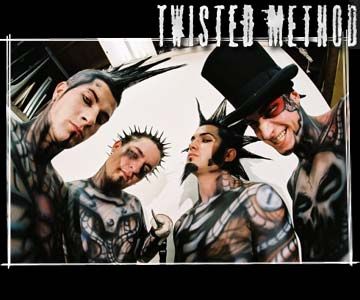 In 1998 Twisted Method came into being when, at the time, 16-yr. old Andrew Howard along with his friends Derek DeSantis, Ben Goins, and Derrick Tribbett formed the band simply for something they could all do after they got out of school. (All were in the same grade in high school together.) They'd go on to play everything in their area starting from the high school pep rallies, onto the local scene soon after graduating, onto selling out shows 3 times a week in their area, onto a record deal with MCA Records a year later, onto Ozzfest 2003 soon after. Twisted Method came out of the box kicking, swinging, screaming. Without a doubt one of the most energetic bands to play that summer tour, things were looking ever more promising for the young 4-piece out of the unsung coast of Florida. Their debut CD "Escape from Cape Coma" was released a week into Ozzfest; from then on out they would go on to sell the most CDs that year on the second stage. The following months would take them on a 4 month tour with Static-X, Soil, and Skrape. Again, night after night, the pits would shake as kids sang and shouted along to the band's songs "The End", "Reach", and "Change Me." They would continue to tour for another 2 years, alongside the likes of Motograter, Dope, Slitheryn, Mushroomhead, Gargantua Soul, Slaves on Dope, RA, 40 Below Summer, Machine Head, Nonpoint, Soulfly, Nothingface, and others. Without a doubt Twisted Method's fanbase became a loyal and extremely (even to this day) supportive more so than most bands could ever have. Soon after what would be the band's final tour, Andrew became a father of two beautiful baby twin girls, Jade and Riley. In the offtime following that tour he finally had the oppurtunity to be with his brand new (2 brand new) bundles of joy. The remaining 3 of the band would meet up regularly and began to write new material for the next album. This went on for a few months time. Along the line Ben found he was at a turning point in his life and decided to take another path elsewhere. Tripp and Derek respectfully condoned his act and when on writing, but unaware of the atom bomb that was unfortunately to hit next. On September 19, 2005, guitarist Andrew Howard was found dead in his appartment. The shock was felt by not only family and close friends, but by Twisted Method fans the world over. It was certainly true that at this point Twisted Method rest with its creator, its very ideal. Since then Tripp and Derek have formed a new band, along with Edsel and Virus (of Dope fame,) called Makeshift-Romeo. They are currently planning a tour for the summer of 2006 and recording their first album.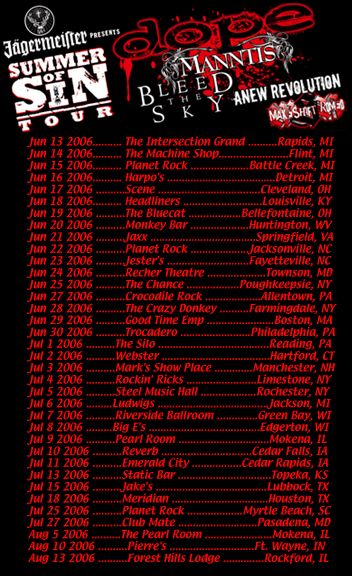 }
(CLICK BELOW FOR MERCHANDISE!!!!!)..
CLICK ABOVE FOR MERCHANDICE!!!!!!!
Everyone Check Out The New Makeshift Romeo Myspace!!!!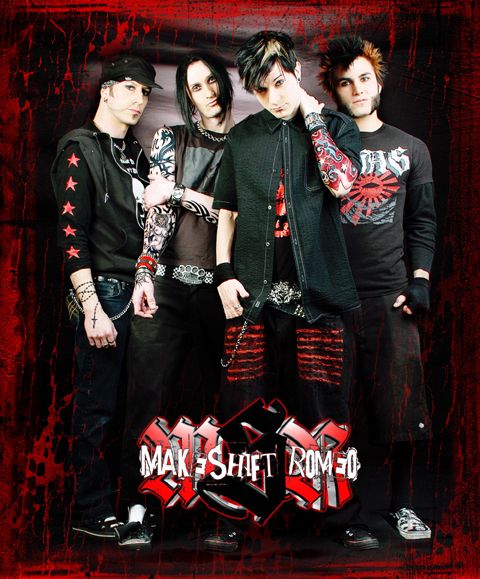 ..
.. .. width="425" height="350">......>..
Member Since:
September 13, 2004
Members:
Twisted Method is: Derrick "Tripp" Tribbett - vocals / Ben Goins - drums / Andrew Howard - guitar / Derek DeSantis - bass /
Record Label:
geffen
Label Type:
None