ULORIN VEX has 37360 friends.
General


I draw stuff too! My artwork myspace is HERE


Cover shoot for Bizarre Magazine, shot by Allan Amato


Bizarre Mag interview, pic by Rootofsilence, dress by Lady Lucie


Fashion show for Rachel Freire shot by Allan Amato


Armour by Manuel Albarran shot by Allan Amato


Pic for Dazed & Confused magazine shot by Neil Dawson.


Cover of GL Magazine CD sampler shot by Allan Amato

Miss X Makeup!

Ulorin Vex vs Miss X makeup, pics coming soon...

Stuff:

Late 19th century/early 20th century childrens book illustration (for example Arthur Rackham, Kay Nielsen, Edmund DuLac), Belle Époque, Vivienne Westwood, Alexander McQueen, Spandex, Being a twin!, Medical equipment, mythology, hair dye, creative hair, tigi bedhead, transparent latex, steampunk, nursery ryhmes, folklore, faiytales, victoriana, cute underwear, fully fashioned stockings, pretty things, corsets and waist training, Horse riding, long walks in overgrown parks, secret gardens, pretty things, sky pirates,


Artists:
Aubrey Beardsley, Edward Gorey, Kay Nielsen, Arthur Rackham, Stephanie Law, Tara McPherson, Green Oblivion, Brom, John John Jesse, Lori Earley


Music

Movies

Television

Books

The Death Gate Cycle (Weis and Hickman), Harry Potter, Magician Trilogy by Raymond Feist, Illusion by Paula Volsky, Elric Saga by Micheal Moorcock, Memory, Sorrow and Thorn saga by Tad Williams. Salaman Rushdie, LOTR. Most books


Toxico Clothing advert shot by Tina Korhonen


Pic for Girl Armour shot by Iberian Black Arts

My Details

| | |
| --- | --- |
| Here for: | satisfying vanity, stalking pretty people |
| Hometown: | Newcastle (No, I'm not living there anymore!) |
| Body type: | 174cm / Average |
| Ethnicity: | White/Caucasian |
| Education: | University graduate |
| Occupation: | Under Achiever |

..

Heroes

Sylar is kind of hot...
About me:
Descriptions could well include hair dye enthusiast (except supermarket-box black, that makes my head itch), high heel fetishist and 80s fangirl.
Currently hanging out in Los Angeles! Usually in London, but was born and raised in Newcastle (or more accurately, at the end of Hadrian's Wall). I possibly have the oddest mix of Geordie vs West Country vs Recieved Pronunciation accent you've never heard.
I have a mild obsession with orange hair and like to fluctuate anywhere from copper to bright tangerine & yellow. Thankfully I do a lot of creative hair modelling work that allows me to indulge in this quest to be a canary.
I've been modelling for about 5 years now. I love what I do, and am inspired by anything a bit unusual, creative, quirky, avant garde, haute couture, dystopic, futuristic, punk, strong makeup and styling etc. Though I also love shooting nudes, usually without any makeup at all.. up mountains, in rivers & oceans, summer & winter - you name it! I am well aquainted with posing naked against beautiful & interesting landscapes worldwide, bent and contorted and generally suffering in the name of art ;p
In April 2008 I became a member of the Bloody Crumpets and joined Emilie Autumn on stage on her European Asylum Tour. I have imminent plans to aquire some circus skills, particularly stilt-walking, fire-breathing and silks! I'm also a regular on stage at Torture Garden doing fashion showcases and performances for designers such as Freyagushi and Lacing Lilith.
When I'm not modelling & prancing around on stage I draw pictures. Because you can never have too many internet monikers, my illustrating alter ego goes by the name 'Malady Charlotina' (dot com). There's a seperate profile for my artwork and stuff HERE (no. 2 in my top friends)
I also enjoy turnip farming, writing 'about me' sections and being beaten about the head with a rusty desert spoon.
-----
Behind the scenes of my recent 'Queen of Hearts' cover shoot for Bizarre Magazine

Promo video for Tigi's hair colour launch. Hurrah orange!

....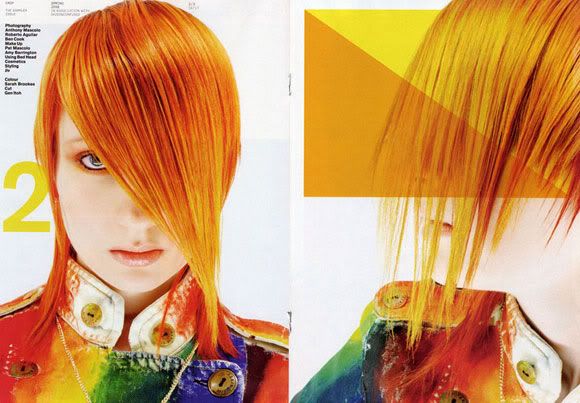 Centrefold of Dazed & Confused Mag ('Crop' supplement) for TIGI Colour
..
Who I'd like to meet:
Performers, creatives, gamers, circus freaks, vaudeville artistes, mad scientists, pirates, muffins, time-travelling explorers, sky captains, wayward victorian girls, decadent pretty boys and other androgynous beauties. Players of the WoW trading card game & table tennis, I'm newly addicted.

Status:

In a Relationship

Here for:

Networking, Friends

Hometown:

Newcastle (No, I'm not living there anymore!)

Body type:

5' 9" / Average

Ethnicity:

White / Caucasian

Zodiac Sign:

Leo

Education:

Grad / professional school

Occupation:

Under Achiever