No recent updates in this category.
Why not...
WHAT THE FUTURE SOUNDED LIKE hasn't earned any badges yet... have you?
About me:
..
Myspace Layouts - Myspace Editor
..IT IS WITH GREAT SADNESS WE ANNOUNCE THE DEATH OF TRISTRAM CARY. TRISTRAM DIED ON THURSDAY 24th IN HOSPITAL IN ADELAIDE. FAREWELL TRISTRAM! .. ..LATEST NEWS! WTFSL has been invited to screen at SONAR 2008 in Barcelona.
www.sonar.es
(read that with a Spanish lisp please)... ..
.. LENGTH - 27 MINUTES .. 16:9 ANAMORPHIC .. DOLBY 5.1..
www.whatthefuturesoundedlike.com
.. (DIRECTOR - MATTHEW BATE @
PLEXUSFILMS.COM.AU
) (PRODUCER - CLAIRE HARRIS) (DOP - TONY WILSON ACS) (EDITOR - KARRYN DE CINQUE) (MOTION GRAPHICS - RAYNOR PETTGE) (SUPER 8 ANIMATION/HAND PAINTED SEQUENCES - IAN HELLIWELL) (SOUND - PETE BEST @ BEST FX / BOOM SOUND) (PROD MANAGER - DARRYL WATSON) (ABC COMMISSIONING EDITOR - AMANDA DUTHIE) .. WHAT THE FUTURE SOUNDED LIKE - Premiered at the ADELAIDE INTERNATIONAL FILM FESTIVAL on the 3rd March 2007.
www.adelaidefilmfestival.org
.. SYNOPSIS: .. Post-war Britain rebuilt itself on a wave of scientific and industrial breakthroughs that culminated in the cultural revolution of the 1960's. It was a period of sweeping change and experimentation where art and culture participated in and reflected the wider social changes. In this atmosphere was born the Electronic Music Studios (EMS), a radical group of avant-garde electronic musicians who utilized technology and experimentation to compose a futuristic electronic sound-scape for the New Britain. Comprising of pioneering electronic musicians Peter Zinovieff and Tristram Cary (famed for his work on the Dr Who series) and genius engineer David Cockerell, EMS's studio was one of the most advanced computer-music facilities in the world. EMS's great legacy is the VCS3, Britain's first synthesizer and rival of the American Moog. The VCS3 changed the sounds of some of the most popular artists of this period including Brian Eno, Hawkwind and Pink Floyd. Almost thirty years on the VCS3 is still used by modern electronic artists like The Emperor Machine. What The Future Sounded Like colours in a lost chapter in music history, uncovering a group of composers and innovators who harnessed technology and new ideas to re-imagine the boundaries of music and sound. Features music from Pink Floyd, Hawkwind, Roxy Music and The Emperor Machine. .. CHECK OUT THE FILM TEASER: .. ..
The Mystery of Flying Kicks Member Badge
http://www.community.flying-kicks.com

View my page on The Mystery of Flying Kicks

The Mystery of Flying Kicks Member Badge
http://www.community.flying-kicks.com
Who I'd like to meet:
..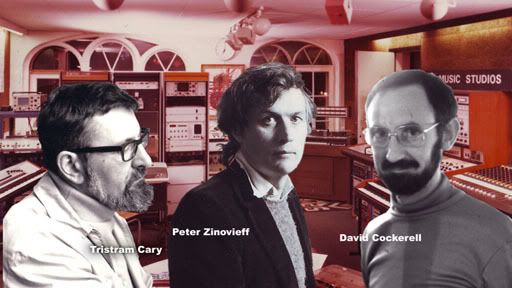 .. EMS WERE...... Peter Zinovieff (Chairman: 1969 - 1979) Founder, driving force, ideas-man, composer, geologist, agent-provocateur, marketer, merrymaker, ringleader, talker, Russian, aristocrat, artist, collaborator, and person synomynous with EMS. Sold his rich wife's Tiara to buy his first computer. Pioneer of using mini-computers for musical applications during the 1960s. Now (sort of) retired... Tristram Cary (Director: 1969 - 1973) Pioneer of classical electronic music during 1960s and composer for film and broadcast with musical credits on the first Dr.Who & the Daleks series, later scored the Ealing comedy The Ladykillers as well as a few Hammer films. Pipe smoker, tune writer, gun-for-hire, classical composer, navy man. Role at EMS was as resident composer and artist and as the most musically experienced. Co-designed VCS3. Built wooden cabinet, wrote hand-book. Left to become Professor of Electronic Music at the Royal College of Music. Since became Professor of Music at the University of Adelade. Retirement is not an option. .. David Cockerell (Analogue/Digital design: 1969 - 1972) Engineering genuis. Self-effacing Gaulois chain smoker. Zinovieff's can-do man and realiseur for Peter's electronic dreams and nightmares. Has used 15 million tonnes or 678 KM of solder wire during career. Loves the Beatles and plays a battered Fender. .. EMS NOW is..... Robin Wood (Sales/Demonstrator: 1970 - present) Started at EMS as a summer job and never left. Former VCS3 demonstrator to the stars. Once witnessed Peter Zinovieff threaten a shopkeep with an axe (just for fun!). Now main man of EMS. The perfect inheritor of the company. Still runs EMS from his amazing place in Cornwall. Nice bloke.
www.ems-synthi.demon.co.uk
THANKS Robin for many of the images dug and scanned from the EMS vaults. Synth nerds rejoice!..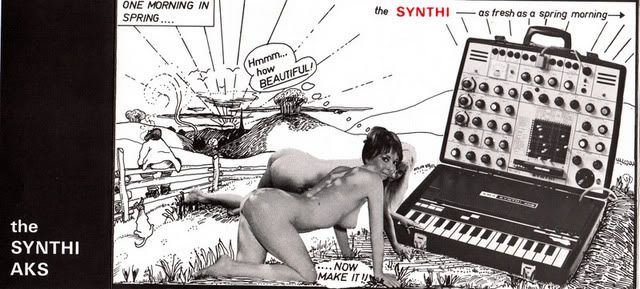 ..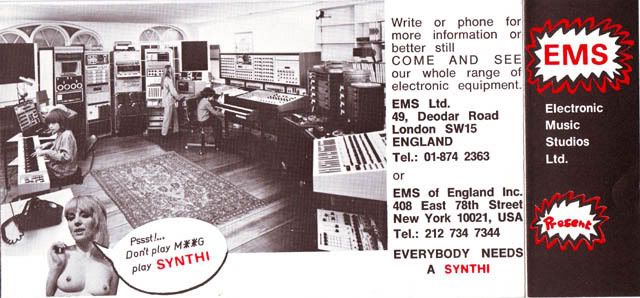 ..
Status:

Single

Zodiac Sign:

Cancer