Play

Play Next

Add to queue
Genre: Gothic

Location London, London and South East, UK

Profile Views: 67680

Last Login: 5/24/2012

Member Since 9/24/2006

Record Label none

Bio

............Create your own custom ..MySpace Layouts...... Witching Hour formed in 1991 with Trevor Barnes on guitar and vocals, Alys Sterling on bass and DB ..boards. DB was later replaced by Alex Winton. When Alex left the band, Ash took over ..boards, aided by the lovely Morticia, who appears ..boards in the video for Slave To The Night. Since Ash's return to his home planet, the band have performed as a two-piece. .. After a hiatus during which Trevor and Alys joined the computer game industry and discovered overtime, Witching Hour returned to the scene on Halloween 2006. Since then, they have headlined gigs in London and Madrid and are soon to appear in Blackpool at Misery Of Sound. They are hard at work on a new album, "Raven". In the meantime, "Hourglass", "She's Alive" and "Exhumation" have all been re-mastered and are now available on CD or for download from iTunes and Napster. .. .. OUR MUSIC IS NOW AVAILABLE ON CD, iTUNES & NAPSTER! .. .. ...... .. .. .. .. HERE'S THE DIRECT LINKS TO OUR MUSIC ON iTUNES! .. .. Hourglass E.P: .. .... .. .. .. .. She's Alive E.P: .. .... .. .. .. .. Exhumation L.P: .. .... .. .. .. YOU CAN NOW ORDER EXHUMATION AND SHE'S ALIVE/HOURGLASS ON CD DIRECTLY FROM US. WE ONLY ACCEPT PAYMENT VIA PAYPAL AND THE CDS ARE £10 EACH PLUS P&P. FOR MORE DETAILS EMAIL TREVOR AT: .. .. trevor_barnes@blueyonder.co.uk .. .. .. VIDEO FOR SHE'S ALIVE BELOW! .. .. .. .. .. .. .. ....Get this video and more at ..MySpace.com.. .. .. VIDEO FOR CARNIVAL OF SOULS BELOW! ..Carnival of Souls Promo Video...... .. .. .. .. ......Add to My Profile.. | .. More Videos..

Members

Trevor Barnes: Guitar and Vocals.. Alys Sterling: Bass.. .. .. ....

Influences

The Cure, The Sisters Of Mercy, Siouxsie & The Banshees, The Mission, Nina Hagen, Concrete Blonde, White Zombie, Rob Zombie, Metallica, Iron Maiden, Muse, All About Eve, Bauhaus, Iggy Pop, Fields of The Nephilm, Gene Loves Jezebel.

Sounds Like
No recent updates in this category.
Why not...
03:48 | 410 plays | Mar 18 2009
Bio:
..
Create your own custom
MySpace Layouts
Witching Hour formed in 1991 with Trevor Barnes on guitar and vocals, Alys Sterling on bass and DB ..boards. DB was later replaced by Alex Winton. When Alex left the band, Ash took over ..boards, aided by the lovely Morticia, who appears ..boards in the video for Slave To The Night. Since Ash's return to his home planet, the band have performed as a two-piece.
After a hiatus during which Trevor and Alys joined the computer game industry and discovered overtime, Witching Hour returned to the scene on Halloween 2006. Since then, they have headlined gigs in London and Madrid and are soon to appear in Blackpool at Misery Of Sound. They are hard at work on a new album, "Raven". In the meantime, "Hourglass", "She's Alive" and "Exhumation" have all been re-mastered and are now available on CD or for download from iTunes and Napster.
OUR MUSIC IS NOW AVAILABLE ON CD, iTUNES & NAPSTER!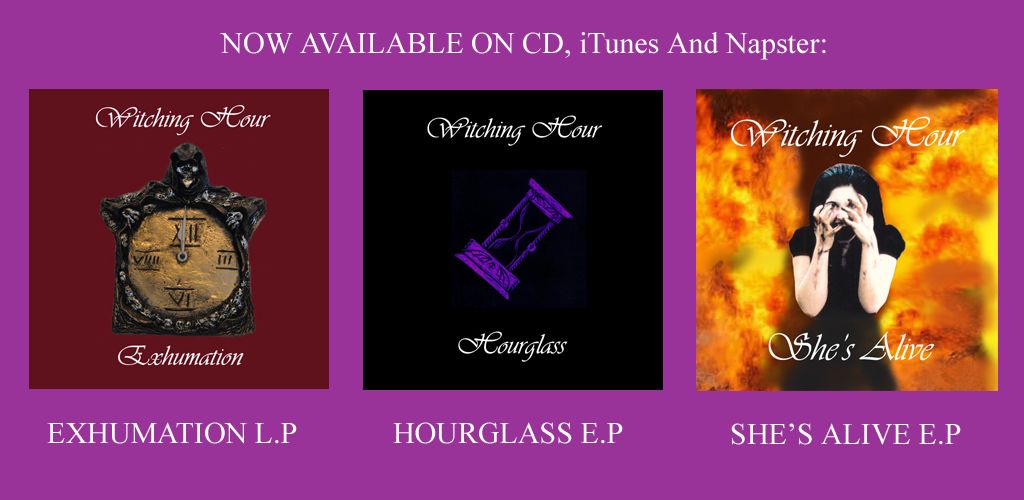 HERE'S THE DIRECT LINKS TO OUR MUSIC ON iTUNES!
Hourglass E.P:
..
She's Alive E.P:
..
Exhumation L.P:
..
YOU CAN NOW ORDER EXHUMATION AND SHE'S ALIVE/HOURGLASS ON CD DIRECTLY FROM US. WE ONLY ACCEPT PAYMENT VIA PAYPAL AND THE CDS ARE £10 EACH PLUS P&P. FOR MORE DETAILS EMAIL TREVOR AT:
trevor_barnes@blueyonder.co.uk
VIDEO FOR SHE'S ALIVE BELOW!
Get this video and more at
MySpace.com
VIDEO FOR CARNIVAL OF SOULS BELOW!
Carnival of Souls Promo Video
Add to My Profile
|
More Videos
Member Since:
September 24, 2006
Members:
Trevor Barnes: Guitar and Vocals
Alys Sterling: Bass


..
Influences:
The Cure, The Sisters Of Mercy, Siouxsie & The Banshees, The Mission, Nina Hagen, Concrete Blonde, White Zombie, Rob Zombie, Metallica, Iron Maiden, Muse, All About Eve, Bauhaus, Iggy Pop, Fields of The Nephilm, Gene Loves Jezebel.
Record Label:
none
Witching Hour UK has 5388 friends.