Play

Play Next

Add to queue
Play

Play Next

Add to queue

109 plays

Play

Play Next

Add to queue

126,658 plays

Play

Play Next

Add to queue

309 plays

Play

Play Next

Add to queue

79 plays

Play

Play Next

Add to queue

62 plays
Genre: Metal / Other / Punk

Location US

Profile Views: 12081

Last Login: 3/1/2012

Member Since 7/10/2007

Website myspace.com/ryanbartek

Record Label Seeking publisher

Type of Label Unsigned

Bio

.. ...... .. Underground journalist RYAN BARTEK unleashes long-awaited .. road book "THE BIG SHINY PRISON" as FREE PDF .. -- direct download via -- http://www.scribd.com/doc/25125709/The-Big-Shiny-Prison .. Book Cover HTML Embed: ...... .. Above is the FREE PDF download link to Ryan Bartek's long-anticipated road book/music journalism expose "THE BIG SHINY PRISON," covering all forms of extreme metal, punk, industrial, experimental, rock, electronic, psychedelia, etc. .. This book is packed with interviews – from Brutal Truth to Millions of Dead Cops, Impaled to DWARVES, Repulsion to Cephalic Carnage. AxCx to Pig Destroyer, Kylesa to STALAGGH, Genghis Tron to Abysmal Dawn & beyond. Even USA President Barack Obama makes the most bizarre appearance of his entire career. Yet that's just scraping the surface & below you will find a comprehensive list of appearances. .. The following statement comes directly from the author: "My name is Ryan Bartek. For the past 3 years I've sacrificed everything for the successful completion of this project. I spent a year on the road, another year completing & shopping it, and another year of total rejection. It is only karmically fitting that both the demise of magazine & book publishing come in one fell swoop." .. "I was never in it for the money, nor the aspect of celebrity. I have spent an upwards of $10,000 on it, which I remark only to underline my absolute sincerity. No one would deny its quality -- but the raw nature of the work, as well as its excessive length, made it impossible to pigeon hole or successfully shop. Nothing quite like it has ever surfaced, at least not in the format I've undertaken." .. "After this seemingly endless struggle, I have decided to offer it to the public domain. While I retain the copyright/trademark, I both encourage and support file sharing. It is my only wish that this manuscript be circulated & appreciated. Perhaps when all is said and done, someone might offer a physical print run." .. "I wrote this book to prove that no answer is ever 'the answer,' and that all of us – no matter our vocation – are part of something larger then we might ever consider." .. "Readers may be horrifically alienated/insulted by the views of some in this book. I endorse none but my own, and I think it's fairly obvious where I stand. Anyone who knows me well enough realize that if I "explain the joke" then the jokes not funny. In "BSP," I am relegated to the status of a ping-pong ball gathering information. I am a clown, land pyrate & gutter philosopher – nothing more." .. "If anyone wishes to circulate this PDF to their contacts, I give full permission. If anyone runs a zine/label and wants to post the PDF on your site, I also endorse this action." .. "If anyone should so kindly as to post this news announcement, review the book, or send interview questions, I'd also be much appreciative. Since there is no 'official release' as of yet, the 'time-sensitive' aspect of promotion is rendered moot (i.e. whenever you feel like getting around to it)." .. That much said, welcome to "THE BIG SHINY PRISON." .. Cordially, .. Dr. Ryan Bartek .. Mabusvanian Consulate of Inter-Communal Affairs .. ryanbartek@hotmail.com – www.myspace.com/bigshinyprison .. www.myspace.com/akamabus -- www.myspace.com/ghostnomadlives .. * * * * * .. "THE BIG SHINY PRISON" can be downloaded at: http://www.mediafire.com/?i1aozy0drme .. Also available for download are the front cover and promotional logo. .. Book Cover direct link: http://www.mediafire.com/imageview.php?quickkey=dzmnnnimjwg&thumb=4 .. Promotional Logo direct link: http://www.mediafire.com/imageview.php?quickkey=0mnvmzljhdy&thumb=4 .. * * * * * .. "THE BIG SHINY PRISON" features appearances & interviews with members of .. Brutal Truth, Pig Destroyer, DWARVES, Barack Obama, MDC (Millions of Dead Cops), Repulsion, Psyopus, Abysmal Dawn, Cephalic Carnage, Kylesa, Deathlist 5, Ludicra, RATT, Lesbian, HIMSA, Job For A Cowboy, Atheist, Sol Evil, Impaled, Diverje, Light This City, PHOBIA, Kettle Cadaver, Scorched Earth, Foxy Shazam, Otesanek, In Memorium, Duff's Brooklyn, EXITIUM, The Angelic Process, ANAL CUNT, Blood Stained Dusk, Screaming Mechanical Brain, Fre-Ne-Tik, Zeke, Peppermint Creeps, Genghis Tron, Intronaut, Downtown Brown, Solger, Friends of Dennis Wilson, PHALLUS, Chinese Work Ethic, Melechesh, Vile, STALAGGH, Beefcake In Chains, SINDIOS, OCTAGON, The Gracchi, My Uncle The Wolf, Apocryph, Salt Lick, Amish Noise, Street Crime, 7000 Dying Rats, Churchburner, The Jet City Fixx, Alchemical Burn, Crematorium, Waco Jesus, Snotrokitz, Suicide Holiday, Galway Arms, Vertigo Venus, Severed Savior, Kill The Precedent, Kill The Client, Dreaming Dead, They Live, Brian Botkiller, Quinta Essentia, Alternative Tentacles, Whorehouse of Representatives, DSBP Records, RU-486, Mathematicians, Anal Pudding, Nihilistik Terrorist, Nihilistic Outlaw Criminal Order, A.K.A. MABUS, Onyx, Disgorge, Jack Cassady, Beer Metal Records, The Crashing Falcon, Lysia Gori, Stormdrain, The Dingbatz, Bu Hao Ting, Potty Mouth Society, Funeral Age, Uranium Death Crow, High Intensity Discharge, Stahlmantel, Hymns of The NeedleFreak, Hammers of Misfortune, The Plankton Beat, Ron of Japan, Jakked Rabbits, SASQUATRCH AGNSOTIC, The STD's, The Plankton Beat, The Slashers, We Both Know, Hunab Ku, Black Flame Records & many others. .. ...... .. ..eLibrary - Open Ebooks Directory..

Members

RYAN BARTEK, the author and architect

Influences

Sounds Like

"THE BIG SHINY PRISON" is a book of extreme road journalism that features interviews & appearances by: DWARVES. BARACK OBAMA. SID HAIG. BRUTAL TRUTH. JOB FOR A COWBOY. MILLIONS OF DEAD COPS. PSYOPUS. PIG DESTROYER. ATHEIST. HIMSA. FOXY SHAZAM. DOWNTOWN BROWN. STALAGGH. KYLESA. SCORCHED EARTH. CEPHALIC CARNAGE. 7000 DYING RATS. ABYSMAL DAWN. OCTAGON. LUDICRA. INTRONAUT. KETTLE CADAVER. LESBIAN. REPULSION. ALTERNATIVE TENTACLES. SEVERED SAVIOR. BILL MOSELEY. ANAL CUNT. SOL EVIL, OTESANEK. IN MEMORIUM. DEATHLIST 5. RATT. FRIENDS OF DENNIS WILSON. PEPPERMINT CREEPS. ZEKE. SOLGER. TOM SAVINI. IMPALED. THE ANGELIC PROCESS. DREAMING DEAD. SCREAMING MECHANICAL BRAIN. PHOBIA, KANE HODDER. QUINTA ESSENTIA. SUICIDE HOLIDAY. DUFFS BROOKLYN. BEEFCAKE IN CHAINS. MY UNCLE THE WOLF. WHOREHOUSE OF REPRESENTATIVES. WACO JESUS. SNOTROKITZ. KEN FOREE. EXITIUM. VILE. BLOOD STAINED DUSK. DIVERJE. LIGHT THIS CITY. ALCHEMICAL BURN. GENGHIS TRON. COBRA//GROUP, CREMATORIUM. RU-486, FRE-NE-TIK. VERTIGO VENUS. SASQUATCH AGNOSTIC & endless local legends from across the breadth of America…
No recent updates in this category.
Why not...
Bio:
..
..
.. Underground journalist RYAN BARTEK unleashes long-awaited
road book "THE BIG SHINY PRISON" as FREE PDF
-- direct download via -- http://www.scribd.com/doc/25125709/The-Big-Shiny-Prison
Book Cover HTML Embed: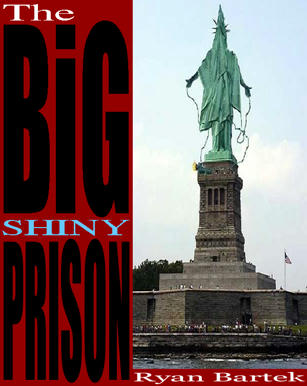 Above is the FREE PDF download link to Ryan Bartek's long-anticipated road book/music journalism expose "THE BIG SHINY PRISON," covering all forms of extreme metal, punk, industrial, experimental, rock, electronic, psychedelia, etc.
This book is packed with interviews – from Brutal Truth to Millions of Dead Cops, Impaled to DWARVES, Repulsion to Cephalic Carnage. AxCx to Pig Destroyer, Kylesa to STALAGGH, Genghis Tron to Abysmal Dawn & beyond. Even USA President Barack Obama makes the most bizarre appearance of his entire career. Yet that's just scraping the surface & below you will find a comprehensive list of appearances.
The following statement comes directly from the author: "My name is Ryan Bartek. For the past 3 years I've sacrificed everything for the successful completion of this project. I spent a year on the road, another year completing & shopping it, and another year of total rejection. It is only karmically fitting that both the demise of magazine & book publishing come in one fell swoop."
"I was never in it for the money, nor the aspect of celebrity. I have spent an upwards of $10,000 on it, which I remark only to underline my absolute sincerity. No one would deny its quality -- but the raw nature of the work, as well as its excessive length, made it impossible to pigeon hole or successfully shop. Nothing quite like it has ever surfaced, at least not in the format I've undertaken."
"After this seemingly endless struggle, I have decided to offer it to the public domain. While I retain the copyright/trademark, I both encourage and support file sharing. It is my only wish that this manuscript be circulated & appreciated. Perhaps when all is said and done, someone might offer a physical print run."
"I wrote this book to prove that no answer is ever 'the answer,' and that all of us – no matter our vocation – are part of something larger then we might ever consider."
"Readers may be horrifically alienated/insulted by the views of some in this book. I endorse none but my own, and I think it's fairly obvious where I stand. Anyone who knows me well enough realize that if I "explain the joke" then the jokes not funny. In "BSP," I am relegated to the status of a ping-pong ball gathering information. I am a clown, land pyrate & gutter philosopher – nothing more."
"If anyone wishes to circulate this PDF to their contacts, I give full permission. If anyone runs a zine/label and wants to post the PDF on your site, I also endorse this action."
"If anyone should so kindly as to post this news announcement, review the book, or send interview questions, I'd also be much appreciative. Since there is no 'official release' as of yet, the 'time-sensitive' aspect of promotion is rendered moot (i.e. whenever you feel like getting around to it)."
That much said, welcome to "THE BIG SHINY PRISON."
Cordially,
Dr. Ryan Bartek
Mabusvanian Consulate of Inter-Communal Affairs
ryanbartek@hotmail.com – www.myspace.com/bigshinyprison
www.myspace.com/akamabus -- www.myspace.com/ghostnomadlives
* * * * *
"THE BIG SHINY PRISON" can be downloaded at: http://www.mediafire.com/?i1aozy0drme
Also available for download are the front cover and promotional logo.
Book Cover direct link: http://www.mediafire.com/imageview.php?quickkey=dzmnnnimjwg&thumb=4
Promotional Logo direct link: http://www.mediafire.com/imageview.php?quickkey=0mnvmzljhdy&thumb=4
* * * * *
"THE BIG SHINY PRISON" features appearances & interviews with members of
Brutal Truth, Pig Destroyer, DWARVES, Barack Obama, MDC (Millions of Dead Cops), Repulsion, Psyopus, Abysmal Dawn, Cephalic Carnage, Kylesa, Deathlist 5, Ludicra, RATT, Lesbian, HIMSA, Job For A Cowboy, Atheist, Sol Evil, Impaled, Diverje, Light This City, PHOBIA, Kettle Cadaver, Scorched Earth, Foxy Shazam, Otesanek, In Memorium, Duff's Brooklyn, EXITIUM, The Angelic Process, ANAL CUNT, Blood Stained Dusk, Screaming Mechanical Brain, Fre-Ne-Tik, Zeke, Peppermint Creeps, Genghis Tron, Intronaut, Downtown Brown, Solger, Friends of Dennis Wilson, PHALLUS, Chinese Work Ethic, Melechesh, Vile, STALAGGH, Beefcake In Chains, SINDIOS, OCTAGON, The Gracchi, My Uncle The Wolf, Apocryph, Salt Lick, Amish Noise, Street Crime, 7000 Dying Rats, Churchburner, The Jet City Fixx, Alchemical Burn, Crematorium, Waco Jesus, Snotrokitz, Suicide Holiday, Galway Arms, Vertigo Venus, Severed Savior, Kill The Precedent, Kill The Client, Dreaming Dead, They Live, Brian Botkiller, Quinta Essentia, Alternative Tentacles, Whorehouse of Representatives, DSBP Records, RU-486, Mathematicians, Anal Pudding, Nihilistik Terrorist, Nihilistic Outlaw Criminal Order, A.K.A. MABUS, Onyx, Disgorge, Jack Cassady, Beer Metal Records, The Crashing Falcon, Lysia Gori, Stormdrain, The Dingbatz, Bu Hao Ting, Potty Mouth Society, Funeral Age, Uranium Death Crow, High Intensity Discharge, Stahlmantel, Hymns of The NeedleFreak, Hammers of Misfortune, The Plankton Beat, Ron of Japan, Jakked Rabbits, SASQUATRCH AGNSOTIC, The STD's, The Plankton Beat, The Slashers, We Both Know, Hunab Ku, Black Flame Records & many others.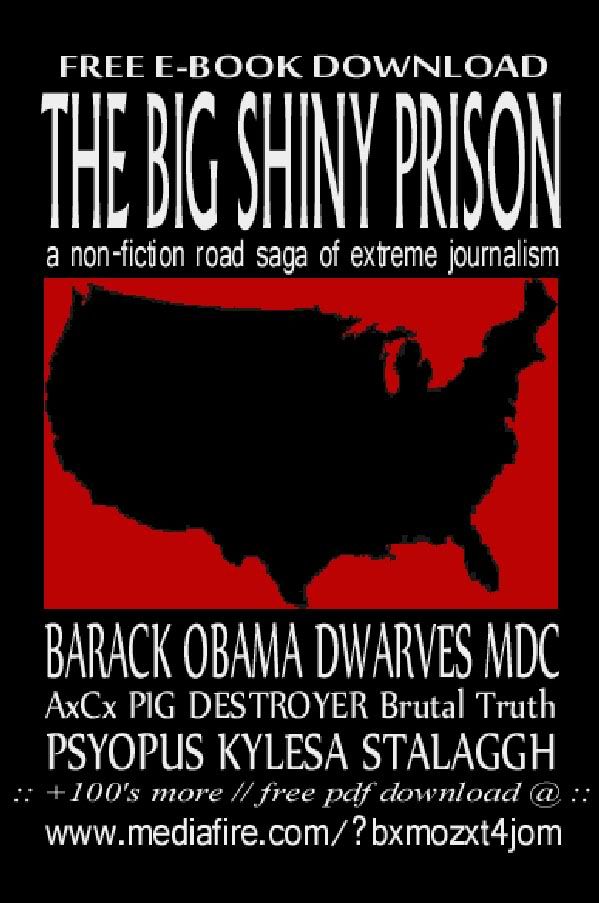 Member Since:
July 10, 2007
Members:
RYAN BARTEK, the author and architect
Sounds Like:
"THE BIG SHINY PRISON" is a book of extreme road journalism that features interviews & appearances by: DWARVES. BARACK OBAMA. SID HAIG. BRUTAL TRUTH. JOB FOR A COWBOY. MILLIONS OF DEAD COPS. PSYOPUS. PIG DESTROYER. ATHEIST. HIMSA. FOXY SHAZAM. DOWNTOWN BROWN. STALAGGH. KYLESA. SCORCHED EARTH. CEPHALIC CARNAGE. 7000 DYING RATS. ABYSMAL DAWN. OCTAGON. LUDICRA. INTRONAUT. KETTLE CADAVER. LESBIAN. REPULSION. ALTERNATIVE TENTACLES. SEVERED SAVIOR. BILL MOSELEY. ANAL CUNT. SOL EVIL, OTESANEK. IN MEMORIUM. DEATHLIST 5. RATT. FRIENDS OF DENNIS WILSON. PEPPERMINT CREEPS. ZEKE. SOLGER. TOM SAVINI. IMPALED. THE ANGELIC PROCESS. DREAMING DEAD. SCREAMING MECHANICAL BRAIN. PHOBIA, KANE HODDER. QUINTA ESSENTIA. SUICIDE HOLIDAY. DUFFS BROOKLYN. BEEFCAKE IN CHAINS. MY UNCLE THE WOLF. WHOREHOUSE OF REPRESENTATIVES. WACO JESUS. SNOTROKITZ. KEN FOREE. EXITIUM. VILE. BLOOD STAINED DUSK. DIVERJE. LIGHT THIS CITY. ALCHEMICAL BURN. GENGHIS TRON. COBRA//GROUP, CREMATORIUM. RU-486, FRE-NE-TIK. VERTIGO VENUS. SASQUATCH AGNOSTIC & endless local legends from across the breadth of America…
Record Label:
Seeking publisher