Play

Play Next

Add to queue
Play

Play Next

Add to queue

9,649 plays

Play

Play Next

Add to queue

8,479 plays

Play

Play Next

Add to queue

7,923 plays

Play

Play Next

Add to queue

6,853 plays
Genre: Experimental / Progressive / Rock

Location Long Island, New York, Un

Profile Views: 148095

Last Login: 5/9/2012

Member Since 2/13/2007

Record Label Musea

Type of Label Indie

Bio

.. ...... .. .. .. .. ..<div style="..;

Members

.............. ......Fred Callan ..(four, five, eight string bass guitars, ..Taurus bass pedals, backing vocals) ..Paul Seal ..(vocals) ..Mercury Caronia IV ..(drums, gongs, bells, various .. electronic percussion, and backing vocals) .. David Doig ..(electric and acoustic guitars), ..Tom Doncourt ..(mellotron, other keyboards, theremin, ..percussion, and flute). .. .. .. .. .. .. .. .. .. ..

Influences

Progressive Rock from the 1960's to the present, Classical Music, Jazz, and Experimental.

Sounds Like

For quite a few of the cognoscenti this stands as the hallmark achievement in American symphonic rock (with courteous nods to many others notwithstanding). Doubtless, it is a brilliant example of a band who not only understood how to assimilate their influences – of King Crimson, Genesis, or Yes – but knew well how to build upon them and create and impressionistic whole, which was thoroughly unique, remarkably Cathedral. .. In short, there is not a naff note or dispensable moment to be found, even though their ability to develop themes might be heard by some critical ears as posturing or even pretentious. The music unfolds and issues forth like a raging river, while setting forth on a journey which is neither predictable or ponderous but one which constantly engages the listener. The five pieces, though individual expressions by themselves, manage to seamlessly flow together in an almost suite-like fashion – always evolving, never stagnating – yet somehow always appearing to be part of a larger conceptual context, which they are. Lyrically, this is dense and melancholy subject matter about a man's self-actualization, delivered in a tortured style not unlike John Wetton in his days with King Crimson. Musically is where this quartet really shines. Simply put, Stain Glass Stories is a veritable wet-dream for mellotron fanatics the world over, and Doncourt's incessant deployment of the veteran sampler is crucial to the orchestral impact of Stain Glass Stories, not only because he opted to use many different tape-patches but also because he knew how to play with the unwieldy machine and make it sound truly impressive. His work on Hammond is noteworthy, but his tonal lexicon is concentrated on the majesty of the mighty 'tron! Doncourt's cinematic orchestrations are further accented by the guitar mastery of Perrone, where we can hear him phrasing like Hackett at one moment, then plucking like Howe the next, only to delight us with a line from the Fripp book of tricks not long after, just when we thought he was running out of ideas. The rhythmic qualities of the band are enormous and not to be dismissed – what with the metrical complexity of their music and varied changes in mood, the bass is accordingly resonant, the use of pedals spectacular, and the additional variety of percussion instruments adding much to the final product and fleshing out the orchestral sweep. None of this, I will add, strikes of contrivance or of a band unsure of what they set out to do. No, they are the near-perfect sum of their influences. Their follow-up offering, then to be called Epilogue, never came to be. Having heard samples of this, it is a shame they called it quits (for reasons of practicality and family issues, I've heard). It was equally excellent! Guitarist Rudy Perrone did manage, with a little help from his friends, a wonderful solo effort called Oceans Of Art, which reminded many ears of a Steve Hackett release. This, or especially an original of Stained Glass Stories, are very rare, but back in 1991 Syn-Phonic reissued the Cathedral masterpiece, which included great packaging. I believe it has been deleted from their active catalog, but I know a few copies are still to be found. www.progressiveears.com
No recent updates in this category.
Why not...
Bio:
.. ..

..
Fred Callan
(four, five, eight string bass guitars,
Taurus bass pedals, backing vocals)
Paul Seal
(vocals)
Mercury Caronia IV
(drums, gongs, bells, various
electronic percussion, and backing vocals)
David Doig
(electric and acoustic guitars),
Tom Doncourt
(mellotron, other keyboards, theremin,
percussion, and flute).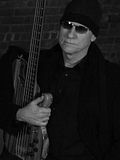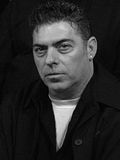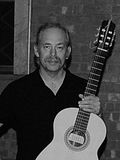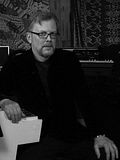 Influences:
Progressive Rock from the 1960's to the present, Classical Music, Jazz, and Experimental.
Sounds Like:
For quite a few of the cognoscenti this stands as the hallmark achievement in American symphonic rock (with courteous nods to many others notwithstanding). Doubtless, it is a brilliant example of a band who not only understood how to assimilate their influences – of King Crimson, Genesis, or Yes – but knew well how to build upon them and create and impressionistic whole, which was thoroughly unique, remarkably Cathedral.
In short, there is not a naff note or dispensable moment to be found, even though their ability to develop themes might be heard by some critical ears as posturing or even pretentious. The music unfolds and issues forth like a raging river, while setting forth on a journey which is neither predictable or ponderous but one which constantly engages the listener. The five pieces, though individual expressions by themselves, manage to seamlessly flow together in an almost suite-like fashion – always evolving, never stagnating – yet somehow always appearing to be part of a larger conceptual context, which they are. Lyrically, this is dense and melancholy subject matter about a man's self-actualization, delivered in a tortured style not unlike John Wetton in his days with King Crimson. Musically is where this quartet really shines. Simply put, Stain Glass Stories is a veritable wet-dream for mellotron fanatics the world over, and Doncourt's incessant deployment of the veteran sampler is crucial to the orchestral impact of Stain Glass Stories, not only because he opted to use many different tape-patches but also because he knew how to play with the unwieldy machine and make it sound truly impressive. His work on Hammond is noteworthy, but his tonal lexicon is concentrated on the majesty of the mighty 'tron! Doncourt's cinematic orchestrations are further accented by the guitar mastery of Perrone, where we can hear him phrasing like Hackett at one moment, then plucking like Howe the next, only to delight us with a line from the Fripp book of tricks not long after, just when we thought he was running out of ideas. The rhythmic qualities of the band are enormous and not to be dismissed – what with the metrical complexity of their music and varied changes in mood, the bass is accordingly resonant, the use of pedals spectacular, and the additional variety of percussion instruments adding much to the final product and fleshing out the orchestral sweep. None of this, I will add, strikes of contrivance or of a band unsure of what they set out to do. No, they are the near-perfect sum of their influences. Their follow-up offering, then to be called Epilogue, never came to be. Having heard samples of this, it is a shame they called it quits (for reasons of practicality and family issues, I've heard). It was equally excellent! Guitarist Rudy Perrone did manage, with a little help from his friends, a wonderful solo effort called Oceans Of Art, which reminded many ears of a Steve Hackett release. This, or especially an original of Stained Glass Stories, are very rare, but back in 1991 Syn-Phonic reissued the Cathedral masterpiece, which included great packaging. I believe it has been deleted from their active catalog, but I know a few copies are still to be found.
www.progressiveears.com
Record Label:
Musea
Cathedral has 22184 friends.