Play

Play Next

Add to queue
Play

Play Next

Add to queue

116 plays

Play

Play Next

Add to queue

30 plays

Play

Play Next

Add to queue

27 plays

Play

Play Next

Add to queue

22 plays

Play

Play Next

Add to queue

15 plays
"This is trilling because the Caribbean is a long way away from Norway and the frosty climate that we associate with BM, and it's also a bit second world, which adds a bit of wilderness and danger into the mix."
- PLATFORM
(English Online Magazine) 2010.
This is the official CONRAD myspace page. There is also a facebook account you can add as a "friend" here:
http://www.facebook.com/conradofficial
.
We play The Metal of Death with Afro-Caribbean sounds...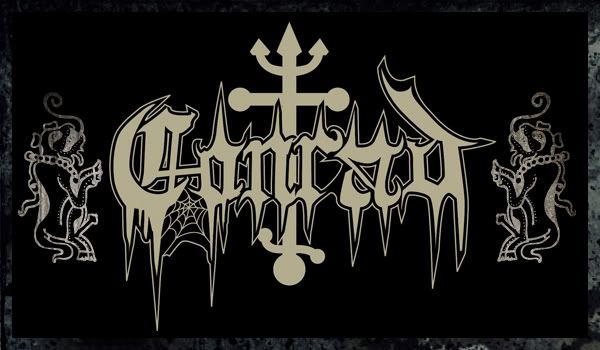 The History...
On August 5th 2009 in Barbados, 17 year old Emdeka Anubis (previously known as Veldt Soldaat) created TOHARA HARAKATI and recruited three other members over a period of time, who all the same common goal: to establish a metal scene in an Anti-metal society.
These members quickly became inattentive and left, while the remnant of this band became CONRAD.
After doing several promotional tracks covering artist such as BURZUM, SEPULTURA & COR SCORPII, Emdeka then channeled his earlier atmospheric influences from bands such as WINDIR & EMPEROR into his musical creativity and thus, the first original demo OSEAAN KRONIEK took its form.
August 17th, after the demo's release, Fornost from the band Angest & Lord Ifrit of Orisha Shakpana would be recruited as session vocalist.
Emdeka would then found a Merch Store/Distrubution center called CARIB METAL HORDE shortly after.
After seeking to improve vastly both musically & spiritually, the project took a sinister turn into the Occult & Pagan realms within the environment. The new material being manifested would now be focused upon various Cults of Death and the darkest Barbadian folklore told centuries ago. With the integration of Caribbean rhythms and sounds with the Metal of Death, -CONRAD WITHIN- took a much more dangerous path form its preceder.
The -Conrad Within- MCD EP was released on September 13th 2011 via SATANICA PRODUCTIONS (NZ). Purchase this odious invokation here:
http://conradbb.blogspot.com/2011/09/conrad-within-mcd-ep-released-today-via.html
OR
here:
http://www.satanica.org/blackmetal-page-3.php
You've Been Warned...
Visit these sites for additional info/purchases

CARIB METAL HORDE (Merch Store)

www.myspace.com/blacksigilarts
www.reverbnation.com/conrad
..
Members:
Emdeka Anubis : All Instruments, Programming & Vocals. (2009–present)
Fornost : Vocals (Session) (17th of August 2010-Present)
Lord Ifrit : Vocals (Session) (17th of August 2010-Present)
Contact Emdeka Anubis At: conrad-illu@live.com or slayerbbk@hotmail.com
Influences:
VON, Ocultan, Orisha Shakpana, Bathory, Watain, Dissection, Black Sabbath, Slayer...
Sounds Like:
The Metal of Death w/ Caribbean sounds and rhythms.

....

..
Genre: Black Metal / Folk / Metal

Location Padmore Village, St, Philip., Ba

Profile Views: 10533

Last Login: 12/30/2012

Member Since 2/14/2010

Website www.reverbnation.com/conrad

Record Label www.freewebstore.org/carib-metal-horde

Type of Label Unsigned

Bio

Members

Emdeka Anubis - Oshe Hammers, Strings Of Death, Incantations, Scriptures... Fornost - Screams Lord Ifrit - Black Vomit

Influences

Sounds Like

Buy and hear for yourself. www.freewebstore.org/carib-metal-horde