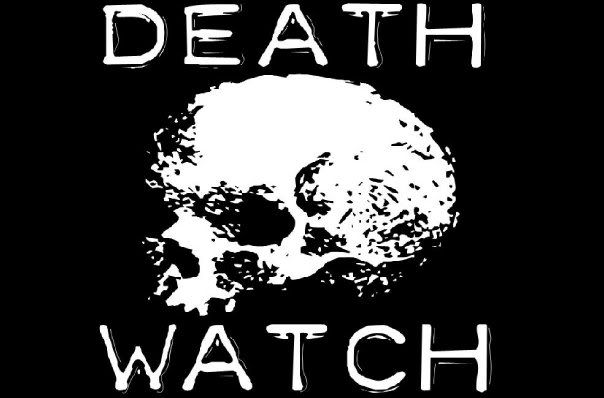 Play

Play Next

Add to queue
Play

Play Next

Add to queue

384 plays

Play

Play Next

Add to queue

291 plays

Play

Play Next

Add to queue

321 plays

Play

Play Next

Add to queue

432 plays
Genre: Down-tempo / Metal

Location Aberdeen, Un

Profile Views: 9723

Last Login: 8/27/2011

Member Since 8/7/2006

Record Label Punch an Emo / Piledriver

Type of Label Indie

Bio

Death Watch was originally formed as 'Acid Trip' in 2006 by Chuck (BSOYM) and Sean Bickerton (Finish Him!) as a bluesy, doomy metal band but then Sean got very hard to get hold of and nothing more came of it for a while. When Chuck moved to Aberdeen he met Al (Gods) through work and would chat about the kind of music they'd like to play in a band. Then, out of the blue, Crisp (Emeritus) came into HMV wearing a C.O.C. shirt, had a little chat with Chuck and disappeared for a while. After some emails getting sent and a few drinks, Death Watch started jamming and writing some good heavy shit and on Sunday, November 8th 2009, played their first gig at Drummonds in Aberdeen with Emeritus. Since then DW have been gigging around Aberdeen, laying down the law with their partners in crime Eternal Idol and making the name known. After a gig with Oblivion Incarnate for Piledriver Promotions, Neal approached the band asking whether or not they would like to try out a second guitarist. After 2 jams of him picking up the songs quickly and adding his own touches, he officially joined Death Watch in October 2010. The debut ep, 'The Terror', 3 tracks of downtuned sludge, is now available to stream here and at our Bayou Underground page and can be purchased directly from the band. As of January 2011, more material is being written (10 new songs) and this year should also see Death Watch playing outside of Aberdeen for the first time. ....MAN CAN ONLY FUCK AND KILL ....CASTRATE AND STERILISE YOUR CHILDREN..

Members

Chuck - Guitar & throat, Neal - Guitar, Crisp - Drums, Al - Bass

Influences

Crowbar, Eyehategod, Isis, Neurosis, Acid Bath, Entombed, Warhorse, Melvins, Black Sabbath

Sounds Like

Entombed, Isis, Eyehategod, Crowbar, Down, Neurosis, Death Watch
No recent updates in this category.
Why not...
Bio:
Death Watch was originally formed as 'Acid Trip' in 2006 by Chuck (BSOYM) and Sean Bickerton (Finish Him!) as a bluesy, doomy metal band but then Sean got very hard to get hold of and nothing more came of it for a while. When Chuck moved to Aberdeen he met Al (Gods) through work and would chat about the kind of music they'd like to play in a band. Then, out of the blue, Crisp (Emeritus) came into HMV wearing a C.O.C. shirt, had a little chat with Chuck and disappeared for a while. After some emails getting sent and a few drinks, Death Watch started jamming and writing some good heavy shit and on Sunday, November 8th 2009, played their first gig at Drummonds in Aberdeen with Emeritus. Since then DW have been gigging around Aberdeen, laying down the law with their partners in crime Eternal Idol and making the name known. The debut ep, 'The Terror' is now available to stream here and at our Bayou Underground page and can be purchased directly from the band.
MAN CAN ONLY FUCK AND KILL
CASTRATE AND STERILISE YOUR CHILDREN
HEAD TO BAYOU UNDERGROUND - BLEED METAL AND HORNS UP!!!
..
....
Myspace Layout Generator
by
LayoutGeneratorMyspace.com
..
Member Since:
August 07, 2006
Members:
Chuck - Guitar & Vocals
Crowe - Bass, Vocals & Samples
Crisp - Drums & transportation

Influences:
Heavy-ass fuckin downtuned metal.
Crowbar
Down
Soilent Green
Acid Bath
Pantera
Eyehategod
Isis
Melvins
Bolt Thrower
Warhorse
Kyuss
Marijuana
Record Label:
PUNCH AN EMO D.I.Y