No recent updates in this category.
Why not...
Ed Tangent hasn't earned any badges yet... have you?
General

ED TANGENT

BOOKINGS / INFO

Bookings@psylicious.com

Edtangent@hotmail.com

PRESS / MEDIA

HarderFaster.Net Interview CLICK HERE HarderFaster.Net News CLICK HERE Pre Shamania
HarderFaster.Net Interview CLICK HERE

QUOTE

"What a great festival! Sunday night was the best for me: Dick Trevor, Ans and the brilliant Ed Tangent. I would just like to say that Ed Tangent's mix was the best I have ever heard bar none, well done mate, it was just what I needed at that point. What amazing power, mixing skills and stage presence, I still haven't got over it."

You can find me also on Facebook. Place Ed Tangent in the search option to find my page.

FACEBOOK GROUP

This is an official Facebook Group, where you can find all the latest from the Tangent!

FACEBOOK.COM

Music

PSYCORE RECORDS

MISSION STATEMENT

Our mission now it has been accepted is to take you on a journey through the medium of full on Psychedelic Trance, searching out credible yet accessible music from some of the scenes most respected established producers as well as bringing new music from untapped emerging talent.

Music is about a feeling, a symphony of textures to absorb, experience and live. It breaths life in our very soul and as such we feel it and live it to the very core of our existence, hence Psy-core records.

With support from International Psychedelic Trance Producers, established Djs' and the passion of the Psy-Core team we bring you music to enjoy and experience whether it be in a club, festival or at home.

Music for your Mind, Body and Soul.
Play

Play Next

Add to queue
About me:
..
..
NEW MUSIC PAGE
I now have a new Myspace Music Page, please add me.
www.myspace.com/edtangentmusic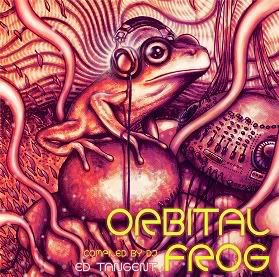 ..
Ed Tangent presents a compilation of Various Artists as this next dance floor slamming album release from Psy-Core Records. Ed Tangent's knowledge combined with his well known sound for driving and hypnotic psychedelic trance is noticeable as Ed pieces together this jigsaw of producers and their tracks to build you, Orbital Frog!
Orbital Frog's sound is psychedelically rocket driven from start to finish as Ed Tangent steers Orbital Frog into a journey of full on killa psychedelia! Driving bass lines, spine tingling breakdowns and euphoric melodies vacuum you right into Orbital Frog's very vortex as each track hypnotises, locking you in, before exploding around you in mind bending psychedelic euphoria.
Ed Tangent's Orbital Frog Various Artist Compilation gives 10 tracks of energized psychedelic trance taking in precision engineered tracks from producers such as; Safi Connection, Acid Prophecy, Jirah, BPM and 220V amongst other Psy-Core Records artists.
As you listen to Orbital Frog, you know, you have been Tangentised!
Welcome to my, Myspace page. I'm Ed Tangent, living in West Yorkshire(UK). Below you will see my Podcast, so have a listen whilst you read my DJ Biography.

I'm a well known DJ within the UK Psy Trance scene, one of the creators of the 'Sunrise' events, Label DJ for Phantasm Records, Label Manager for PsyCore Records and signed to Psylicious Collective & Management who handle all my bookings & PR.
ED TANGENT INFORMATION
From an early age Ed found himself drawn to mixing sounds (on an old four track), and the emerging Electronic music medium being developed in the 1970's, citing the Band 'SKY' as an early influence. By the early 80's he started DJing, influenced by the early electro/hip-hop scratch DJs' and started looping breaks and beats from old rare groove tracks whist mixing into the new Electro sound. By the end of the 80s' he moved up to Manchester UK where he immersed himself into the Rave culture and free party scene.

After several years of playing and promoting techno and acid sounds at events around the UK's North West Ed discovered the Goa Trance sound. He teamed up in 1995 with Matt Allaby (Nano) and Christos to start his own night Global Sunrise, which still runs to this day as Sunrise. Ed got recognition for his skills as a DJ and played across the UK at many events including guest spots for the original Psy super club 'Return To the Source' at venues such as Brixton Academy, the Rocket, Tyson Street and Mega Dog Festival Events. Ed also found success further a field in Europe and was a guest Dj at the 'Hill Top' Goa, for their Millennium NYE party.


..

Ed has established a strong following UK and beyond, playing regular gigs each month and has a busy Festival schedule each year playing events such as The Glade, Sunrise Celebration, Waveform, The Bulldog Bash, Solfest, Bearded Theory and Shamania. He also runs his night Sunrise at festivals and demand for his musical influence at events is growing fast so that Ed not only plays on many Stages, but manages them as well.

Recognition for his skill and professionalism, Phantasm Records made him a label DJ and Ed now represents them alongside fellow artists Eskimo, John Phantasm, Cosmosis and Dickster. Ed has also signed up as a guest resident for international promoter Antiworld.

Early 2008 Ed started working as label manager for Psy-Core records promoting the Full on sound with signed acts that include BPM, Bigabo, Hologram, and Sigma. He now has established a world wide fan base that look for the quality and consistency that a DJ of Ed's calibre and experience has offers electronic music lovers everywhere.
BOOKINGS & INFO CONTACT
Subscribe to the Psylicious mailing list & newsletter....
You can unsubscribe any time at psylicious.com
Status:

In a Relationship

Here for:

Networking

Hometown:

Mytholmroyd

Height:

6' 3"

Religion:

Atheist

Zodiac Sign:

Scorpio

Children:

Proud parent