Play

Play Next

Add to queue
Play

Play Next

Add to queue

540 plays

Play

Play Next

Add to queue

1,420 plays

Play

Play Next

Add to queue

5,611 plays

Play

Play Next

Add to queue

5,190 plays

Play

Play Next

Add to queue

2,257 plays
Genre: Dub / Hip Hop / Reggae

Location Melbourne, Au

Profile Views: 83667

Last Login: 8/8/2012

Member Since 4/10/2006

Website www.elftranzporter.com, www.combatwombat.org, www.championnation.net

Record Label KapraGT

Type of Label Indie

Bio

.. .. .. .. .. .. .. .. .. .. ............ ETHEREAL LOTUS FLEET is the title of my first solo album out now & featuring the mad production, instrumental, vocal & cut wizardry of some of Melbourne's finest including: DJ Wasabi, Mista Savona. Custom, Count Bounce & Joelistics (TZU), Vida-Sunshyne, Supina from Miso, Sydney's plus, national radio's own gifted soul, Maya Jupiter as well as the PhatLogic band rockin' it live! .... Large Up to all my LotusEtheric headz out there... !!!!!!!!!!!!!!!!!!!!!!!!!!!!!!!!!!!!!! Peace, Bless & 1Love Soul-Jah-Nearing, .... .... Sojourneering... .. .. .. .. .. .. .. .. .. .. Heavyweight Dub Champion Tour '06 (HDC+ Photos by Takimagecreation) .. .. .. .. .. .. .. .. .. .. Aurukun '06.. .. .. .. .. .. .. .. .. .. .. .... .... ...Music is Liberation...!!!(photo by Silk) ELF TRANZPORTER .... (MC, ARTIST, PERFORMER, CULTURAL BUILDER) .... An original member of one of Australia's early legendary underground hip hop acts, MetaBass'n'Breath, Elf Tranzporter, continues to bring his unique blend of 'heart-core' lyricism mixed with home-made instrumentation combined with his cypher-honed beatbox skills to audiences throughout Australia, Japan and the USA. .... Whether flowing over electronic rhythms created by some of Melbourne's finest producers or over his own live-looped beatbox percussion beds, Elf's performances and lyrical delivery is hailed one of the most versatile, conscious and progressive that Australia's ever-growing hip hop community has to offer. .... Weaving the political with the personal within his rhymes, Elf Tranzporter's inter-dimensional approach to the art form, consistently manages to burn the line that often divides music designed to enliven the dance floor with that of music made to mobilize unity-consciousness and community empowerment. .... Creative instigator from hip hop's early Australian incarnation, Elf's current live set can span a wide spectrum of various formats including the following crew-constellations: .... MC for Australian's legendary politically-charged hip hop crew Combat Wombat; driving-force member of LO2'sFleet, featuring DJ TakaCo (aka: HeadChefSonik), visual artist, TWO ONE dancer, Cat Sweeney along with four time bboy champion, Lamaroc; off-shore member of the San Francisco-based crew, Heavyweight Dub Champion; as well as commonly featured guest MC with crews, Black Jesus and Culture Connect. .... From the mid '80's to current, Elf Tranzporter has managed to share the stage with a variety of world class acts including: .... The legendary beat-poet, Allen Ginsberg, Grand Wizard Theodore, The Roots, Project Blowed, Zion I, Mos Def & Talib Kweli (Blackstar), Living Legends, Spearhead, Kid Lucky, Black Alicious, Ozomatli, Fat Boy Slim, The Invisible Scratch Pickles, Z-Trip, Jeru the Damaga, Run DMC, DJ Shadow, M1 (Dead Prez) Lyrics Born, Jurassic 5, Public Enemy, John Butler Trio, as well as Australian High Court Judge, Justice Michael Kirby. .... Regularly conducting workshops in the Outback, Elf T. shares his skills and passion for music, tutoring disadvantaged & high-risk youth in primary schools, juvenile justice centres and organizing community events with Indigenous as well as refugee communities throughout Australia. .... Check out the Tranzporter's first solo LP, entitled 'Ethereal Lotus Fleet', featuring the vocal uplift skills of Maya Jupiter, Supina (MISO), Vida-Sunshyne and Pakistani singer, Rustam Baig along with production from DJ Wasabi, Custom, Count Bounce, Joelistics, Monkey Marc dub and dance hall vibe-master, Mista Savona. .... Since the album's release back in Oct. '07, the work has been met with rave reviews and is beckoning a call for stage as well as studio-follow-up moves both here in Australia as well as abroad. ........ LINKS: www.myspace.com/elftranzporter, www.myspace.com/combatwombatforpresident, www.championnation.net, digdeep.theartscentre.net.au .... ...... ...... .. .................... ...... .... elftranzporter@gmail.com elftranzporter@gmail.com elftranzporter@gmail.com

Members

elftranzporter@gmail.com

Influences

Generations Of Diversity, Allen Edward Porter, Sylvia Eve Porter, Jack Nusan Porter, Micheal Lurie, Leslie Gould, Family-Kazoku, David Courney - (tabla player and tutor -Anjali School of Indian Music and Dance), Zulu Nation, Ravi Shankar, Ustad Alla Rakka, Zakir Hussian, John Coltrane, Moon Dog, John DeMoss, Abdul Mati Karwain, Miles Davis, Sun Ra, Afrika Bambaataa, DJ Kool Herc, KRS ONE, The Roots, Pharaoh Monch, Bob Marley, Peter Tosh, Public Enemy, Poor Righteous Teachers, Nas, Bush Babies, Q-Bert, The Beatles, Sesami Street, Animal (Muppets), Roald Dahl, Diamonda Galas, Akim the Funk Buddha, Sly&Robbie, Jr. Gong, Kid Lucky, Mos Def, Talib Kweli, Freestyle Fellowship, The Good Life Cafe, Project Blowed, Jamal-Ski, Common, Mistik Journeymen & Living Legends, Zion I, Apani B-Fly, Anti-Pop Consortium, Jr. Gong, Quannum, Champion Nation, Jean Grae, Dead Can Dance, Rumi, William S. Burroughs, Firesign Theatre, Bill Hicks, Frank Zappa, Shakti, Jimi Hendrix, King Crimson, Brian Eno, The WHO, Blind Faith, Hank Williams Sr., Talking Heads, Legendary Pink Dots, Tear Garden, Nusrat Fati Ali Khan, Omar Faruk Tekbilek, Gil Scott-Heron, YES, The Isley Brothers, Bill Withers, Stevie Wonder, Gerald McClendon, Led Zeppelin, Beatles, Bob Marley, Peter Tosh, Black Uhuru, Capelton, Odetta Holmes, Joni Mitchell, Bill Bruford, Peter Gabriel, Voice of Eye, Jaco Pastorius, Stanley Clarke, Percy Jones, Saul Williams, Skelaton Krew, Fredricko Fellini, Angela Davis, Flaco, David Lynch, Laurie Anderson, Monkey Marc and Izzy, DJ Wasabi, Mantra, Ishu, DiaFrix, Listics & DJ Centre, Open Thought, MetaBass'n'Breath including all extented meta-family from Sydney to NY to Shanghai, Steve Ben Israel, Sleek tha Elite, Budspells, Maya Jupiter, Culture Connect, Mantra, Def Wish Cast, Brethren, MC Trey, Mathas, Macromantics, Wire MC, Brother Black, Mista Savona, Julez, Neda, DJ's Sizzle & Affix, Purple Duck, Dibbidy the Desert Fish, Ricky aka: 'Faith' and Mic Sonic, Mt. Liebig Mob, Larapinta Mob, Yeudumu, Aurukun Community, Jack Hewiit, Flying Lotus, plus, all my peers, mentors & 1Love Sojourn-Ears walking, running, moving inventing & pioneering the path!!!

Sounds Like

Elf Tranzporter features on the photo-discography below; over the course of at least one century... BigUps 2 my 1st ever crew, Voice of Eye (recently back in action), MetaBass'n'Breath, Combat Wombat, Heavyweight Dub Champion along with all my sonically-gifted Bredren & Sistren!!! .... .. .. .... .. .. .. .. .. .................... ...... .. elftranzporter@gmail.com
No recent updates in this category.
Why not...
03:33 | 136 plays | Sep 5 2009
Bio:
ETHEREAL LOTUS FLEET is the title of my first solo album out now & featuring the mad production, instrumental, vocal & cut wizardry of some of Melbourne's finest including: DJ Wasabi, Mista Savona. Custom, Count Bounce & Joelistics (TZU), Vida-Sunshyne, Supina from Miso, Sydney's plus, national radio's own gifted soul, Maya Jupiter as well as the PhatLogic band rockin' it live!
Large Up to all my LotusEtheric headz out there... !!!!!!!!!!!!!!!!!!!!!!!!!!!!!!!!!!!!!! Peace, Bless & 1Love Soul-Jah-Nearing,
Sojourneering... Heavyweight Dub Champion Tour '06 (HDC+ Photos by Takimagecreation) Aurukun '06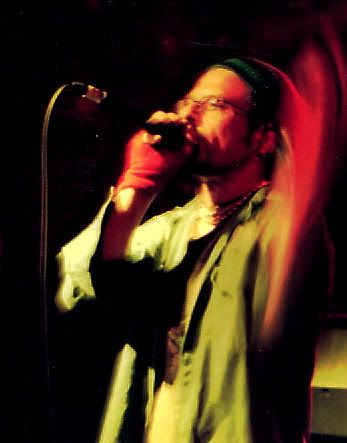 ...Music is Liberation...!!!(photo by Silk) ELF TRANZPORTER

(MC, ARTIST, PERFORMER, CULTURAL BUILDER)

An original member of one of Australia's early legendary underground hip hop acts, MetaBass'n'Breath, Elf Tranzporter, continues to bring his unique blend of 'heart-core' lyricism mixed with home-made instrumentation combined with his cypher-honed beatbox skills to audiences throughout Australia, Japan and the USA.

Whether flowing over electronic rhythms created by some of Melbourne's finest producers or over his own live-looped beatbox percussion beds, Elf's performances and lyrical delivery is hailed one of the most versatile, conscious and progressive that Australia's ever-growing hip hop community has to offer.

Weaving the political with the personal within his rhymes, Elf Tranzporter's inter-dimensional approach to the art form, consistently manages to burn the line that often divides music designed to enliven the dance floor with that of music made to mobilize unity-consciousness and community empowerment.

Creative instigator from hip hop's early Australian incarnation, Elf's current live set can span a wide spectrum of various formats including the following crew-constellations:

MC for Australian's legendary politically-charged hip hop crew Combat Wombat; driving-force member of LO2'sFleet, featuring DJ TakaCo (aka: HeadChefSonik), visual artist, TWO ONE dancer, Cat Sweeney along with four time bboy champion, Lamaroc;  off-shore member of the San Francisco-based crew, Heavyweight Dub Champion; as well as commonly featured guest MC with crews, Black Jesus and Culture Connect.

From the mid '80's to current, Elf Tranzporter has managed to share the stage with a variety of world class acts including: 

The legendary beat-poet, Allen Ginsberg, Grand Wizard Theodore, The Roots, Project Blowed, Zion I, Mos Def & Talib Kweli (Blackstar), Living Legends, Spearhead, Kid Lucky, Black Alicious, Ozomatli, Fat Boy Slim, The Invisible Scratch Pickles, Z-Trip, Jeru the Damaga, Run DMC, DJ Shadow, M1 (Dead Prez) Lyrics Born, Jurassic 5, Public Enemy, John Butler Trio, as well as Australian High Court Judge, Justice Michael Kirby.

Regularly conducting workshops in the Outback, Elf T. shares his skills and passion for music, tutoring disadvantaged & high-risk youth in primary schools, juvenile justice centres and organizing community events with Indigenous as well as refugee communities throughout Australia.

Check out the Tranzporter's first solo LP, entitled 'Ethereal Lotus Fleet', featuring the vocal uplift skills of Maya Jupiter, Supina (MISO), Vida-Sunshyne and Pakistani singer, Rustam Baig along with production from DJ Wasabi, Custom, Count Bounce, Joelistics, Monkey Marc dub and dance hall vibe-master, Mista Savona.

Since the album's release back in Oct. '07, the work has been met with rave reviews and is beckoning a call for stage as well as studio-follow-up moves both here in Australia as well as abroad.

LINKS:

www.myspace.com/elftranzporter

,

www.myspace.com/combatwombatforpresident

,

www.championnation.net

,

digdeep.theartscentre.net.au

..

..


..


..
Member Since:
April 10, 2006
Members:
Lo2'sFleet
DJ TakaCo, Mr. Monk, Chap 1, Cat Sweeney, Lamaroc + eT w/xtended sonic & visual fam!:
GIG BOOKINGS: elftranzporter@yahoo.com
Influences:
Generations Of Diversity, Allen Edward Porter, Sylvia Eve Porter, Jack Nusan Porter, Micheal Lurie, Leslie Gould, Family-Kazoku, David Courney - (tabla player and tutor -Anjali School of Indian Music and Dance), Zulu Nation, Ravi Shankar, Ustad Alla Rakka, Zakir Hussian, John Coltrane, Moon Dog, John DeMoss, Abdul Mati Karwain, Miles Davis, Sun Ra, Afrika Bambaataa, DJ Kool Herc, KRS ONE, The Roots, Pharaoh Monch, Bob Marley, Peter Tosh, Public Enemy, Poor Righteous Teachers, Nas, Bush Babies, Q-Bert, The Beatles, Sesami Street, Animal (Muppets), Roald Dahl, Diamonda Galas, Akim the Funk Buddha, Sly&Robbie, Jr. Gong, Kid Lucky, Mos Def, Talib Kweli, Freestyle Fellowship, The Good Life Cafe, Project Blowed, Jamal-Ski, Common, Mistik Journeymen & Living Legends, Zion I, Apani B-Fly, Anti-Pop Consortium, Jr. Gong, Quannum, Champion Nation, Jean Grae, Dead Can Dance, Rumi, William S. Burroughs, Firesign Theatre, Bill Hicks, Frank Zappa, Shakti, Jimi Hendrix, King Crimson, Brian Eno, The WHO, Blind Faith, Hank Williams Sr., Talking Heads, Legendary Pink Dots, Tear Garden, Nusrat Fati Ali Khan, Omar Faruk Tekbilek, Gil Scott-Heron, YES, The Isley Brothers, Bill Withers, Stevie Wonder, Gerald McClendon, Led Zeppelin, Beatles, Bob Marley, Peter Tosh, Black Uhuru, Capelton, Odetta Holmes, Joni Mitchell, Bill Bruford, Peter Gabriel, Voice of Eye, Jaco Pastorius, Stanley Clarke, Percy Jones, Saul Williams, Skelaton Krew, Fredricko Fellini, Angela Davis, Flaco, David Lynch, Laurie Anderson, Monkey Marc and Izzy, DJ Wasabi, Mantra, Ishu, DiaFrix, Listics & DJ Centre, Open Thought, MetaBass'n'Breath including all extented meta-family from Sydney to NY to Shanghai, Steve Ben Israel, Sleek tha Elite, Budspells, Maya Jupiter, Culture Connect, Mantra, Def Wish Cast, Brethren, MC Trey, Mathas, Macromantics, Wire MC, Brother Black, Mista Savona, Julez, Neda, DJ's Sizzle & Affix, Purple Duck, Dibbidy the Desert Fish, Ricky aka: 'Faith' and Mic Sonic, Mt. Liebig Mob, Larapinta Mob, Yeudumu, Aurukun Community, Jack Hewiit, Flying Lotus, plus, all my peers, mentors & 1Love Sojourn-Ears walking, running, moving inventing & pioneering the path!!!
Sounds Like:
Elf Tranzporter features on the photo-discography below; over the course of at least one century... BigUps 2 my 1st ever crew, Voice of Eye (recently back in action), MetaBass'n'Breath, Combat Wombat, Heavyweight Dub Champion along with all my sonically-gifted Bredren & Sistren!!!


Record Label:
method