Play

Play Next

Add to queue
Play

Play Next

Add to queue

996 plays

Play

Play Next

Add to queue

443 plays

Play

Play Next

Add to queue

343 plays

Play

Play Next

Add to queue

979 plays

Play

Play Next

Add to queue

783 plays
Genre: Country / Jazz / Rockabilly

Location AUSTIN, Texas, US

Profile Views: 48541

Last Login: 9/1/2011

Member Since 3/27/2006

Website http://www.jimstringer.us

Record Label The Music Room

Type of Label Indie

Bio

See where Stringer's Stringin' at www.jimstringer.us/jimscalendar. Visit Jim Stringer & The AM Band on the web at www.austinmusicband.com New CD - Triskaidekaphilia Read full bio at: Jim Stringer's Website, www.jimstringer.us. All Jim Stringer & the AM Band CDs may be downloaded from: Apple iTunes, MusicMatch, Rhapsody, Napster and other major online providers Jim Stringer began his long music career in ..Kansas City.. leading his own band at the tender age of 12 in 1960. After many years of performing, touring and recording, in 1994, Stringer pulled up stakes and has been living, working and, as always, honing his craft as guitarist, producer, and singer-songwriter, in the competitive but nurturing environment of ..Austin, Texas... During that time, his guitar has been heard with more than 30 Austin artists, live or on record, including Ted Roddy, Wayne Hancock, Roger Wallace, Marti Brom, Susanna Van Tassel, Karen Poston and many others. His own AM Band has released four CDs and has been included on nearly two dozen 20 compilations. The band has toured widely, a featured act at Twangfest 8, and at festivals in Europe. A busy producer for Austin artists, Jim produced the now legendary "Travis County Pickin'" for HighTone. TCP has become a standard in the libraries of guitar enthusiasts. In 2006, Jim was inducted into the Kansas/Kansas City Music Hall of Fame alongside such greats as Big Joe Turner, Charlie Parker, Count Basie and Big Al Downing.

Members

Since 1998, the AM Band has consisted of Jim along with ..Carl Keesee.. (bass), ..T Jarrod Bonta.. (piano). ..Ralph Power.. joined the gang on drums in 2007, along with ..Roy Glaze.. alternating with ..James Shelton.. on pedal steel. ..Jenn Miori.. is the Featured Tuesday Night Vocalist... The name, The AM Band, originally derived from "Austin Music Band", because there's just one band in Austin and ..everyone.. plays in it! In the lifetime of the band, regular members have included: Lee Potter (drums), Boomer Norman (guitar), "Uptown" Alan Barnette (featured vocalist), Dave Wesselowski (bass), Gene Kurtz (rhythm guitar), Charlie Prichard (rhythm guitar), Jon Hahn (drums), Kevin Hall (drums). Frequent guest performers have included Timmy Campbell (drums), Lisa Pankratz (drums), Ethan Shaw (bass), David Carroll (bass), Dallas Wayne (bass), Vance Hazen (bass), Scott Esbek (bass), Charle Irwin (bass), Brad Fordham (bass), Herb Steiner (pedal steel), Bobby Snell (pedal steel), Andrew Nafziger (guitar), Tommy Detamore (pedal steel on "In My Hand"), Ricky Davis (pedal steel on "In My Hand"), Rufus Otis (11 string quackophone), Mitzi Henry (featured vocalist), L'il Rachel (featured vocalist).

Influences

Guitar influences are numerous: Chet Atkins, James Burton, Hank Garland, Merle Travis... Wes Montgomery, Joe Pass, Larry Coryell, Herb Ellis... Andres Segovia, John Williams... Freddy King, Bo Diddley, Don Everly... The Ventures, Duane Eddy... Songwriting influences: Otis Blackwell, Johnny Mercer, Hoagy Charmichael (sp?), Harlan Howard, Willie Nelson, John Hiatt, Nick Lowe, Bob Wills, Lennon & McCartney, Buck Owens... Band influences: The Fabulous Silvertones, Mike Finnigan & The Serfs, Jerry Hahn Brotherhood, The Beatles, The Billy Spears Band, Elvis Presley...

Sounds Like

B-Hee B-Haw-P
No recent updates in this category.
Why not...
Bio:
See where Stringer's Stringin' (full schedule) at THIS LINK
Visit
Jim Stringer & The AM Band on the web.
..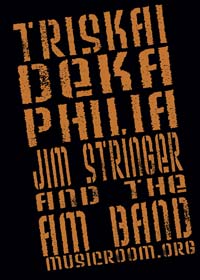 Read full bio at:
Jim Stringer's Website
All Jim Stringer & the AM Band CDs may be downloaded
from:
Apple iTunes
,
MusicMatch
,
Rhapsody
,
Napster
and other major online providers.
Ginny's on Tuesdays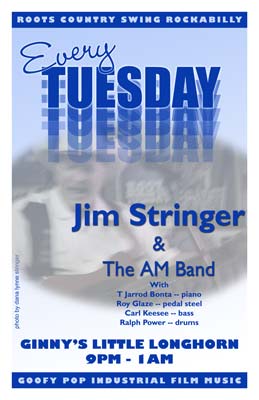 Vota Obama
Jim Stringer began his long music career in
Kansas City
leading his own band at the tender age of 12 in 1960. After many years of performing, touring and recording, in 1994, Stringer pulled up stakes and has been living, working and, as always, honing his craft as guitarist, producer, and singer-songwriter, in the competitive but nurturing environment of
Austin, Texas
. During that time, his guitar has been heard with more than 30 Austin artists, live or on record, including Ted Roddy, Wayne Hancock, Roger Wallace, Marti Brom, Susanna Van Tassel, Karen Poston and many others. His own AM Band has released four CDs and has been included on nearly two dozen 20 compilations. The band has toured widely, a featured act at Twangfest 8, and at festivals in Europe. A busy producer for Austin artists, Jim produced the now legendary "Travis County Pickin'" for HighTone. TCP has become a standard in the libraries of guitar enthusiasts. In 2006, Jim was inducted into the Kansas/Kansas City Music Hall of Fame alongside such greats as Big Joe Turner and Al Downing.
Member Since:
March 27, 2006
Members:
Since 1998, the AM Band has consisted of Jim along with Carl Keesee (bass), T Jarrod Bonta (piano). Ralph Power joined the gang on drums in 2007, along with Roy Glaze alternating with James Shelton on pedal steel. Jenn Miori is the Featured Tuesday Night Vocalist... The name, The AM Band, originally derived from "Austin Music Band", because there's just one band in Austin and everyone plays in it! In the lifetime of the band, regular members have included: Lee Potter (drums), Boomer Norman (guitar), "Uptown" Alan Barnette (featured vocalist), Dave Wesselowski (bass), Gene Kurtz (rhythm guitar), Charlie Prichard (rhythm guitar), Jon Hahn (drums), Kevin Hall (drums). Frequent guest performers have included Timmy Campbell (drums), Lisa Pankratz (drums), Ethan Shaw (bass), David Carroll (bass), Dallas Wayne (bass), Vance Hazen (bass), Scott Esbek (bass), Charle Irwin (bass), Brad Fordham (bass), Herb Steiner (pedal steel), Bobby Snell (pedal steel), Andrew Nafziger (guitar), Tommy Detamore (pedal steel on "In My Hand"), Ricky Davis (pedal steel on "In My Hand"), Rufus Otis (11 string quackophone), Mitzi Henry (featured vocalist), L'il Rachel (featured vocalist).
Influences:
Guitar influences are numerous: Chet Atkins, James Burton, Hank Garland, Merle Travis... Wes Montgomery, Joe Pass, Larry Coryell, Herb Ellis... Andres Segovia, John Williams... Freddy King, Bo Diddley, Don Everly... The Ventures, Duane Eddy... Songwriting influences: Otis Blackwell, Johnny Mercer, Hoagy Charmichael (sp?), Harlan Howard, Willie Nelson, John Hiatt, Nick Lowe, Bob Wills, Lennon & McCartney, Buck Owens... Band influences: The Fabulous Silvertones, Mike Finnigan & The Serfs, Jerry Hahn Brotherhood, The Beatles, The Billy Spears Band, Elvis Presley...
Sounds Like:
B-Hee B-Haw-P
Record Label:
The Music Room