Play

Play Next

Add to queue
Play

Play Next

Add to queue

236 plays

Play

Play Next

Add to queue

1,062 plays
Genre: Christian / Indie / Neo-soul

Location BRONX, New York, US

Profile Views: 59228

Last Login: 2/14/2010

Member Since 7/23/2006

Type of Label Major

Bio

.. .... .. .. .. .. .. .. .. ....One Nation Under The Soul Shack.... was born during NYC's hot summer months in 2006 when ..Pamela.. & ..Detrel.. were comparing their calendar of planned outdoor music events. Together, they felt they could provide opportunities for some of the dazzling independent artists that seemed to be emerging from the core of NY's apple! They weren't mistaken! To their credit, they've hosted successful listening parties for the most talented and recognized artists in the indie soul movement! .. .. .. ....WHAT'S COMING NEXT!!...... .... .. .. One Nation Under The Soul Shack.. extends an invitation to independent artists who are in, planning to visit, or can travel to the New York area to consider us when thinking of a listening party for yourself. Our main requirement is that you have a completed project to present to our audiences. Please feel free to reach out to us if you would like to talk more about the possibility of working with ONUTSS. .. .. ...... ..

Members

......"One Nation Under The Soul Shack".. was established (2006) by ....Detrel.... & ....Pamela...., with a desire to collaborate with other entities who share similar goals of improving the visibility of under-represented artists; primarily indie soul artists! .. .. ..We're working to provide promotional opportunities for the phenomenally talented independent artists sprinkled all across the world! We're always looking for good music! .. .. ..Myspace has been a fantastic help in bringing new artists to our attention! We look forward to wherever this ride takes us! .. .. ......Our intent is to....:.. = ..Stimulate interest/awareness of artists that audiences would not have otherwise been aware of, in the mainstream realm.. = ..Provide opportunities for greater exposure.. = ..Promote .. = ..Create opportunities for live presentations.. = ..Ensure visibility.. = ..Enhance .. = ..Educate the masses .. = ..Dedicated to continuously bringing people of the arts, entertainment & social realms together through event opportunities .. = ..Recognize the value of true art (not limited to music).... .. ..Our overall goal when we envisioned the concept of "..One Nation.." was to build a collective umbrella network where, at any time we can all turn to one another for a particular service the other may be providing that any one of us are in need of -- the whole networking gamut. .. .. ..........We'd Like To Meet........: .. ..We want to meet music lovers, music makers, djs, producers, promoters, event planners, enterprising individuals, readers, writers, graphic artists, fashion designers, the do'ers & shakers of today's generation!!.. .. .. ........Who We Don't Want To Meet......: .. ..Those who talk about 'it' & don't want to make the effort to be about 'it'! .. .. ........Music....:.... Our taste in music varies from soul to jazz to gospel to salsa/meringue to reggae to funk to old school hip hop and everything in between and then back!.. .. ..Keep doing what "you" do to spread the word about good music! .. .. .. .. .. ........ ..Sign up for our Email Newsletter.. .. .. .. .. .. .. .. .. .. .. Our overwhelming thanks goes out to everyone who publicly and privately supported our ideas, events & our movement! .. ..

Influences

....Our Heroes....:.. Our heroes are those artists who may have had doors closed in their faces, yet they're still around today doing what they love best!

Sounds Like

..ONUTSS had the pleasure of hosting listening parties for these ALLSTARS of 2008!! .. ...... ..Allstars of 2006/07.. ...... ..Here are just some of the many entities who has spread love and light on the ALLSTARS above and countless others! Please support the artists and the Soul Music Outlets who continue to bring you the best in music--forget about what you heard on major radio stations!!.. ...... ..Highlights from recent ONUTSS hosted listening parties.. Eric Rico .. .. .. .. .. .. .. .. .. .. Green Tea .. .. .. .. .. Tomas Doncker, La Sonya Gunter, and Kuku
No recent updates in this category.
Why not...
05:16 | 868 plays | Apr 14 2007
Bio:
..
One Nation Under The Soul Shack
was born during NYC's hot summer months in 2006 when ..Pamela &
Detrel
were comparing their calendar of planned outdoor music events. Together, they felt they could provide opportunities for some of the dazzling independent artists that seemed to be emerging from the core of NY's apple! They weren't mistaken! To their credit, they've hosted successful listening parties for the most talented and recognized artists in the indie soul movement!
---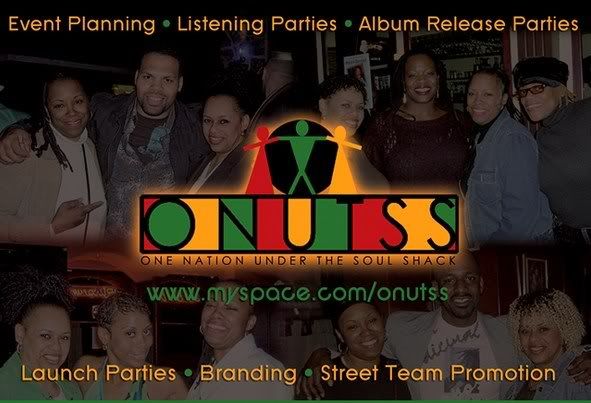 WHAT'S COMING NEXT!!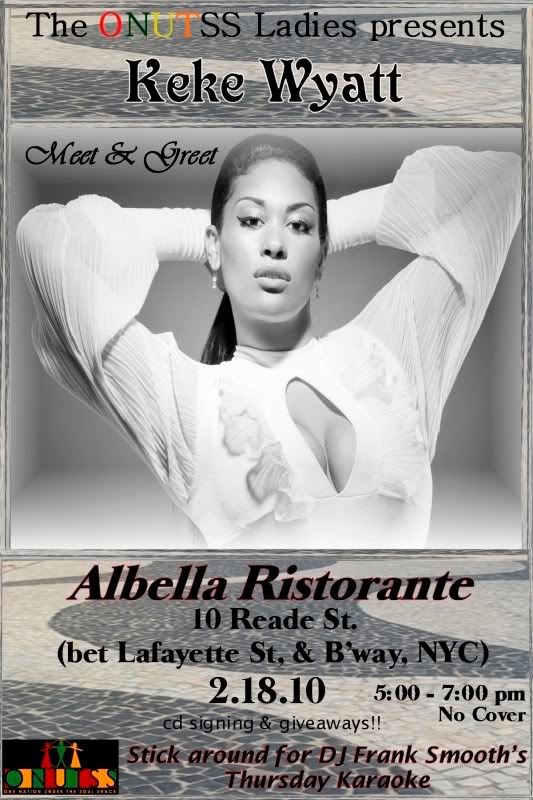 ..
---
One Nation Under The Soul Shack.. extends an invitation to independent artists who are in, planning to visit, or can travel to the New York area to consider us when thinking of a listening party for yourself. Our main requirement is that you have a completed project to present to our audiences. Please feel free to reach out to us if you would like to talk more about the possibility of working with ONUTSS.
Member Since:
July 23, 2006
Members:
"One Nation Under The Soul Shack"
was established (2006) by
Detrel
&
Pamela
, with a desire to collaborate with other entities who share similar goals of improving the visibility of under-represented artists; primarily indie soul artists!
We're working to provide promotional opportunities for the phenomenally talented independent artists sprinkled all across the world! We're always looking for good music!
Myspace has been a fantastic help in bringing new artists to our attention! We look forward to wherever this ride takes us!
..Our intent is to..
:
=
Stimulate interest/awareness of artists that audiences would not have otherwise been aware of, in the mainstream realm
= Provide opportunities for greater exposure
= Promote
= Create opportunities for live presentations
= Ensure visibility
= Enhance
= Educate the masses
= Dedicated to continuously bringing people of the arts, entertainment & social realms together through event opportunities
= Recognize the value of true art (not limited to music)



Our overall goal when we envisioned the concept of "

One Nation

" was to build a collective umbrella network where, at any time we can all turn to one another for a particular service the other may be providing that any one of us are in need of -- the whole networking gamut.

..

We'd Like To Meet

..

:

We want to meet music lovers, music makers, djs, producers, promoters, event planners, enterprising individuals, readers, writers, graphic artists, fashion designers, the do'ers & shakers of today's generation!!

..Who We Don't Want To Meet..

:

Those who talk about 'it' & don't want to make the effort to be about 'it'!

..Music..

:

Our taste in music varies from soul to jazz to gospel to salsa/meringue to reggae to funk to old school hip hop and everything in between and then back!

Keep doing what "you" do to spread the word about good music!

..

Sign up for our Email Newsletter
.. .. .. .. ..
---
Our overwhelming thanks goes out to everyone who publicly and privately supported our ideas, events & our movement!

---
Influences:
..Our Heroes..
:
Our heroes are those artists who may have had doors closed in their faces, yet they're still around today doing what they love best!
Sounds Like:
ONUTSS had the pleasure of hosting listening parties for these ALLSTARS of 2008!!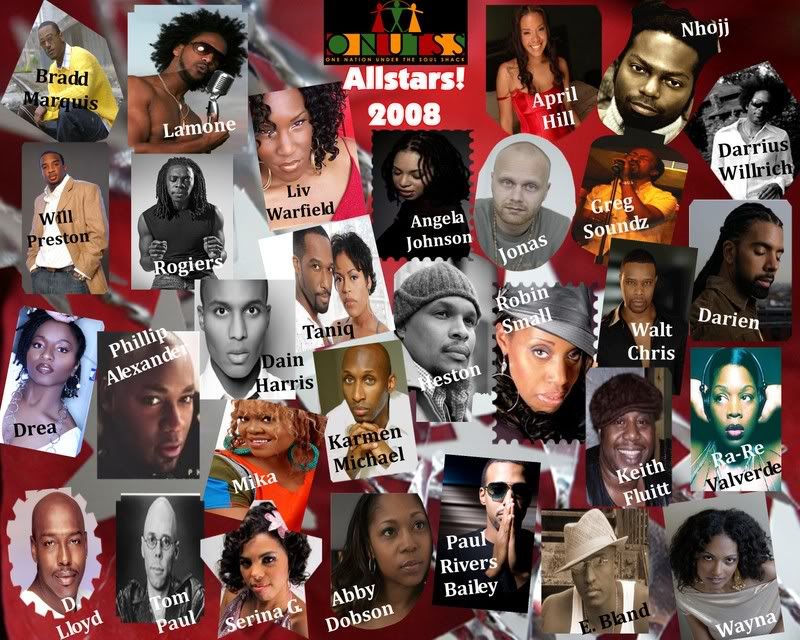 Allstars of 2006/07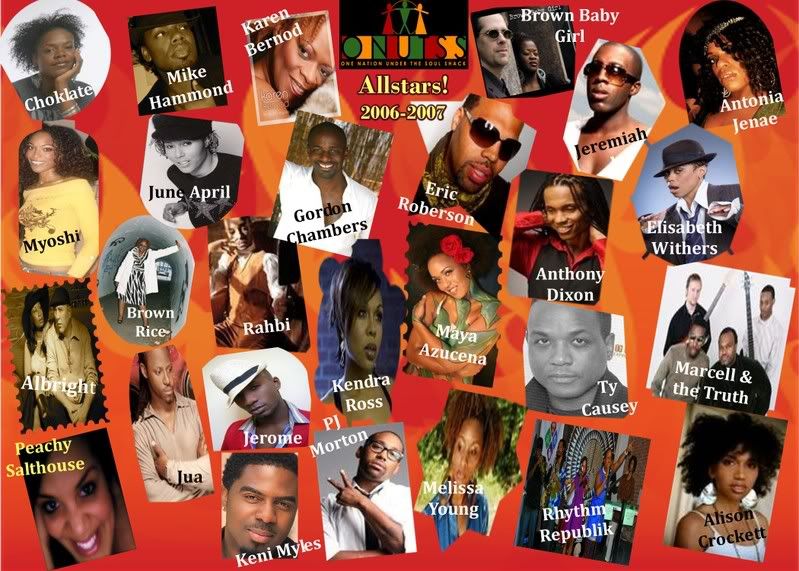 Here are just some of the many entities who has spread love and light on the ALLSTARS above and countless others! Please support the artists and the Soul Music Outlets who continue to bring you the best in music--forget about what you heard on major radio stations!!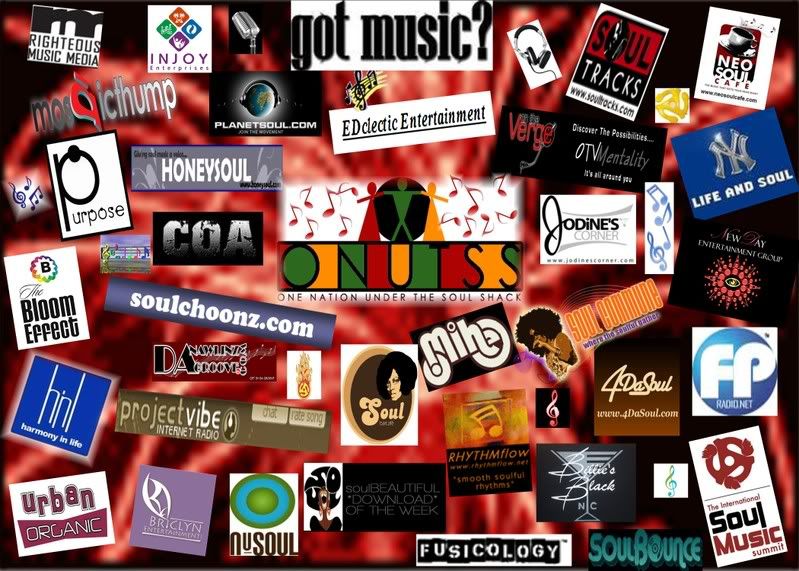 Highlights from recent ONUTSS hosted listening parties Eric Rico Green Tea Tomas Doncker, La Sonya Gunter, and Kuku