Play

Play Next

Add to queue
Play

Play Next

Add to queue

46 plays

Play

Play Next

Add to queue

327 plays

Play

Play Next

Add to queue

106 plays

Play

Play Next

Add to queue

125 plays

Play

Play Next

Add to queue

105 plays
Bio
PLEASE NOTE: WE DO NOT CHECK THIS MYSPACE. TO CONTACT US FOR BOOKINGS ETC, PLEASE USE THE EMAIL ADDRESS OR FACEBOOK LINK POSTED TO THE RIGHT. LOVE, THE SILENT WORLD.
The Silent World are an instrumental quintet from Perth, Western Australia. Inspired by the organic soundscapes of Do Make Say Think and the jarring menace of Slint, the band's sound has evolved considerably over its brief history. With the first half of 2011 seeing the band supporting Melbourne doomsters Heirs; taking out a spot on the 2011 Kiss My WAMi compilation with the track Interior Semiotics and reaching new crowds with appearances at the much-loved In The Pines and the WAMi Festival, The Silent World has consolidated its presence as an emerging talent in the Perth music scene.
The band released its debut EP
An Eye for an Ear
in late 2010. Written and recorded over the course of several months and mastered by Simon Struthers of Forensic Audio,
An Eye for an Ear
is a collection of instrumental tracks that are equally noisy, intense, delicate and inspired.

BUY IT HERE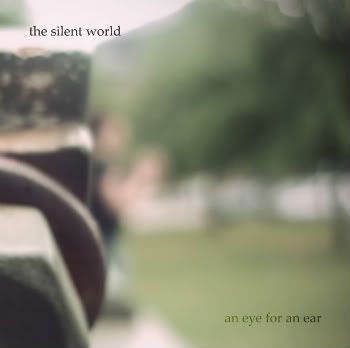 Members

Jake Costin: Drums/Samples
Laurenz Harbeck: Guitar/Telephone
Jonathan McKay: Keys/Guitar
Jack McKenzie: Bass
Michael Ramsey: Guitar/Noise

Press
"It's a pity
The Silent World
haven't been asked to accompany (...And You Will Know Us By The) Trail Of Dead on the rest of their Australian tour, as this instrumental five-piece undeniably deserve national attention. With an artful knack of concocting catchy hooks into flowing pieces of post-rock intrigue, The Silent World created some beguiling soundscapes,
Interior Semiotics
especially effective with its fidgety rhythms and timely glockenspiel. A young band still amassing a repertoire, their obvious onstage optimism suggests that the only thing holding them back may be some clunky song titles…"
- Christopher H James, Drum Media Perth
"The largely-instrumental EP starts off with Interior Semiotics, which has been popular on RTRFM and rightly so - it is a great track that takes the listener on a journey through a winding, veering and unpredictable soundscape, from the quiet to the bombast. The rest of the EP follows suit, with the band intent on setting out a conversation between themselves and the listener using synths, intricate and complex rhythms, effects and jarring harmonies. The resultant sound is both cutting-edge and organic. This is a great listen for those who like their music on the challenging side"
-
Cissi Tsang, perthbands.com