Play

Play Next

Add to queue
Play

Play Next

Add to queue

2,547 plays

Play

Play Next

Add to queue

8,299 plays

Play

Play Next

Add to queue

213 plays

Play

Play Next

Add to queue

185 plays
Genre: Breakcore / Experimental / Live Electronics

Location Biella, Italy, Biella, IT

Profile Views: 48194

Last Login: 11/9/2011

Member Since 4/11/2006

Website http://www.harshcore.com

Record Label rudimentale, dokuro, palustre, MTR, KosmikElkMind

Type of Label Indie

Bio

two incredible idiots make noise and sounds like bzzz fzzz .. .. Harshcore is a project of Luca Sigurtà and Tommaso Clerico. Their sound is based on analogic and poor electronics, bass, tape loops and other junks. They play live wearing animal masks they took away from the ex-elementary school where they recorded 'the sybian sorority'. They make are a weird mix of depitched tapes, geek rhythms and distort bass guitar. .. File under: crazy freaks noisers... .. .. OUT NOW!!! .. SPLIT PURPLE 7" HARSHCORE/ADRIEN BARBOBOTT (lips infection).. .. .. .. .. .. SPLIT 3" TO LIVE AND SHAVE IN LA / HARSHCORE (dokuro records).. .. .. .. .. .. SPLIT CD xNoBBQx / HARSHCORE (Palustre).. .. .. .. DISCOGRAPHY: .. .. The Sybian Sorority (Rudimentale, 2007) .. Split w/ Slicing Grandpa (Smell the stench, 2007) .. Monochrome Socialist (Luggage Records, 2007) .. Harshcore & Boombox Borealis (Kosmik Elk Mind, 2008) .. Split w/ Der Einzige (Moriremo Tutti Records, 2008) .. Split w/ Ecoute la merde (Underground Pollution, 2008) .. Split w/ To Live and Shave in La (Dokuro, 2008) .. Split w/ xNoBBQx (Palustre, 2008) .. Split 7" w/ Adrien Barbobott (Lips Infections) .. .. COMPILATION: .. .. Lee Majors (Social Plan, E25) .. Wet vibrations for Paris (Compilation2, Smell the Stench) .. In Troma (Squashing Charms, Kosmik Elk Mind) .. Amy Winehouse (Rippers & Creepers, Pendu Recordings) .. Vooodooo (Ovo: Voodoo rewoork & Videoo, Moriremo tutti Records) .. Hairless Barbie (Compilation, Dirgehead) .. Pop Idol (Entartete Kunts) .. .. COMING SOON: .. .. Split w/ Argumentix (Rudimentale, tba 2009) .. Harshcore/UR (tba) .. .. .. .. .. .. .. .. .. .. .. .. harshcore 'thaoma' - videoclip directed by manuele cecconello .. .. FOR BOOKING WRITE HERE: harshcore@harshcore.com

Members

luca sigurtà: electronic junk, feedback, tapes, loops, toys .. .. tommaso clerico: bass, pedals, electronics, trumpet ..

Influences

strangulated beatoffs, black dice, dead machines, to live and shave in la, you fantastic, wolf eyes, shakunachi surprise, mindflayer, prurient, v/vm, aaron dilloway, skin graft, hans grusel, nautical almanac, throbbing gristle, forcefield, residents, ruggero deodato, flossie & the unicorns, paris hilton, lighting bolt, double leopards, hive mind, caroliner, kites, axolotl, britney spears, dymaxion, yellow swans, larsen lombriki, the skaters, sightings, pink & brown, hair police, ufo or die, brise glace, carlos giffoni

Sounds Like

doom teletubbies
No recent updates in this category.
Why not...
05:54 | 58 plays | Jun 17 2008
Bio:
two incredible idiots make noise and sounds like bzzz fzzz
Harshcore is a project of Luca Sigurtà and Tommaso Clerico. Their sound is based on analogic and poor electronics, bass, tape loops and other junks. They play live wearing animal masks they took away from the ex-elementary school where they recorded 'the sybian sorority'. They make are a weird mix of depitched tapes, geek rhythms and distort bass guitar.
File under: crazy freaks noisers...
OUT NOW!!!
SPLIT PURPLE 7" HARSHCORE/ADRIEN BARBOBOTT (lips infection)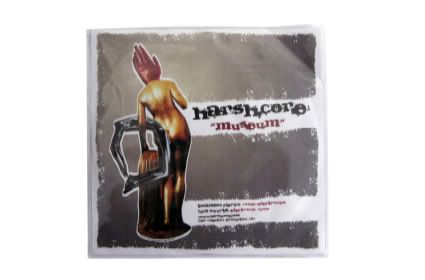 SPLIT 3" TO LIVE AND SHAVE IN LA / HARSHCORE (dokuro records)
SPLIT CD xNoBBQx / HARSHCORE (Palustre)
DISCOGRAPHY:
The Sybian Sorority (Rudimentale, 2007)
Split w/ Slicing Grandpa (Smell the stench, 2007)
Monochrome Socialist (Luggage Records, 2007)
Harshcore & Boombox Borealis (Kosmik Elk Mind, 2008)
Split w/ Der Einzige (Moriremo Tutti Records, 2008)
Split w/ Ecoute la merde (Underground Pollution, 2008)
Split w/ To Live and Shave in La (Dokuro, 2008)
Split w/ xNoBBQx (Palustre, 2008)
Split 7" w/ Adrien Barbobott (Lips Infections)
COMPILATION:
Lee Majors (Social Plan, E25)
Wet vibrations for Paris (Compilation2, Smell the Stench)
In Troma (Squashing Charms, Kosmik Elk Mind)
Amy Winehouse (Rippers & Creepers, Pendu Recordings)
Vooodooo (Ovo: Voodoo rewoork & Videoo, Moriremo tutti Records)
Hairless Barbie (Compilation, Dirgehead)
Pop Idol (Entartete Kunts)
COMING SOON:
Split w/ Argumentix (Rudimentale, tba 2009)
Harshcore/UR (tba)
harshcore 'thaoma' - videoclip directed by manuele cecconello
FOR BOOKING WRITE HERE: harshcore@harshcore.com
Member Since:
April 11, 2006
Members:
luca sigurtà: electronic junk, feedback, tapes, loops, toys

tommaso clerico: bass, pedals, electronics, trumpet

Influences:
strangulated beatoffs, black dice, dead machines, to live and shave in la, you fantastic, wolf eyes, shakunachi surprise, mindflayer, prurient, v/vm, aaron dilloway, skin graft, hans grusel, nautical almanac, throbbing gristle, forcefield, residents, ruggero deodato, flossie & the unicorns, paris hilton, lighting bolt, double leopards, hive mind, caroliner, kites, axolotl, britney spears, dymaxion, yellow swans, larsen lombriki, the skaters, sightings, pink & brown, hair police, ufo or die, brise glace, carlos giffoni
Sounds Like:
doom teletubbies
Record Label:
rudimentale, dokuro, palustre, MTR, KosmikElkMind