Play

Play Next

Add to queue
Genre: Indie / Lounge / Pop

Location Los Angeles, CALIFORNIA, US

Profile Views: 46089

Last Login: 8/18/2011

Member Since 1/31/2005

Website www.paulakelley.com

Record Label Kimchee Records/Stop Pop and Roll Records

Type of Label Indie

Bio

....Airports EP for sale now!........ .. .. .. .. .. .. .. .. .. .. .. .. .. .. .. .. .......... .......... .......... .. .. .. .. .. .. .... ..Check out these great t-shirts, designed by our friend Jef Czekaj:.. ........ ....YOU KNOW YOU WANT ONE...... ..Former frontwoman of Boston indie pop bands the Drop Nineteens, Boy Wonder, and Hot Rod, Paula Kelley is a genuine pure pop auteur who is not in need of bandmates to confirm her considerable talents. In the process [of forging her solo identity], she has emerged as an impressively versatile songwriter, conversant in the various strains of indie pop, bubblegum, and twee pop. After a string of albums with said bands, Kelley bolted from Boy Wonder as a collaborator to fully indulge her pop muse in the less confining role as solo songwriter in 2000. Now free to finally make the undiluted pop masterpiece she has seem primed to make her whole professional career, Nothing/Everything arrived in 2001 and hardly disappointed, showing Kelley's willingness to drift into the more pristine waters of pop music while leaving the volume and vigor of alternative rock behind. Two years later, Kelley's shiny twee stylings got a bit darker with The Trouble with Success or How You Fit Into the World. ..- Matt Fink, ..All Music Guide.... ..Buy some great music at the iTunes store: .. ....Vapour Trail.. (Ride cover).. .... Some Sucker's Life.... ..the .. Burnin' For You EP.... .... The Trouble with Success.... .... Nothing/Everything...... .... .. .. .. ....

Members

The PKO: West Coast: Paula Kelley- Vocals/Guitar/Piano, Peter Aragon- Upright bass, Aaron Tap- Guitar/Vocals/melodica, Lilly Aycud- Trumpet, Rigel Ranciato - Violin/Viola, Eric Skodis- Drums, Isaac Schankler - accordion, keys, Tristan Forney - tuba East Coast: Paula Kelley- Vocals/Guitar/Piano, Jeff Norcross-Drums, Jim Collins- Bass/Vocals, Aaron Tap- Guitar/Vocals/melodica, Angie Shyr- Violin/Keys/Vocals, Chris Barrett- Trumpet/Vocals/Perc. Auxilliary Orchestra Members: Dennis Cronin- Trumpet, Nathan Logus-Drums, Bass, Betty Widerski- Violin, Scott Burns- Cello, Joe Simcox- Viola, Meredith Cooper- Violin/viola, Wendy Mittelstadt - violin, Karen Langlie - cello, Don Anderson- Trumpet, Justin Tibbets- Drums

Influences

The Left Banke, early Bee Gees, The Zombies, the Association, the Divine Comedy, Marvin Gaye, Margo Guryan, Burt Bacharach, Ennio Morricone, Tahiti 80, Todd Rundgren, Jack Nitzsche, Dusty Springfield, Al Green

Sounds Like
No recent updates in this category.
Why not...
04:18 | 142 plays | May 16 2006
Bio:
..
Check out these great t-shirts, designed by our friend Jef Czekaj: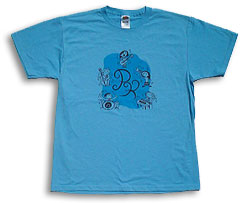 YOU KNOW YOU WANT ONE
Former frontwoman of Boston indie pop bands the Drop Nineteens, Boy Wonder, and Hot Rod, Paula Kelley is a genuine pure pop auteur who is not in need of bandmates to confirm her considerable talents. In the process [of forging her solo identity], she has emerged as an impressively versatile songwriter, conversant in the various strains of indie pop, bubblegum, and twee pop. After a string of albums with said bands, Kelley bolted from Boy Wonder as a collaborator to fully indulge her pop muse in the less confining role as solo songwriter in 2000. Now free to finally make the undiluted pop masterpiece she has seem primed to make her whole professional career, Nothing/Everything arrived in 2001 and hardly disappointed, showing Kelley's willingness to drift into the more pristine waters of pop music while leaving the volume and vigor of alternative rock behind. Two years later, Kelley's shiny twee stylings got a bit darker with The Trouble with Success or How You Fit Into the World.
Buy some great music at the iTunes store:
Member Since:
January 31, 2005
Members:
The PKO: West Coast: Paula Kelley- Vocals/Guitar/Piano, Peter Aragon- Upright bass, Aaron Tap- Guitar/Vocals/melodica, Lilly Aycud- Trumpet, Rigel Ranciato - Violin/Viola, Eric Skodis- Drums, Isaac Schankler - accordion, keys, Tristan Forney - tuba East Coast: Paula Kelley- Vocals/Guitar/Piano, Jeff Norcross-Drums, Jim Collins- Bass/Vocals, Aaron Tap- Guitar/Vocals/melodica, Angie Shyr- Violin/Keys/Vocals, Chris Barrett- Trumpet/Vocals/Perc. Auxilliary Orchestra Members: Dennis Cronin- Trumpet, Nathan Logus-Drums, Bass, Betty Widerski- Violin, Scott Burns- Cello, Joe Simcox- Viola, Meredith Cooper- Violin/viola, Wendy Mittelstadt - violin, Karen Langlie - cello, Don Anderson- Trumpet, Justin Tibbets- Drums
Influences:
The Left Banke, early Bee Gees, The Zombies, the Association, the Divine Comedy, Marvin Gaye, Margo Guryan, Burt Bacharach, Ennio Morricone, Tahiti 80, Todd Rundgren, Jack Nitzsche, Dusty Springfield, Al Green
Record Label:
Kimchee Records/Stop Pop and Roll Records
Label Type:
Indie