No recent updates in this category.
Why not...
Zombie Walk Omaha 10/15/2011 hasn't earned any badges yet... have you?
General

....ZOMBIE WALK NUMBERS..
2008: 271 Zombies! (there were a lot more that didn't get counted)
2009: 390 Zombies!
2010: 1217 Zombies! ($3395 raised for Siena/Francis House homeless shelter!)


Movies
Play

Play Next

Add to queue

Play

Play Next

Add to queue

Play

Play Next

Add to queue

Play

Play Next

Add to queue

Play

Play Next

Add to queue
About me:
GET THE LAST OF THE 2010 ZOMBIE WALK GEAR WHILE IT'S HERE!
We have a few ZOMBIE WALK T-SHIRTS left! If ya didn'tget a chance at the walk, here's your opportunity. We Also have a bunch of BLACK LIGHT KOOZIES.
We will let the koosies go for $3, shirts are $15. We still have a few Small, and Medium left.
If interested, just shoot me (Eric Hahn) an email. or CLICK HERE to go to facebook and message me there.
And keep in mind, when they are gone, they're gone! The Zombie Walk is becoming bigger each year, and is a piece of Omaha History. The items from the first few walks will be great to own years from now (I know we are keeping a few!).
Cheers!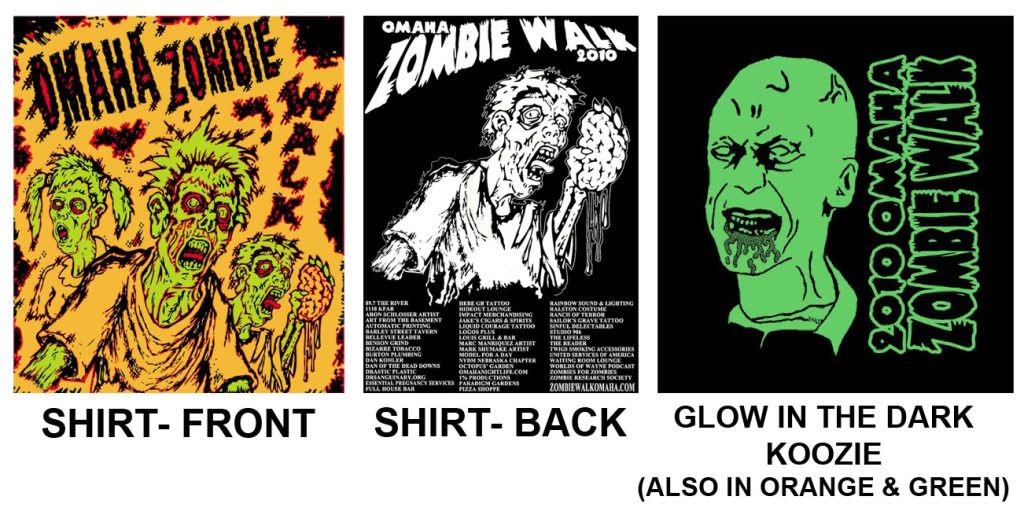 SATURDAY OCT 23rd
4-5:45pm
Meet at The Waiting Room 6212 Maple St in downtown Benson. We will have our experts applying make-up for a $3 to cover the expenses for those who need it.
5:45
A quick discussion of the rules (listed below).
6:00
The Zombie Walk begins along a designated route through the streets of Benson (see map).
7:00
Zombie Hop starts at The Waiting Room 6212 Maple St, Omaha NE. All Ages. $7 admission. Featuring Dr. San Guinary's first annual ZOMBIKINI CONTEST (the worlds first and most Horrific Beauty Pageant)! $10 pre-registration or $15 at the event. Great Prizes for 1st, 2nd, and 3rd place! See
DrSanGuinary.org
for details. Plus Contests for the Best Female Zombie, Best Male Zombie, and Best 50's Themed Zombie! $10 registration fee at the event. You must attend the Zombie Hop to participate in the contests. Lot's of great bands, a Zombie Art Exhibit, a Car Show featuring Hot Rods, Rat Rods, Art Cars, and Bikes! And much more!
THE EVE OF DESTRUCTION Zombie Walk Pre-Party!
Friday Oct 22nd at The Hideout (320 S 72nd St behind Austad's Golf). We know you can't wait until the big event to try out your awesome zombie costume! So, come out the night before to the Zombie Walk Pre-Party! The festivities start at 8pm with bands, contests, prizes, and misc mischief! Grown Ups only at this party, so, 21 and over only please. $5 admission. Costume optional. All proceeds go to The Siena/Francis House homeless shelter!
What is a ZOMBIE WALK?
A zombie walk is an organized public gathering of two or more people who dress up in zombie costumes and make up. Usually taking place in an urban centre, the participants make their way around the city streets in a somewhat orderly fashion limping and gnawing their way as they go. During the event participants are encouraged to remain in character as zombies and to communicate only in a manner consistent with zombies (such as grunts, groans and slurred moans calling for "brains!")
Some Zombie Walk RULES
BLOOD:
If you're going to use blood when "attacking" victims or being "attacked," don't use anything that will stain the sidewalk. In fact, try your darnedest not to get anything on the sidewalk or on anything else for that matter. Yes, we know bloody handprints look neat on a telephone pole, but please don't do it.
SIDEWALKS:
Speaking of sidewalks, STAY ON THEM! Don't run out into traffic. Don't jaywalk. When crossing at an intersection, let cars through when it's their turn.
BEHAVIOR:
Be on your best zombie behavior. Don't scream profanities (you're a zombie you should be groaning for brains anyway). Don't attack anyone who isn't a designated victim. (More on this shortly.) Do not enter any businesses unless they made it clear that it is ok to do so. Do not touch the windows of businesses. Do not touch anyone's vehicles or any other private/personal property.
LAWS:
Obey all laws at all times! It's that simple. You want to be able to have this event every year right? We want this event to happen without any incedents.
How to be a Victim
A victim is a non-zombie whose purpose is to be attacked by the zombie horde, thus turning them into a zombie too. Some "victims" like to dress up in military garb and attempt to stop the horde. But, you can just dress as any ordinary citizen if you'd like. If you want to be a victim in this year's Zombie Walk, here are some guidelines. First, identify yourself properly as a victim by placing a duct tape "X" on an obvious place of your clothing. After the Zombies see you, the victim can try to evade the horde, and when the zombies finally catch you (oh yes, they WILL catch you!), the horde will swarm the victim, concealing him or her rom view, allowing the victim to crouch and apply blood and/or makeup to themselves. We will have blood and duct tape available at the walk for a small fee. The victim can, if they'd like, rip their clothing while being attacked to add to the effect. Once the victim has zombified themselves, you're ready to rise as a member of the Undead, just give the Zombies a signal, get up and resume the Walk! Welcome to the world of the living dead!
Some tips to remember:
1)
Place the duct tape on a prominent part of your clothing and play it cool until the Undead arrive. We want the impression that you are really a victim, not a willing participant. If somehow the Zombies don't see that you want to be attacked, make a fuss, yell about the Zombie Apocalypse, and bring attention to yourself. We don't want anyone to be left out that wants to be involved.
2)
Place starter holes in any clothing you want ripped, and make sure that you can rip it yourself with little assistance; we don't want any Zombies getting in trouble for ripping clothing that victims want to keep whole.
3)
Scatter yourselves along the route of the walk so that there are victims the whole way, don't get too clumped up, we want the impact of the attacks to continue throughout the walk.
4)
Please be careful that you do not go into the street or run into someone accidentally or disobey any laws. If someone gets the wrong idea and thinks you're really being attacked, stop and explain the situation so that they don't get too concerned and then get back into character whenever you feel that they are comfortable.
5)
Have fun with it! Scream, yell, put up a fight, and get into it! The makeup and the blood are important to make you look the part, but the number one way to identify a Zombie is attitude. When you rise, everyone should be clear that one more Zombie has joined the horde.
/>
www.zombiewalkomaha.com
Here's a video shot by
WorldsOfWayne.com
that aired on CNN!
Status:

Single

Here for:

Networking, Friends

Orientation:

Straight

Ethnicity:

Other

Zodiac Sign:

Scorpio

Occupation:

Undead