Play

Play Next

Add to queue
Play

Play Next

Add to queue

1,786 plays

Play

Play Next

Add to queue

816 plays

Play

Play Next

Add to queue

508 plays

Play

Play Next

Add to queue

7,348 plays

Play

Play Next

Add to queue

3,984 plays
Genre: Hardcore / Punk

Location Southern California, Un

Profile Views: 294981

Last Login: 2/5/2012

Member Since 7/25/2004

Website www.allornothinghc.com

Record Label www.ontherag.net

Type of Label Indie

Bio

10/14-Fresno @ The Broadway w/ Naked Aggression 10/15-Berkeley @ 924 Gilman w/ Naked Aggression 10/16-Canoga Park @ Colbalt Cafe w/ Naked Aggression and Poison Idea All or Nothing HC is an energy driven female fronted hardcore punk band hailing from Southern California. The band has distinguished itself with its intensity in music, lyrics, live show, activism and commitment. All or Nothing HC's intensity can only be matched by their drive to get their music heard. AONHC has just released a split CD (www.ontherag.net) and LP (www.emancypunx.com) with Naked Aggression, entitled "Bring Me the Head of..." with original artwork by Amy Toxic. In 2009, AONHC released 13 song full length titled "California Bleeding." They once again recorded with Paul Miner, this time at Buzzbomb Sound Labs. This is a follow up to the limited edition 7" "All of These are Days of the Dead" recorded with Paul Miner (Death By Stereo, etc.) at For the Record studios in 2006. Four of these songs are featured on On the Rag's 4 band split CD called "Don't F*ck with Her!!!" Their third full length CD, "What Doesn't Kill You," was released on Rodent Popsicle Records (Boston, MA) in 2004. That cd is a follow up to their releases, "Search for the Strength" (2002) and "Sacrifice, Discipline, Bliss,"(1999) on On the Rag Records. They have songs featured on various compilations: Benefit for Moscow Homeless Animals, The Girls Can Dish it Out Too, The Kamikazi Broadcast, Put Some Pussy In Your Punk Vol. 2, Brides of Electric Frankenstein, & Gritty in Pink Vol. 1. Their music can be heard on various college radio shows as well as on video through The Dancehall Troops dvd, Punk T.V. Show, RU Unsigned cable show, Props BMX Videos, and Bites: The Werewolf Chronicles. AONHC recently shot a video for the song "Kindness for Weakness." All or Nothing HC has toured the U.S. multiple times in support of their records, and toured Europe in January 2008. AONHC has played shows with Toxic Narcotic, Naked Aggression, The Avengers, Vice Squad, Kill Your Idols, Retching Red, Lower Class Brats, Cheap Sex, Ignite, US Bombs, Leftover Crack, Strike Anywhere, Union 13, VoodooGlowSkulls, Destruction Made Simple, 25 ta Life, The Dickies, Poison Idea, Dr. Know, D.I., Pitch Black, UK Subs, Midnight Creeps, The Voids, Pipedown, Whisky Rebels, 46 Short and more. Renae and Jared's tattoos are by artist Billy Barnett at Even Tide Tattoo / www.eventidetattoo.com / 128 Aberdeen Dr. Cardiff by the Sea, CA 92007 (760)753-8282. See and hear AONHC now at www.allornothinghc.com. U.S. Label - On The Rag Records. Europe Label - Emancypunx Records. U.S. Booking - All Or Nothing HC. Europe Booking - Alerta Antifascista.

Members

Renae Bryant - Vocals, Jared Schweitzer - Bass, Manda Socialized Crucifixion-Guitar, Roy Socialized Crucifixion-Drums

Influences

Sick of it All, Refused, Agnostic Front, Los Crudos, Naked Aggression, Apple, Tilt, Death By Stereo, Toxic Narcotic, Strike Anywhere, 25 ta Life, Most Precious Blood, Nerve Agents, Good Riddance, Raised Fist, etc.

Sounds Like

"Just brutal with brains...that has the same feel as Uniform Choice, MDC, Youth of Today, and Vice Squad."-Toxic Flyer (MD), "In the same vein as Antischism and Sick of It All."-Skratch (CA), "The singer of this band is pissed. Her band plays music that is pissed." -Bigwheel (CA), "The songs are strong and keep me attentive. Now I need to get off my ass and see them live."-Razorcake (CA), "...catchy mix of hardcore and punk that is solid and rocks-she can sing and scream and yell and carry a tune and kick your ass at the same time..."-Slug and Lettuce Zine (VA), "Lunachicks meets Sick of It All"-Kerrang! (U.K.)
08:02 | 273 plays | Apr 25 2010
Bio:


All or Nothing HC is an energy driven female fronted hardcore punk band hailing from Southern California. The band has distinguished itself with its intensity in music, lyrics, live show, activism and commitment. All or Nothing HC's intensity can only be matched by their drive to get their music heard. AONHC has a new 13 song full length titled "California Bleeding" which was released in 2009. They once again recorded with Paul Miner, this time at Buzzbomb Sound Labs. This is a follow up to the limited edition 7" "All of These are Days of the Dead" recorded with Paul Miner (Death By Stereo, etc.) at For the Record studios in 2006. Four of these songs are featured on On the Rag's 4 band split CD called "Don't F*ck with Her!!!" Their third full length CD, "What Doesn't Kill You," was released on Rodent Popsicle Records (Boston, MA) in 2004. That cd is a follow up to their releases, "Search for the Strength" (2002) and "Sacrifice, Discipline, Bliss,"(1999) on On the Rag Records. They have songs featured on various compilations: Benefit for Moscow Homeless Animals, The Girls Can Dish it Out Too, The Kamikazi Broadcast, Put Some Pussy In Your Punk Vol. 2, Brides of Electric Frankenstein, & Gritty in Pink Vol. 1. Their music can be heard on various college radio shows as well as on video through The Dancehall Troops dvd, Punk T.V. Show, RU Unsigned cable show, Props BMX Videos, and Bites: The Werewolf Chronicles. AONHC recently shot a video for the song "Kindness for Weakness." All or Nothing HC has toured the U.S. multiple times in support of their records, and toured Europe in January 2008. AONHC has played shows with Toxic Narcotic, Naked Aggression, The Avengers, Vice Squad, Kill Your Idols, Retching Red, Lower Class Brats, Cheap Sex, Ignite, US Bombs, Leftover Crack, Strike Anywhere, Union 13, VoodooGlowSkulls, Destruction Made Simple, 25 ta Life, The Dickies, Poison Idea, Dr. Know, D.I., Pitch Black, UK Subs, Midnight Creeps, The Voids, Pipedown, Whisky Rebels, 46 Short and more. See and hear AONHC now at
www.allornothinghc.com
.
..BUY ALL OR NOTHING H.C. MUSIC, INCLUDING THE NEW CD "CALIFORNIA BLEEDING," AT INTERPUNK!..
..OR YOU CAN DOWNLOAD ANY FULL ALBUM BELOW!..



..LIMITED EDITION VINYL 7" ONLY $3!..
..All other CDs are only $5! Select from the form below...
..Don't Fu*k With Her 4-way Split CD Free with any CD or Vinyl Purchase...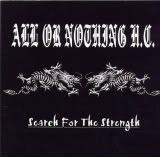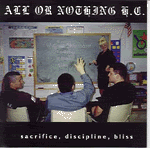 .. .. ..
.. ..
..
..
..NEW SHIRTS AVAILABLE NOW!..
.. .. ..
..Choose Shirt Size
..Select Shirt Design
.. ..
..
.. .. ..
!!! Start Code To Apply Top Banner !!!!
Custom top banner code by Eileen
..
!!! End Code To Apply Top Banner !!!
Member Since:
July 25, 2004
Influences:
Sick of it All, Refused, Agnostic Front, Los Crudos, Naked Aggression, Apple, Tilt, Death By Stereo, Toxic Narcotic, Strike Anywhere, 25 ta Life, Most Precious Blood, Nerve Agents, Good Riddance, Raised Fist, etc.
Sounds Like:
"Lunachicks-meets-Sick of it All metallic hardcore conveying positive messages."
-Kerrang! (U.K.)

"So. Cal. hardcore in the same vein as the newer Agnostic Front."
-Maximum RocknRoll (CA)

"...like Uniform Choice or Skins, Brains, & Guts-era 7 Seconds."
-Slug 'Zine (Utah)
Label Type:
Indie
All or Nothing HC has 12957 friends.