No recent updates in this category.
Why not...
Turning Worm hasn't earned any badges yet... have you?
General

Space-walks, monster trucks, peeping tom art, punting, luge lessons, etc.

Music

Heroes

ELVIS, ALI, KNIEVEL.Etc.
About me:
AFTER FIVE AND A HALF YEARS TURNING WORM IS BEING SHELVED SO PLEASE DON'T TRY TO CONTACT US HERE FROM NOW ON. THANK YOU ALL FOR YOUR SUPPORT AND THE GREAT NIGHTS WE'VE SHARED TOGETHER.
If you know us personally please feel free to contact Piers at: piersmiller@gmail.com or Dave at: davedavejackson@gmail.com If it's a music / gig enquiry please get in touch with Piers and please add
www.myspace.com/clubstuntfox
to your top friends.
Cheers
P&D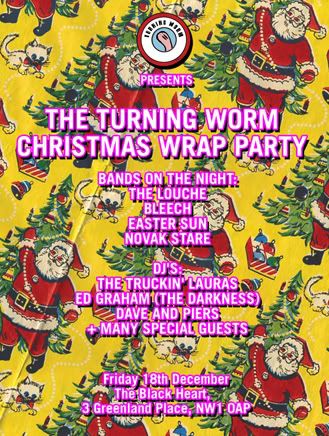 Turning Worm was set up in early 2004 by Piers Miller and Dave Jackson. The idea was to try to make a living from having fun and creating fun situations for other people. At the moment some of our shenanigans include: Music promotion, event management, music production, selling stuff, making you cash. We are putting on gigs and clubs all over London in some great venues. We're promoting at Bloomsbury Bowling Lanes, The 100 Club, The Constitution, The Heavenly Social (W1), The World's End, The Wilmington Arms, Tommy Flynn's and Bush Hall plus others in the pipeline. If you're a DJ or in a band or just enjoy great nights out why not contact us? Email: info@turning-worm.co.uk or join our mailing list below. ..

I edited my profile with Thomas' Myspace Editor V3.6!

PLEASE TAKE A MOMENT TO JOIN OUR MAILING LIST. ..
E-Mail

..

First Name

..

Last Name

..
..
Who I'd like to meet:
Strange and beautiful people........... and bears.
Status:

In a Relationship

Hometown:

Earth

Zodiac Sign:

Gemini