Play

Play Next

Add to queue
Play

Play Next

Add to queue

2,887 plays

Play

Play Next

Add to queue

1,160 plays

Play

Play Next

Add to queue

1,623 plays



UNTRUTH are a 5-piece Melodic Death Metal act from Victoria's Mornington Peninsula with 4 years experience, and countless shows around Melbourne and Australia.

After releasing their debut EP "Act 1: The Absence of Beacons" to rave reviews and strong local support, Untruth are on the eve on releasing their debut single 'Sons Of The Vanquished' this October, and will be following it up with a brand new CD due out early to mid next year.





Untruth would like to welcome Stewart Pike to the family. Stew joins Untruth as a permanent member replacing Haydn Dinsdale on rhythm guitar. Haydn is on his way over to Canada to work and snowboard for the foreseeable future, so we all agreed this would work out best. We wish Haydn the best over there...the lucky bastard.

Some of you may remember Stew as the guitarist for one of our favourite local bands, 'Severed'. He was the writing genuis behind their fantastic debut EP Triage, and we're confident his incredible writing style will fit in perfectly with the sound and feel we're going on with our debut album.

Speaking of which. Our debut LP is currently in the writing stages and we're looking to head in to the studio within the later section of 2011, hopefully having it completed and released by early 2012 (hopefully before the world ends :D). For those of you who wish to know, we will be heading back to the studio with our good friend, amazing producer, and brains behind our EP - Erms. He comes highly recommend on our behalf and we're looking forward to hitting the studio up with him again!

In the mean time, we'll be launching our debut single, title 'Sons Of The Vanquished' this October. It's a swedish thrash tune, so we know you're all going to love it! In the meantime, keep an eye on our facebook page as we're constantly updating it with show information, as well as new merch, pre-orders and other tasty treats!

Cheers!

Untruth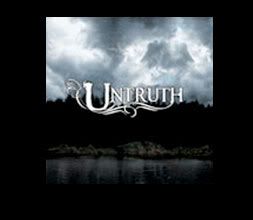 Debut EP 'Act 1: The Absence Of Beacons'
is available at all shows on now via
iTunes


Debut Single 'Sons Of The Vanquished'
will be online and available soon!


"Melbourne-based Untruth's ability to nail themselves to the groove and hold on pays back in furiously epic dividends, and their Act 1: The Absence of Beacons Ep is a flag planted right in your ribcage"
Metal Hammer Magazine (UK)

"Untruth has certainly mastered the melodic death metal/metalcore sound, with Act 1: The Absence of Beacons one hell of a release"

"Every now and then something will come along and remind you that when it's done well, it's something that you'll remember for some time. Untruth has more than managed to do that.....8.5/10.."
Blistering.com - Justin Donnelly

"Melbourne's Untruth have recently released one hell of a EP titled Act 1: The Absence of Beacons. The 5 track offering is as good as it gets and if you didn't know you certainly wouldn't pick it as a debut."

"It excites me that we have talent of this caliber right here in our backyard. The production is A grade, all the material is very original, the musicianship and song writing is second to none. These guys will suit pretty much any Metal fan...9/10"
MetalObsession - Nick Olden

"...their attention to detail and well developed songwriting abilities have enabled this up and coming group to avoid the cliches that so many of their peers have fallen victim to"

"Army of Drones is indicative of just how capable these musicians are, as the song effortlessly shifts from down tuned mayhem to majestic guitar solos and back again...Impressive stuff!...7/10"
BLUNT Magazine

"Untruth offer an outstanding debut e.p and demonstrate they are a rising talent to watch for in the Australian metal scene"
Truth Inc Records