No recent updates in this category.
Why not...
Rick Veitch hasn't earned any badges yet... have you?
About me:
..
"Rick Veitch unconscious is worth 10 other men awake." -- ALAN MOORE.

"Rick's career in comics covers so many aspects it's difficult to know where to begin. His run on Swamp-Thing is legendary, his Rare Bit Fiend dream comics (my personal favorites) are visionary, Brat Pack is a cult phenomenon, and his new book Our Army@Love is a hit." --
JEFF SMITH, creator of BONE and RASL.

"Writer/artist Veitch has been dosing daring readers with Kirby-meets-Crumb fantasias since his psychedelic stint for Marvel's Epic Illustrated in the early '80s. -- HEEB Magazine


***SUBSCRIBE TO RICKVEITCH.COM BLOG***..

BIO:.. At the age of nineteen, Rick Veitch drove a Pontiac Tempest from Vermont to San Francisco with only $45 and a burning desire to break into underground comics. Crashing at Greg Iron's barn on the California Coast, he began drawing a sample sequence about two axe murderers in a rainstorm, which grew, with a script by his brother Tom Veitch, into a complete comic book, published as Two-Fisted Zombies by Last Gasp in 1973.
In 1976 Rick enrolled in the Joe Kubert School and was part of the school's first graduating class in 1978. While still at school he began his professional career in mainstream comics, contributing over a dozen short stories to DC's Our Army At War. He also met and began lifelong collaborations with fellow artists Steve Bissette, John Totleben, Tom Yeates and Tim Truman. Together they formed Flying Dutchmasters Studios and began getting published in New York. Rick's work appeared in Heavy Metal, which lead to his collaboration with Steve Bissette and Allen Asherman on the graphic novel adaptation of Steven Spielberg's 1941. He contributed regularly to Marvels Epic Magazine, and published his first collaboration with Alan Moore there in its final issue. Rick wrote and illustrated two early graphic novels for Epic editor Archie Goodwin: Abraxas & The Earthman and Heartburst, before launching a six-issue series, The One, for Epic Comics in 1984.
Rick was highly active in the 1980's drawing issues of Swamp Thing, Nexus, Scout and Miracleman before becoming regular penciller of Swamp Thing, collaborating for a year and a half with Alan Moore before taking over as writer. Veitch's Swamp Thing run ended in controversy in 1989 when DC refused to publish #88, intended to be the climax to a series of time travel stories resulting in Swamp Thing being the wooden cross upon which Jesus was crucified.
"Army@Love is a funny comic book, but it's a deeply offensive -- and extremely thought-provoking -- kind of funny, the kind of funny we need a lot more of if we're to keep from laughing ourselves into the grave." -- Cory Doctorow in BOINGBOING: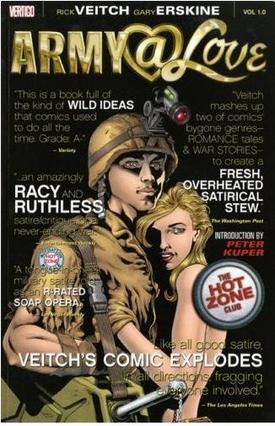 An all new edition of the BRAT PACK trade paperback form KING HELL is being solicited in this month's Diamond PREVIEWS (item code: MAR094365 F BRAT PACK NEW EDITION TP).you can get a FREE 7.2 MEG PDF DOWNLOAD of the first 32 page chapter right here:
Disillusioned with the mainstream comics industry, in 1989 Rick formed his own publishing imprint, King Hell Press, which released a collection of The One and two new graphic novels, Bratpack and The Maximortal. In 1993 Veitch again collaborated with Moore, Bissette and Totleben on the 1963 comic series from Image. The next year Rick began his most experimental work, Rare Bit Fiends a dream diary in comic form, published by King Hell in 21 issues and two collections, Rabid Eye and Pocket Universe.
In the late 1990's Rick worked with Alan Moore and Todd Klien on Supreme and on the launch of the ABC comics line. He and Moore created Greyshirt for the anthology comic Tomorrow Stories before spinning it off into Greyshirt: Indigo Sunset. He also co-created, with Steve Conley, the internet comics site .

After a thirty year career in comics, Rick Veitch shows no sign of letting up. Vertigo recently released CAN'T GET NO, his groundbreaking literary graphic novel that Publishers Weekly declared one of the "Best Books Of 2006″. He collaborated with Tommy Lee Edwards on THE QUESTION for DC Comics and DAREDEVIL for Marvel Comics. His rick-for-web.pngimprint, KING HELL PRESS published new editions of THE ONE, BRAT PACK, THE MAXIMORTAL, ABRAXAS AND THE EARTHMAN and SHINY BEASTS. Rick is also the co-founder, with Steve Conley, of Comicon.com. And he's been producing science and nature comics for WNET in New York. Right now he's knee deep in his new series from Vertigo, a subversive and satirical look at the Iraq war set five years in the future, ARMY@LOVE. He lives in Vermont with his wife, Cindy, and two sons.
HEARTBURST AND OTHER PLEASURES preview
**IN STORES NOW** ---Diamond order code =
HEARTBURST AND OTHER PLEASURES: FEB083885.. ..
On far off Epsilon Bootis, young Sunoco Firestone is branded a criminal for falling under the musky spell of a native Green Girl. Rick Veitch's legendary sci-fi saga of forbidden inter-species love is finally back in gorgeous re-mastered color along with half a dozen never-before collected shorter Veitch delights including the original "Mirror Of Love" with
Alan Moore
and
S.R. Bissette.
..
.. ....
!!! Start Code To Apply Top Banner !!!!
...... ......
Custom top banner code by Eileen
..
!!! End Code To Apply Top Banner !!!
Who I'd like to meet:
| | | |
| --- | --- | --- |
| | | |
Status:

Single

Zodiac Sign:

Pisces